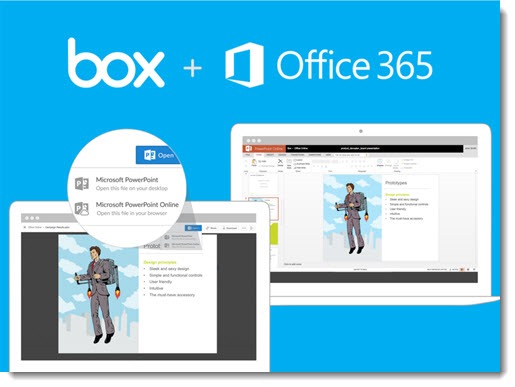 With some new additions last week, Box is now completely integrated with Windows and the Office programs. Microsoft has opened Windows and Office so partner companies can integrate with them, and Box is one of the first companies to take full advantage of the new opportunities. Files stored in Box are as easily accessible as files stored on a server down the hall. Box and Dropbox have achieved full parity with OneDrive (and moved far ahead of Microsoft's dreadful OneDrive For Business service). In the past it was easy to prefer OneDrive for online file storage because its integration with Windows made it a tempting default choice. Now small businesses have more reasons than ever to choose Box for online file storage of company files.
New to Box? Box is a service for storing files online and accessing them from any device, anywhere. It was designed from the ground up for groups where multiple people need to access company files in common folders, the traditional role of the server down the hall. This makes Box quite different from Dropbox, OneDrive, and OneDrive for Business, all of which are designed to store files belonging to individuals. All of the services permit files to be shared, of course, but only Box is able to handle shared folders with the same security and ease of use that you associate with an onsite server. Here's more information about the architectural reasons that Dropbox and OneDrive do not work well with shared folders for business, and here's an introduction to Box.
There's an interesting shift going on in the way we use online file services. Traditionally you would set up a Dropbox account, say, and install the Dropbox sync agent on your computer. Everything in the Dropbox folder would be synced so there were two copies of the files: you'd have a complete set of files on your computer, and a complete set of files online. If you set up Dropbox on another computer, you'd have a third complete set of files on that computer. Most people who use Dropbox or OneDrive don't really think about the online files; they focus on the copy of the documents stored in a folder on their hard drive.
Now we're getting used to the idea of files being online and it's starting to make sense to have files online that are not synced to every computer. As long as you can get to the files easily, you don't need to have every historical document synced all the time, right? You can free up hard drive space – more important now that hard drives are shrinking as we move to solid state drives – by only syncing the files that you're likely to work on frequently. If the process is smooth enough, maybe you don't need to sync files at all.
That's the area where Box is ahead of all its competitors. You can work on files stored in Box in any way that feels comfortable. No matter how you look for them, the files stored in Box will be readily available.
Let's do a hypothetical. Imagine that you don't install the Box sync program at all on your computer. You don't have a magic folder on your computer with a synced copy of the files stored in Box. The files are in the cloud. How do you reach them?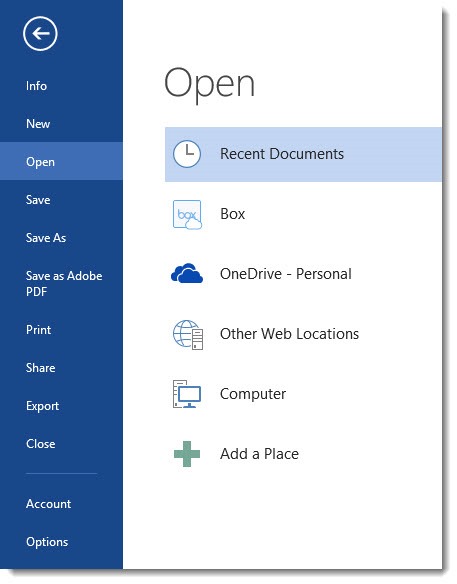 The most obvious way is to click on File / Open in Word, Excel, or Powerpoint. When you install the Box for Office app, Box is fully integrated and appears as an option next to OneDrive and the files on your computer. When you click on Box, you'll browse through the files online – all of them, completely apart from whether any files are synced to your computer. The files are fully indexed and you can do a search in exactly the same way you would search through local files.
In the same way, when you click on File / Save, you can save files to any folder in Box. Again, to be clear, the files are being saved directly to Box online; they're not being saved on your hard drive and then synced to Box later.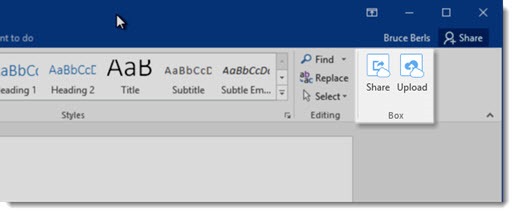 The Box app also adds two buttons in the upper right corner of Word, Excel and Powerpoint, shown above. If you've opened a document that is not currently stored in Box, you can upload it to Box, or you can upload it and share it, with only a couple of clicks.
But wait! There's more.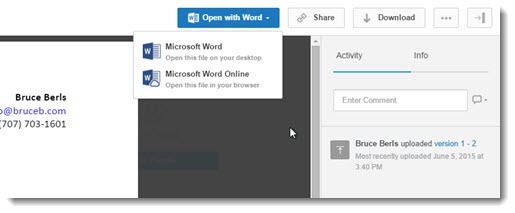 You can log in at the Box website. When you click on a file, you get a preview of the file with full fidelity to the way it appears in the program that created it. At the top is a button that corresponds with the type of file – "Open with Word," for example. As you see in the picture, it's a dropdown with two choices – Microsoft Word, the program installed on your computer; or Microsoft Word Online, the version of Word that runs in a web browser.
The option to open in Word Online, Excel Online, and Powerpoint Online was added a few months ago. The process is the same whether you open the file on your computer or in the online versions of the Office programs: you work on the file; and when you save it, it will save back to Box online with no extra steps. It just works. That's not limited to Office files, by the way. You can work on any kind of file by opening it from the Box website. After you install the Box Edit app, each file will open in whatever program is the default for that file on your computer. If you open a PDF and you have Acrobat on your computer, it will open in Acrobat, for example.
One of the brand new features is a tempting reason to use the online Office programs instead of reflexively using the programs installed on your computer.
Real-time co-authoring in Box For Office Online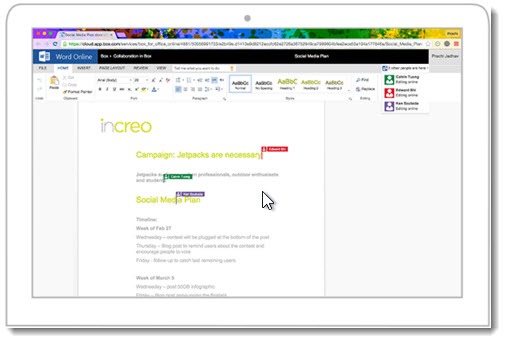 Last week Box and Microsoft announced an addition to the integration between Box and the online Office programs. If you open a file from Box into Word Online, Excel Online, or Powerpoint Online, you can edit the file simultaneously with other people who have access to the file in Box. Until now co-authoring was limited to files stored in OneDrive. Now it's opened up to Box users, again with no extra effort. You can see all changes being made as they happen, and all edits are saved back to Box automatically – no downloading or uploading required.
Accessing Box files in Office for iOS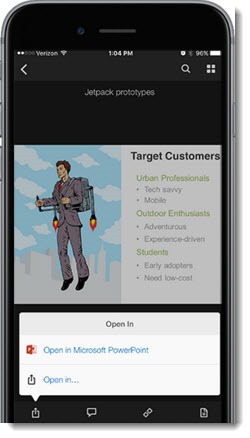 Also announced last week was a significant improvement in the integration between Box and the Office apps on iPhones and iPads. It's now possible to open Box files in Word, Excel or Powerpoint seamlessly with no extra steps. Again, you can do that in whichever way feels more natural. If you browse files in the Box app and choose a Word file, it will open in Word on the iPhone. If you start in Word and browse files, Box will be one of the locations that can be searched. New files can be created and saved directly to Box. Edits are saved directly back to Box. It's likely that the Android apps will be updated to support the same easy process but there's no announcement about that yet.
New Windows 10 app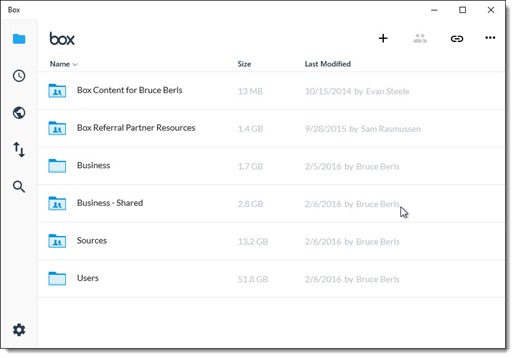 Box has also released a Windows 10 app that brings the website experience to your desktop. Like the website, it displays all the files stored in Box, regardless of whether they are synced to your local computer. You can preview any file and open it in the appropriate program with a single click. Changes and edits are saved directly back to Box online. You can share a file from the app with another click. The app is written in Microsoft's new "universal" programming format, ensuring that it will display nicely regardless of the size of the window (or size of the device you're using). You can find the Box for Windows 10 app in the Windows Store.
Oh, and worth mentioning – in the next few weeks Box will be integrated into Outlook.com so you can easily attach links to shared files in messages from your Outlook.com mailbox, and the same connection will be rolled out soon to Office 365 business webmail.
Let's focus again on what we're looking at. Everything above provides direct access to files stored in Box online. These are all optional alternatives to the synced folders that allow you to work on files straight from your hard drive. Box Sync still works as smoothly as ever. It is as fast and accurate as Dropbox, and a step ahead of OneDrive, which has slowed down and seems to be generating more sync errors in the last year. You can easily choose folders to sync or not sync from the Box website on the fly, so you don't need to have any worries about files not being available if the Internet connection goes down or you're getting on an airplane. If you like, you can sync all your files with Box Sync and use Box in exactly the same way you've traditionally used Dropbox or OneDrive.
I don't expect to set up many on premises file servers in the next few years. Box has a fully developed solution for storing company files. Microsoft is rapidly developing its Azure platform into something that can run line-of-business programs that currently require an onsite server. Give me a call if you're interested in trying Box!