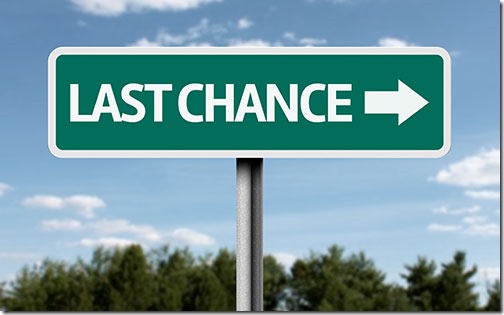 Microsoft says that the offer to upgrade Windows 7 and 8 computers to Windows 10 for free will end on July 29, one year after the release of Windows 10. The free upgrade was always described as a one-year offer but many people expected Microsoft to extend it indefinitely. No such luck. Upgrades to Windows 10 Home will cost $119 after the deadline.
According to MS Corporate VP Yusuf Mehdi:
"We want to remind you that if you haven't taken advantage of the free upgrade offer, now is the time. The free upgrade offer to Windows 10 was a first for Microsoft, helping people upgrade faster than ever before. And time is running out. The free upgrade offer will end on July 29 and we want to make sure you don't miss out. After July 29th, you'll be able to continue to get Windows 10 on a new device, or purchase a full version of Windows 10 Home for $119."
One of the best informed journalists covering Microsoft, Mary Jo Foley of All About Microsoft, thought she spotted some ambiguity in Microsoft's statement, leaving a possibility that it could extend the offer at the last minute. A few hours later the company reached out to her and said, nope, line in the sand, no free upgrades after July 29.

Let's see if we can answer three burning questions so you don't lose sleep.
•  What should you do?
•  What does this mean for Microsoft's Windows 10 goals?
•  What about the stupid Windows 10 upgrade notices?
---
Should you upgrade to Windows 10?
A quick summary:
•  If you're an individual or a small business with a computer running Windows 8.1, upgrade it to Windows 10. Just do it. No more procrastinating. The upgrade process is very smooth these days. If you run into a hitch, it will roll back to where you are and we can fuss with it if necessary.
•  If you're an individual running Windows 7 on a computer that's less than four years old, upgrade to Windows 10.
•  If you're a small business running Windows 7, or an individual with an older computer, leave things alone.
You can get the upgrade started from the icon in the lower right corner. If it's not there for some reason, go to this Microsoft page and choose "Download tool now." The description makes it sound like it does complicated things but the first option is "upgrade this computer." For some reason the media creation tool sometimes works better than pushing the "Upgrade now" button.
After you upgrade, follow the instructions in The Ultimate Guide To Configuring Windows 10 to reset defaults for your browser and PDFs and configure a few things that aren't quite right.
Buy Start10 and install it to give you a traditional Start menu. (Instructions are in the same article.)  I don't even ask people about that any more. I have found zero interest in the cluttered Windows 10 Start menu with its colored tiles flipping and flapping and advertising Candy Crush. Allow Start10 to turn off the search bar that takes up too much room on the task bar for no particular reason.
Then get back to work.
---
What does this mean for Microsoft's Windows 10 goals?
Shortly before the release of Windows 10, Microsoft confidently predicted that Windows 10 would be running on one billion devices "within two to three years."
That's probably not going to happen.
After nine months of obsessively pushing a free upgrade, Microsoft announced last week that Windows 10 is running on 300 million devices. That's pretty good. Microsoft has more or less successfully managed the largest software upgrade in history.
There will be a little wave of upgrades to beat the deadline. Upgrades for individuals and small businesses will then effectively grind to a halt.

Fewer than 240,000 computers were sold last year. Sales will be flat or down in 2016. Most of them will be running Windows 10, so let's call it 400,000 new Windows 10 computers in the next two years. Add in some upgrade numbers as some enterprises roll out Windows 10 upgrades. (Enterprise Windows licenses weren't included in the free upgrade offer.) Maybe boost the numbers by including XBox One and tablets (which are probably already included in that first 300 million number).
You get a nice result for Microsoft. It won't be a billion devices. Windows 10 will not pass the market share of Windows 7 for quite a while but the stink of Windows 8 will be completely dissipated and Windows 10 will be the obvious and safe choice going forward. Microsoft won't be able to boast that it hit its billion device target but Windows 10 will be a solid success.
No one will care much.
There are about 1.6 billion computers in use worldwide, mostly running Windows. There are already more than 2.5 billion devices running iOS and Android, and roughly six times as many smartphones and non-Windows tablets will be sold this year as Windows computers. The gap will widen.
---
What about the stupid Windows 10 upgrade notices?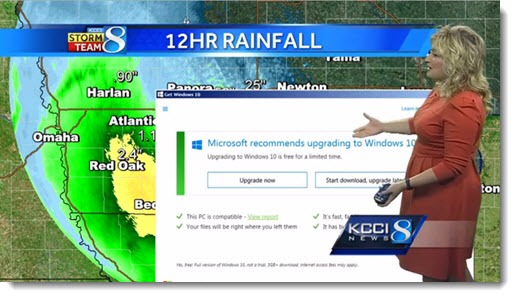 Yes, the above picture really happened – a Windows 10 upgrade notice popped onscreen in the middle of a local news broadcast in Iowa.
If you're still being badgered by unwelcome upgrade notices, you can turn them off in 15 seconds with Steve Gibson's Never10 utility. Full instructions here.
Microsoft will do the right thing, though. After July 29 the upgrade notifications will be disabled and (eventually) uninstalled. Microsoft said in a statement to WinBeta: "Details are still being finalized, but on July 29th the Get Windows 10 app that facilitates the easy upgrade to Windows 10 will be disabled and eventually removed from PCs worldwide. Just as it took time to ramp up and roll out the Get Windows 10 app, it will take time to ramp it down."
Good news! That will only be – let's see, it's May now, July is two months away, the 29th is Friday – ah, yes, that will only be one full year since the upgrade notification should have been disabled and replaced with something that wouldn't cause hundreds of millions of people worldwide to howl in annoyed rage.
But that's almost behind us. For now, let's upgrade those Windows 8 and newer Windows 7 PCs.