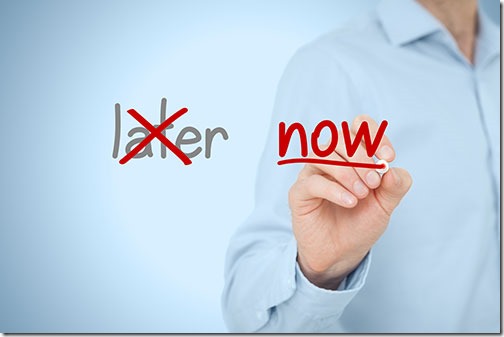 Windows 10 will celebrate its first birthday on July 29. That's the last day to upgrade a Windows 7 or Windows 8 computer to Windows 10 for free.
Here's the latest Windows 10 news.
•   Every Windows 8 computer should be upgraded to Windows 10. Windows 8 will quickly become the Windows Version Whose Name Must Not Be Spoken, abandoned and ignored by Microsoft and manufacturers.
•   Microsoft has improved its upgrade notices and made it easier to decline the Windows 10 upgrade, as a reaction to annoyed articles about the pushy and deceptive notices it had been using. Since Windows 10 was released eleven months ago, this welcome improvement is only, let's see, eleven months too late. But that's nice of Microsoft to do the right thing 29 days before it's irrelevant, isn't it?
•   On August 2, Microsoft will release the Anniversary Update for Windows 10, a collection of new features and improvements that has been a year in the making. Below I'll describe all the exciting new things you can look forward to. (Spoiler alert: there aren't any.)
Ready?
---
Time to upgrade Windows 8 computers

It is obvious that Windows 8 has been consigned to the ash heap of Microsoft's failed operating systems, joining Vista and Windows ME. All Windows 8 computers should be upgraded to Windows 10.
Major upgrades always carry a risk of something going sideways but going from Windows 8 to Windows 10 is a relatively modest change and the odds are very high that the upgrade will go smoothly. Although there are some obvious cosmetic differences, Windows 10 is not much different from Windows 8 under the hood. Things that work in Windows 8 should still work in Windows 10. Windows 10 needs some tweaks (all the details are here), but it looks very similar to Windows 8 once it's configured.
If you don't upgrade, though, there's a risk that things won't work down the road. Your Windows 8 computer is probably only two or three years old and you're hoping to get a few more years of service from it. During the lifetime of the computer, Windows 8 will become a rarely mentioned afterthought. Devices will be released for Windows 10 that aren't supported on Windows 8. Think that's unlikely? I still have fond memories of the day I learned that Adobe Acrobat XI Pro was supported on Windows XP and on Windows 7, but not on Windows Vista, the OS that came in between.
There's no advantage to staying on Windows 8. Windows 10 is a better OS in almost any way you can imagine – user interface, security, stability, compatibility, speed. If you don't upgrade now, you're guaranteeing early obsolescence or paying $200 later for an upgrade that's free today.
Small businesses should inventory their computers and upgrade the Windows 8 PCs. Leave the Windows 7 PCs alone, if you want, but let's get the Windows 8 PCs upgraded in the next 25 days. Here are more details about the decision to upgrade.
---
Upgrade notices are easier to decline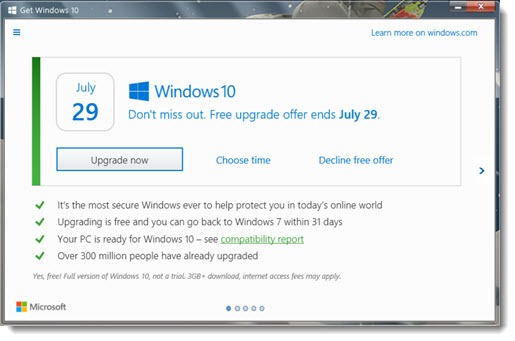 Last week Microsoft announced that it was rolling out a "few new experiences" to present your Windows 10 upgrade options. That's a euphemism for changing the notice that pops up incessantly to badger you about upgrading. Some overwrought bloggers had actually accused Microsoft of using malware tactics to fool people into upgrading. The revised notice (pictured above) includes the option to "Decline free offer." That's an option that should have been there eleven months ago, and comes now less than a month before the upgrade notices will be withdrawn as the free offer expires.
So: great work, Microsoft! Really responded to customer feedback on that one, eh? I guess it falls in the category of "better later than never," but it really stretches that phrase to its limits.
---
Windows 10 Anniversary Update arrives August 2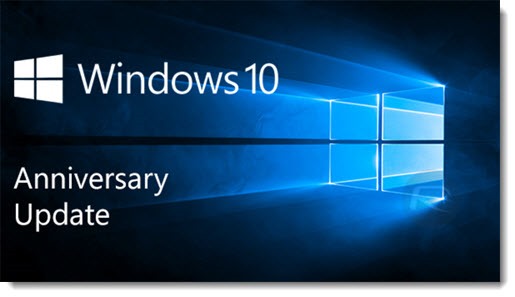 The Anniversary Update on August 2 will be the first major update for Windows 10 since its release. Microsoft is highlighting six areas of improvements and new features that are worth mentioning.
Security – In addition to some enterprise security features and improvements to Windows Defender, Microsoft is beginning to integrate Windows Hello with apps and the Edge browser. Windows Hello is the biometric authentication system that can log you into Windows with your fingerprint or facial recognition. It would be quite nice to use a fingerprint to log into websites or start apps that require a password. This might be the most interesting thing about the Anniversary Update but there is still a lot to learn about the details, and perhaps this won't be very important until Google responds by integrating Windows Hello into Chrome.
Edge – The Edge web browser was the biggest disappointment in Windows 10, and its steadily shrinking market share reflects its lack of maturity. It will improve in the Anniversary Update with limited support for extensions like LastPass and ad blockers, and a few new features that seem underwhelming. Although Microsoft is pushing the energy efficiency of the Edge browser (seriously), I'm not expecting to leave Chrome any time soon.
Cortana – Microsoft's personalized help assistant has also been a bit half-baked. Among other tweaks to Cortana in the Anniversary Update, Cortana will be available from the lock screen without logging in. I'm not sure that really tips the scales for me.
Windows Ink – Microsoft is committed to handwriting and digital pens. The Anniversary Update will introduce a Windows Ink Workspace to make it more obvious how to get started with the pen, as well as improving support for the pen in apps and the Edge browser.
Gaming – Xbox One is considered to be a "Windows 10" device and will be getting a number of Anniversary Update improvements that spill over to PCs. Most important: when you buy a game that supports "Play Anywhere", it will work both on PCs and on the Xbox One and perhaps even sync your progress from one to the other. Nice for gamers!
Classroom – Microsoft is trying hard to regain its footing in the classroom in the face of Chromebook's increasing dominance. Windows 10 Anniversary Update brings new classroom management tools and new inexpensive devices aimed at the classroom.
Although Microsoft isn't calling attention to it in the promotional push for Anniversary Update, we may also get more ads in the Start menu on new computers, like the notorious Candy Crush tile in Windows 10 today. Microsoft desperately wants you to start looking in the Windows Store for apps as a way of building a Windows ecosystem to rival Apple App Store and Google Play. It's not going well so far, so Microsoft is apparently considering doubling down on the Start menu ads to draw your attention to the Store. This makes me sad.
And that's about it for the Anniversary Update. It's not going to change your world. The important thing is that Windows 10 is stable and secure. With luck the Anniversary Update will continue Microsoft's efforts to improve Windows 10 without adding bloat or new bugs.