Google introduced a new app for video chats last week. Google Duo makes one-on-one video chats as easy as possible, with nothing required except a phone number and someone on the other end who's running the app or willing to install it. Google Duo doesn't even require a Google account. Setup takes only a moment, and once it's set up it literally requires only a single tap to start a call. Everything about it is streamlined. There are only a handful of options and only a few buttons onscreen – mute, change camera, end call. It's intentionally missing some features that would make it more complicated – group chats, for example. Google claims that Google Duo will deliver a high quality video experience even on slow Internet connections.
In other words, Google Duo is focused on doing a single thing very well, in the simplest possible way.
If you've ever used an iPhone, then you're familiar with FaceTime, Apple's super simple app for video chats. FaceTime is streamlined, with only a handful of options and only a few buttons onscreen. It's focused on doing a single thing very well, in the simplest possible way. Sound familiar? But there's a crucial difference between FaceTime and Google Duo, which reflects Apple's long-standing decision to create a walled garden that is only accessible to Apple customers: Apple, in its wisdom, restricts use of FaceTime to iPhones and Macs. Like many other Apple apps and services, FaceTime cannot be used on an Android phone.
Google Duo takes direct aim at FaceTime by doing exactly the same task but making it cross-platform. Google Duo runs on Android and iOS. With Google Duo, you can start simple video chats with anyone, regardless of what kind of phone they have. That gives Google Duo a vastly greater audience than FaceTime, since Android's market share keeps growing and growing – most recently Gartner reported that Android has a staggering 86.2% global market share, with Apple's iOS market share continuing a slow but steady decline.
In the first few days of release, Google Duo shot nearly to the top of the charts, beating Pokémon Go in the Google Play Store and rising fast in the Apple Store.
But it didn't get to number one in the Android store. Number one continues to be Facebook Messenger. And therein lies a tale about communication overload and the curse of too many choices.
If you have a long technology memory, you probably remember a time in the late 90s when instant messaging was all the rage. This was in the days before smartphones and ubiquitous text messages, when we first became infatuated with sitting at our computers and chatting with each other. The instant messaging rage started with ICQ and was quickly followed by AIM (AOL Instant Messenger), Yahoo Messenger, MSN Messenger, and others. It quickly became frustrating that the services were independent of each other. The first challenge of using instant messaging was figuring out what program your friends were using. Many people wound up with several instant messengers running simultaneously so they could chat with different people using different programs.
Today the number of communication channels has grown exponentially and all the old problems are new again. Google Duo joins a crowded landscape of communication programs. You will wind up in the same position that we were in twenty years ago, trying to figure out which app to use to reach the various people that you want to stay in touch with, and probably switching from one to another as you try to remember who's using what app.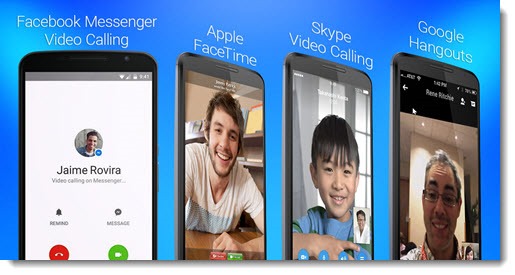 Just trying to keep track of Google's communications programs is enough to tire you out. Google has already seen messaging products come and go – Google Talk, Google+ Messenger, Google Voice. Each had some combination of video chat, instant messaging, text messaging, SMS texting, and VOIP (audio chats using the Internet). Google Hangouts is a complex hybrid of all those features; although it overlaps with Google Duo, Google says both products will continue and Google Hangouts will now be aimed primarily at enterprises. Still to come is Google Allo, a messaging app that Google promises will have cool learning features – if a message arrives suggesting going out for Italian food, for example, Google Allo will bring up a list of nearby Italian restaurants. Google Allo will also take the emoji trend to a whole new level with even stupider emoji than anyone has ever seen before. (Really. You have to go look at samples. I feel very old sometimes.)
But that's not all.
Facebook Messenger has over a billion active monthly users for video, voice, and messaging. It's the closest thing to a universal app for mobile devices and the one that your friends are most likely to use. Facebook is now engaged in a serious push to turn it into a business tool as well.
But then there's WhatsApp, which also has over a billion users for instant messaging. (And which happens also to be owned by Facebook.)
And Skype. Remember Skype? Skype handles video calls, VOIP, and instant messaging on smartphones and computers. Microsoft bought Skype in 2011 with the intent of making it everyone's first choice for messaging and video chats. Then Microsoft allowed the Skype division to work independently and things didn't go well. Over the last five years: (1) Skype performance deteriorated as the company transitioned to a better underlying platform, a migration that is still not complete today; (2) Skype was never integrated very well with the Office programs or other Microsoft products; (3) the confusing and eccentric Skype interface was never improved; and (4) Microsoft managed to screw up its branding – really, quite a Microsoft specialty – by taking a completely unrelated enterprise communications platform and naming it "Skype for Business." Skype is still out there, still popular, but it's increasingly overlooked in the age of Facebook Messenger, WhatsApp, and the rest.
Don't overlook Snapchat, wildly popular with the young'uns. Although Snapchat is best known for its disappearing photos, it is also used for text, audio, and video chat.
Oh, and don't forget that Apple and Google also have separate apps for SMS and text messages – iMessage on iOS and Google Messenger on Android. Both also support audio and video messages plus photo and video attachments.
Think you're done? We've barely scratched the surface. We haven't touched on Slack, the popular business messaging and collaboration platform. Or Hipchat, or Microsoft Yammer, or any of the enterprise collaboration and messaging platforms – Salesforce, Sharepoint, and the like.
There are a thousand differences between all the programs. Some are only for smartphones, some also work on computers and laptops. Some are for individual one-on-one chats, some also handle group chats. Some are only for text-based chatting, some support video and photo attachments, some handle VOIP and/or video, some do everything.
Fortunately, you will never make a choice based on the specs. There is no best or worst.
Your choices will be based on only one thing: What app are your friends or family using? What app does your business use?
There's lots of communication going on but don't expect anything to be straightforward or predictable today. We're back to living in a fragmented world with too many choices.