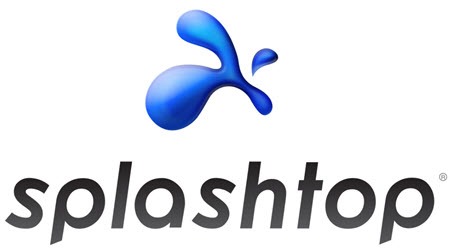 Splashtop is the best choice for remote access to office computers in small businesses.
Splashtop is an alternative to LogMeIn and TeamViewer, each of which have their own problems. Splashtop is affordable, works well, has an easy learning curve, and works on many types of devices. You can control Windows or Mac computers. You can make the remote connection from Windows or Mac computers as well as iPads, iPhones, and Android devices.
Splashtop is a privately held company headquartered in Silicon Valley. The VC-funded parent company was founded ten years ago. I have no idea if it's financially stable and around for the long haul. Splashtop Remote became popular when it was released in 2010 because it was one of the first and best remote control apps for iPads, and it got a huge boost when LogMeIn discontinued its free remote control program in 2013 and started a sustained campaign to raise its prices.
---
How does Splashtop work?
Small business employees frequently need a way to connect to their office computers from a home computer or a laptop on the road. It's still typical to have a program running onsite that can't otherwise be accessed from the road – Quickbooks, say, or a database-driven line-of-business program, or a case management program in a law office.
When you start the Splashtop app, it will display the computers that you can access remotely. You can connect instantly. When you're connected you'll see exactly what you would see if you were sitting at the office. Literally exactly – if the login screen is showing at the office, you'll have to log in. If the desktop is open and has a dozen open programs, that's what you'll see.

There are simple controls in a dropdown panel at the top. You can send a Ctrl-Alt-Del if needed to get a login screen, expand the display to fullscreen, and switch monitors if you have dual screens at the office.
Splashtop supports remote printing. If you're lucky, when you're connected from home, your home printer will be an option when you print something from the office computer. I've tried remote printing with a number of different services and it's always been erratic at best. If your printer shows up, you might be able to print to it; if it's not there, you're out of luck. As far as I know, all the remote support programs use basically the same technology under the hood so chances are that if it won't work with Splashtop it also won't work with the others.
Splashtop also has a nice window for file transfers. That's an extra cost option (or just missing) with other remote control services.
---
Getting started with Splashtop
To use Splashtop, you'll install Splashtop Streamer on the Windows or Mac computer in the office, connected to your Splashtop account. (No, I don't know why it's called the "Streamer.") To be clear: Splashtop Streamer is installed on the computer you want to remote to. The office computer has to be turned on and not asleep. (For a Windows PC, change the options in Settings / System / Power & Sleep (Windows 10) or Control Panel / Power Options (Windows 7).
You'll install the Splashtop app on the computers or devices you want to use outside the office – the devices you want to remote from. That's the home computer, laptop, iPad, iPhone, or Android device.
IMPORTANT: This is one of the confusing bits even though it sounds obvious. There are different apps for different Splashtop products. Small business users will sign up for Splashtop Business and install Splashtop Streamer for Business and the Splashtop Business app.
If you have a Splashtop Business account, make sure you get the Splashtop Business app for your computer.
There are different versions of Splashtop apps on iPads, iPhones and Android devices. Same thing: If you have a Splashtop Business account, make sure you get the Splashtop Business app for your tablet or phone. If you see a Splashtop app in the Apple Store or Google Play store, that's the Personal app. The Business app is free with a Business account.
You can watch an installation video and get answers to questions here.
---
How much does Splashtop cost?

Bruceb Consulting clients should contact me directly. I might have a good deal for you.
Splashtop has a "Personal" plan for $16.99/year. It appears to be free on first glance but requires a $16.99 subscription to use it from outside the office. One user can connect to up to 5 computers. The personal plan is cheap and might work for an individual with limited needs. You'll have to purchase the mobile apps, which are fairly expensive, and the Personal plan does not support remote printing or easy file transfers.
Most businesses will want the "Business Plan" for $60/year per user. Each user can connect to up to 10 computers. Mobile apps are free and all features are enabled.
Splashtop also has plans for IT professionals at a fraction of the cost of competing products (especially LogMeIn Rescue, a former market leader that is now vastly overpriced). If you're an IT pro, take a look at Splashtop Business for Remote Support and Splashtop On-Demand Support.
---
Competition: LogMeIn, TeamViewer and more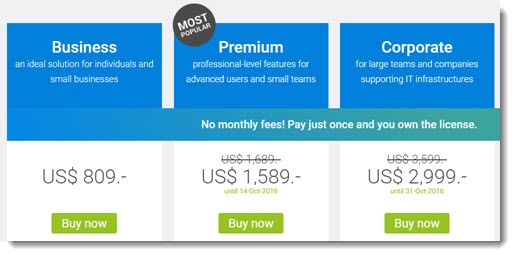 There have been three primary competitors for remote access to computers in small businesses.
Microsoft builds a remote access portal into its Server Essentials products (the successor to the old stalwart Small Business Server). It provides access to server files in a browser for downloading and uploading, and remote access to onsite computers using a customized version of Remote Desktop.
I've become impatient with it in the last few years. It is finicky. I find myself constantly sending tips to users to help them connect. Among them: "Switch to Internet Explorer because it frequently won't work in Chrome or Firefox (or even Microsoft's own new browser Edge). Try putting the site in IE's Trusted Sites. Try entering your user name with the domain name. Hang on while I go fix the fiddly bits of things that are broken in Remote Gateway Management." I have a list of tech support documents that I consult for all the problems that come up with the required (and expensive) server SSL security certificate. No one uses the portal for anything except remote access to an onsite computer; its other features are seldom used.
It works but frankly it's not a very enjoyable experience sometimes. Switching over to Splashtop creates a better experience for users and ends up being cheaper when all costs are taken into account.
LogMeIn was the traditional well-known remote control program. It has become very expensive to subscribe to LogMeIn and get the same functionality that Splashtop includes in its inexpensive business accounts. Last year I wrote an explanation of why I was happy to leave LogMeIn's sleazy business practices as well as their inflated prices. Since then LogMeIn's focus on enterprises has proven to be very profitable; as far as I know they're making tons of money and they don't miss me a bit.
Remember GoToMyPC? At one time it was also a familiar program whose inflated prices put it out of reach of small businesses. I don't know what it means but LogMeIn bought the GoTo family of products a couple of months ago.
TeamViewer, the other well-known remote support program, still has a "free" app but there are weird, unpredictable limitations on that; basically, if TeamViewer decides you're using the app for "business," it shuts it down and demands payment. There are no clear guidelines about what constitutes "business" use (if you're connecting to your office computer, you know the answer and it's a sucker's bet to hope they won't find out), and it's a bit surreal to look at the price of a TeamViewer license, starting at $809 for a single user with no mobile app support.
There are other remote control programs out there. If you have a favorite, use it with my blessing. But if you're looking for a solution, try Splashtop for Business. My experience and feedback from my clients has been good.