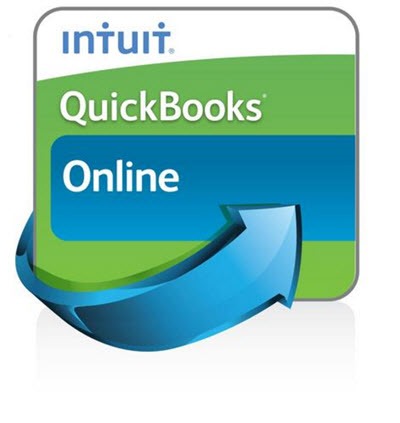 A year ago I wrote about
Intuit's promotion of Quickbooks Online
and the bleak long-term prospects for the desktop version of Quickbooks. It's not really a choice for Intuit; it's the only way to survive. Intuit's bet is paying off. It's good news for Intuit, not good news for traditionalists who hope that this cloud stuff is just a fad. Quickbooks Online grew by more than 40% in a year, according to
Intuit's earnings call in August
. That's more than 400,000 new Quickbooks Online subscribers – and that's where all the new customers are concentrated. Meanwhile,
Quickbooks Desktop
had a tiny bit of growth, virtually all of it coming from upgrades from earlier versions. ("Quickbooks Desktop" is the
official name of the 2017 version
.) There are no new Quickbooks Desktop users. And Intuit expects the number of Quickbooks Desktop users to decline in fiscal year 2017.
Intuit posted some charts online
that make the trends clear. This one shows the growth rate for online and desktop customers over the last five years.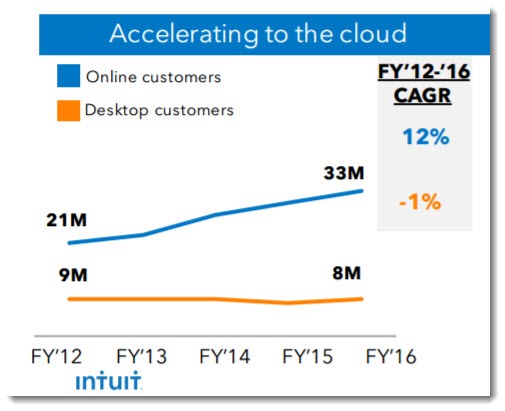 A second chart shows the momentum that Intuit has achieved for Quickbooks Online since its launch.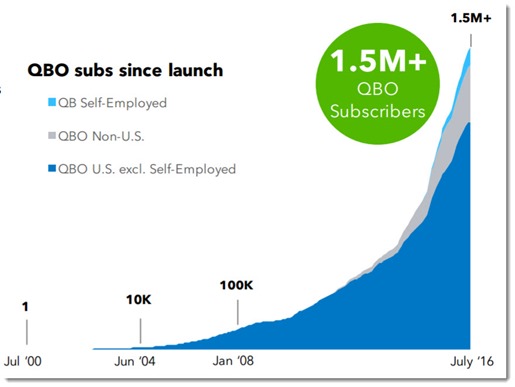 There were a couple of interesting details in the earnings call.
Quickbooks Desktop pricing
Intuit studied the reluctance of desktop users to move to the online version of Quickbooks and discovered that features and pricing had little to do with it. Instead, it's a mindset: some people just aren't ready to move to the cloud. Last year Intuit experimented with a price increase for Quickbooks Desktop as an incentive to drive people to Quickbooks Online, but found it made little difference except to discourage customers from upgrading their desktop versions. After they brought the pricing back to normal for the desktop program, the regular upgrade cycle resumed, including people who had delayed an upgrade last year. That's what accounts for the tiny increase in 2016 desktop sales.
International sales
Intuit's stock price went down after the 4th quarter earnings report
because the company is having trouble getting traction for Quickbooks Online internationally. The international market is huge and Intuit is chasing it aggressively but results haven't lived up to their hopes yet. Again, there's no comfort for desktop loyalists in weak Intuit numbers; it will make the company work harder on the cloud version, not pivot back to the shrinking market for installed desktop programs. I had a terrible experience with Quickbooks Online a year ago when the import from my Quickbooks desktop company file went sideways. I bailed out and went back to the desktop version. A few weeks ago I made another attempt and, well, so far it's been flawless. Years of transactions imported accurately and the connections to my bank were painless. I've spent a few hours doing chores: customizing forms; cleaning up errors that came over from my original company file; learning where things are in a very different interface. It's immediately clear that Quickbooks Online is simpler than the desktop program with fewer complicated bits. Fortunately my needs are simple and the desktop program was always overkill, so I've actually been enjoying the transition quite a bit. I'm signed up for a plan that costs $15/month (after a six month introductory discount), but I saved a couple of hundred dollars that I didn't have to spend to upgrade to the new desktop version and I've made my peace with subscriptions. There is a meaningful improvement in my life in one respect, the obvious one for a cloud service: I can now access Quickbooks from any device, whether it's on the road from my laptop or on the Chromebook that I'll be receiving soon. There's even a mobile app for Quickbooks Online but I'm going to try to live a life that never requires me to use it. Your mileage may vary. This is a very, very individualized area and I'm reporting, not recommending. But if you're a Quickbooks Desktop user who is open to change, it's probably time at least to look at the online option. [Postscript 11/11/2016:
FitSmallBusiness.com
just posted
an extensive series of free tutorials for Quickbooks Online
, with tips for beginners as well as deeper looks at specific features. Recommended!)