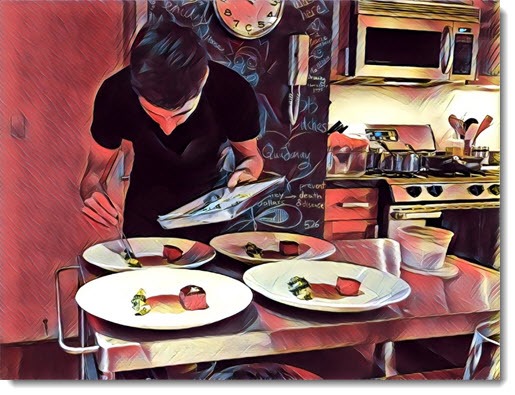 Let me tell you about my dinner last Saturday. It was pretty special. It might give you some ideas about food and passion and family.
A few months ago our son Andrew invited us to a kaiseki meal in San Francisco.
The twist: instead of taking us to a fancy restaurant, he was going to cook the meal in his apartment.
Andrew is a software engineer but in the last few years, cooking has turned from a hobby into a passion. The tools have been getting more elaborate and the stories more interesting – sous vide, Vitamix blenders, inspiration from the world's best chefs, and experiments in molecular gastronomy.
We were sure we were grateful for the invitation but we didn't know why. Our first job: figure out what "kaiseki" means.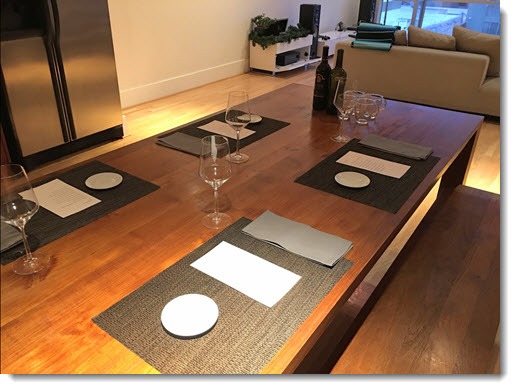 Kaiseki has been a Japanese tradition for hundreds of years: a beautifully-plated Japanese multi-course meal made from local, seasonal ingredients. But in our modern world it has evolved into something much more. CNN calls it "the world's finest meal." Like the dinners in Michelin-starred restaurants (some of which serve kaiseki-inspired meals), the courses in a kaiseki meal are labor-intensive and fantastically delicious. Every element of the meal is considered and planned for excellence. The textures of the ingredients in each course, the pacing of the meal, the relationship of one course to another, the presentation of the food, the choice of dishes and cups and bowls: all of it is designed to create lasting memories of an exquisitely planned experience of time and place.
There is no formula for kaiseki, although there are traditions that guide the choices. Modern kaiseki is a testament to the cooking and presentation skills of the chef. It is the embodiment of "omotenashi," the Japanese art of heightened hospitality and anticipation of a guest's every need.
Kaiseki is the most expensive type of meal in Japan. Many of the finest chefs in America serve meals that are influenced by the kaiseki tradition – Corey Lee at Benu and Sung Anh at Mosu in San Francisco, for example, both of whom spent time with Thomas Keller at the French Laundry before opening their own restaurants. Kyle and Katina Connaughton are serving a kaiseki-influenced meal at the new Single Thread restaurant in Healdsburg, which has immediately joined the short list of the Bay Area's finest (and most expensive) restaurants.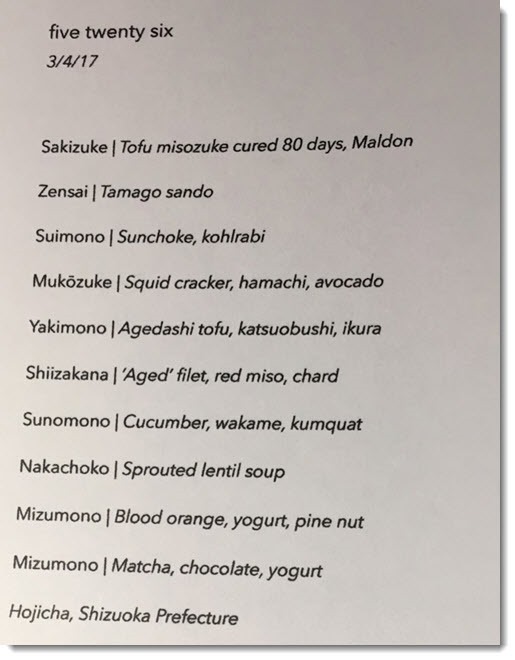 We were greeted with a simple, perfectly prepared table and printed menus. The left column names each course – "suimono," the soup course, and "yakimono," the grilled course, for example.
Andrew had chosen a 1999 Sonoma County Merlot from Pride Mountain Vineyards to accompany the meal. Yes, 1999 – an eighteen year old red wine that had been properly stored and aged. It was exquisite.
Andrew's description of each course is under each of the following pictures.
\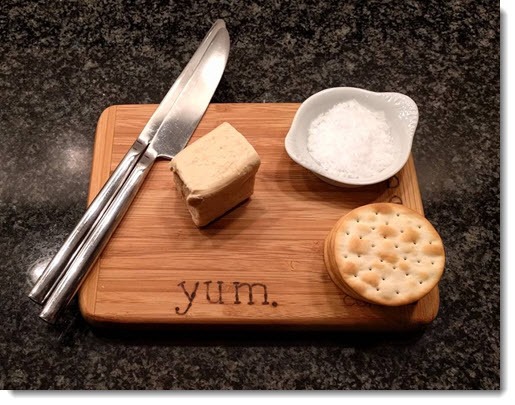 Sakizuke | Tofu misozuke cured 80 days, Maldon
Tofu cured in miso and red pepper for 80 days, served with Maldon. This ancient preparation makes the tofu soft and spreadable, a play on crackers and cheese to start the meal.
Andrew began planning our meal six months ago. He's been experimenting with the menu and calculating the timing of items that needed to be prepared ahead.
The texture and flavor of this tofu, with a consistency like creamy Brie cheese after curing in his refrigerator for almost three months, made wide smiles break out on our faces immediately as we dove for more. Maldon is a flaky sea salt that we sprinkled with our fingers over the spread.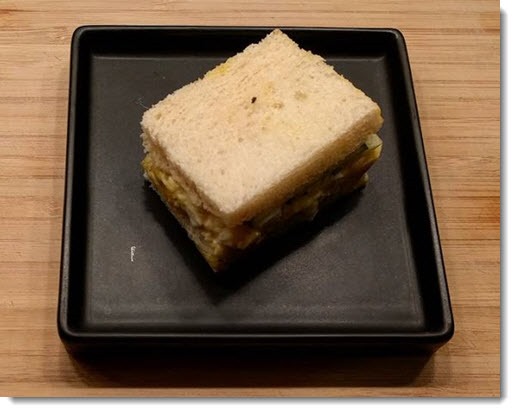 Zensai | Tamago sando
Tamago sando, or egg salad sandwich with cucumber. Another small playful bite to start things off.
Deceptively simple looking – a delicious sandwich bite with flavors that made it much more than simple egg salad, and thin slices of a delicate Persian cucumber.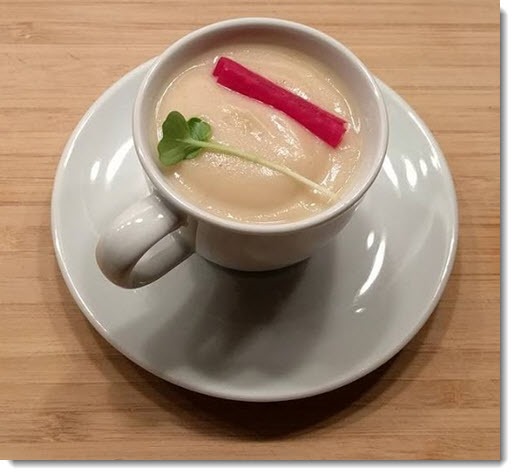 Suimono | Sunchoke, kohlrabi
Soup of pureed sunchoke served with beet-pickled kohlrabi and daikon sprout. Kaiseki is all about showcasing seasonal ingredients!
Andrew was preparing each course in front of us and describing the ingredients and techniques. The hot soup had a bit of spice to it, and he had added the right chemical to give the puree exactly the consistency he wanted. The kohlrabi had been pickled with a beet to give it that deep red color. And there was a hidden crouton at the bottom of the cup to add texture and a bit of surprise.
The cup is demitasse size. Each course was only a few bites – but oh, what bites!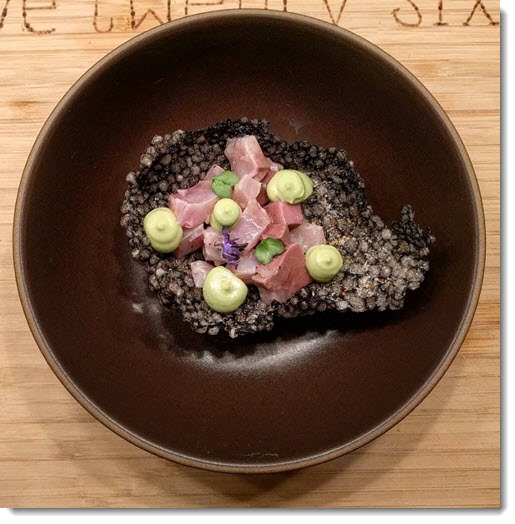 Mukozuke | Squid cracker, hamachi, avocado
Puffed squid ink cracker with hamachi ceviche, avocado puree, daikon sprout and borage. Gorgeous bowl by @heathceramics!
If I understand correctly, preparing the puffed cracker involves tapioca, squid ink, and multiple steps to cook and fry over a couple of days to get a light, crisp texture that looks amazing and tastes delicious.
Andrew showed us the hamachi he had gotten fresh that morning, then prepared the exquisite appetizer on the side table, squeezing out perfect dabs of avocado and topping with one little perfectly placed blossom on each plate. It is obviously a visual treat but you have to know that the combination of flavors and textures – the crispy cracker, creamy avocado puree, hamachi sashimi – was also a magical taste sensation. We were transported.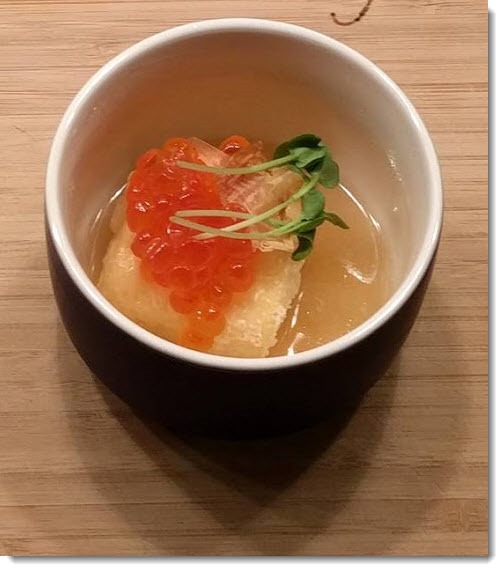 Yakomono | Agedashi tofu, katsuobushi, ikura
Agedashi tofu, deep fried, with salmon roe, katsuobushi, yuzu kosho, and a bacon dashi glaze. Smoky and delicious!
Andrew lightly fried the tofu, then brought it to the side table to top it with the salmon roe and a deeply flavorful broth with just a hint of bacon. There were so many things going on with each bite – the subtle pop of the roe, a hint of crispness on the outside of the tofu, the many flavors mingling to create a unique and wonderful taste.
Notice that each course is being served in a different cup/dish/bowl. Andrew had gone to several places – Heath Ceramics (a well-known California maker of distinctive and artistic tableware), Japanese markets, more – to get the right presentation for each course.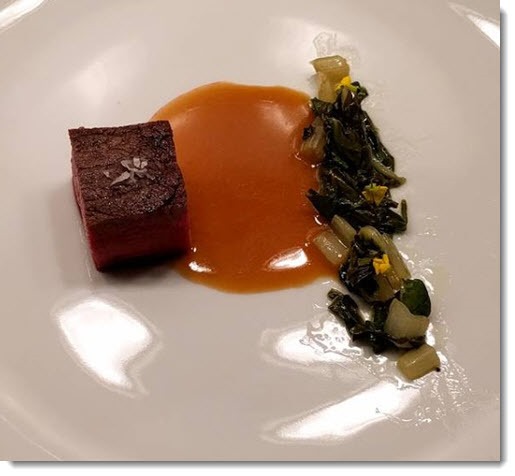 Shiizakana | "Aged" filet, red miso, chard
Filet mignon "aged" with fish sauce, cooked sous vide with a beef red miso sauce, chard, and mustard flowers. So tender, and umami like you wouldn't believe.
Sous vide cooking is a specialty that has become popular among creative chefs. Food is cooked in a sealed bag immersed in water at a constant temperature, using a special controller. The few bites of beef on that plate had been aged for three days in the refrigerator, then cooked sous vide at a very precise temperature for a very precise amount of time, calculated so it would be done at the right point in the meal. Andrew finished each piece of filet with a quick searing, then plated it with the sauce and vegetables.
You've never had beef with that kind of texture and flavor. It was the cliche, so tender you could cut it with a fork, and each bite was blissful joy.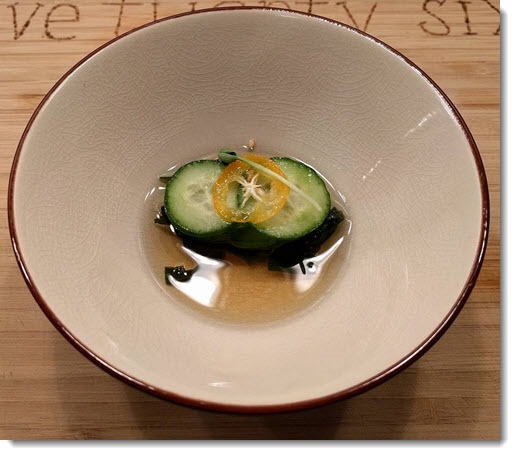 Sunomono | Cucumber, wakame, kumquat
A vinegared salad to cleanse the palate. Wakame seaweed with cucumber and kumquat in a sweet rice vinegar dressing.
By this time we were immersed in the wonders and subtleties of this amazing meal. Andrew was smoothly pivoting from refrigerator to counter to stove to side table. Conversation was lively. Andrew was happily describing his trips that morning to the farmer's market and local stores to get the ingredients that needed to be fresh.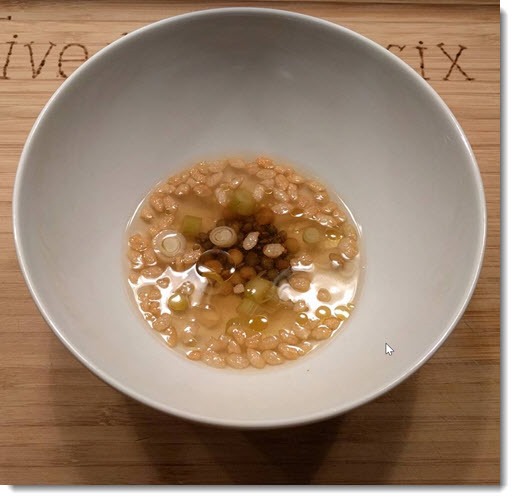 Nakachoko | Sprouted lentil soup
A comforting soup of onion kombu broth, sprouted lentils, pickled scallion, puffed rice and beef fat on top. A nice way to wind down the savory courses. My homage to David Kinch's beautiful dish at Manresa.
Another burst of flavor, another beautiful mix of textures and tastes. The two or three drops on the surface are rendered beef fat, just enough to lend its own distinctive flavor.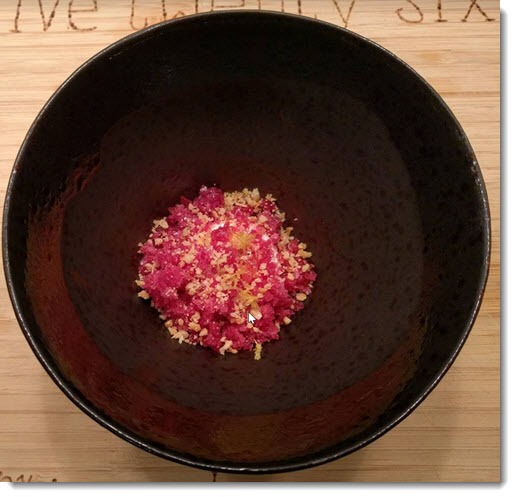 Mizumono | Blood orange, yogurt, pine nut
The first dessert. Aerated Greek yogurt with blood orange granita, toasted pine nut, orange blossom honey, and lemon zest. Inspired by the truly fantastic @mosusf .
A granita is a frozen Italian dessert made from sugar, water, and juice or puree for flavor – blood orange in this case. It takes several hours to make the simple syrup, let it steep, then freeze and scrape at regular intervals.
But the yogurt hidden out of sight in the photo was even more fun. Andrew attached a nitrous oxide canister to charge the aerator, something you would expect to dispense whipped cream. The yogurt melted in the mouth like a foam or a meringue. Add tiny bits of chopped pine nuts and a squeeze of clover honey purchased fresh that morning. Heaven! My wife had a spiritual moment of zen bliss. We eventually were able to pry the bowl from her fingers and talk her down.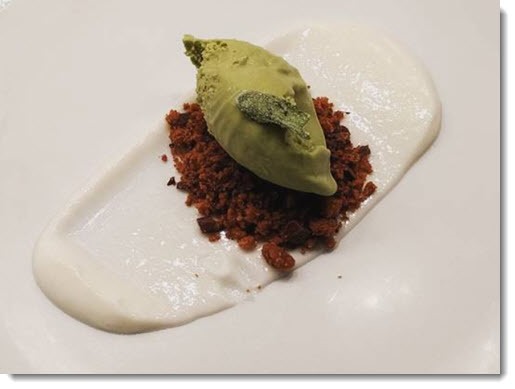 Mizumono | Matcha, chocolate, yogurt
Second dessert. Freshly-made matcha ice cream with chocolate cookie crumble, and sweet Greek yogurt gel. And my attempt at a quenelle!
Andrew had taken Friday off from work to start the two days of nonstop preparation necessary to pull off this meal. The matcha green tea ice cream had been finished shortly before we arrived. The yogurt underneath was prepared completely differently than in the previous course, but you would have guessed that by now, right? Oh, and that's a mint leaf on top. It had been microwaved with a bit of special oil to make it crispy, then topped with carmelized sugar. No touch was too small and we tried to be sure that nothing went unnoticed.
A "quenelle" is the distinctive teardrop shape for the scoop of ice cream. You'll only have ice cream served to you in a quenelle shape in a high-end restaurant because it's incredibly hard to do. Two spoons, warm water, and a technique that requires lots of practice. Andrew had been practicing.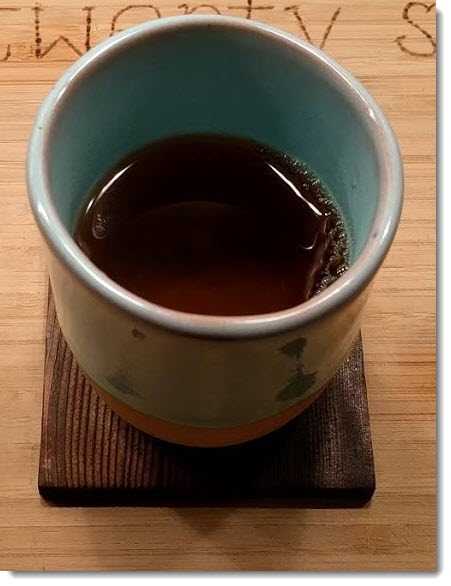 Hojicha, Shizuoka Prefecture
And finally – hojicha, or roasted Japanese green tea. The perfect, most cozy way to end a long meal.
Three and a half hours after we started, we sat back and murmured happily to ourselves and smelled the tea chosen for the occasion.
It was overwhelming to think about everything that had come together for that evening. Imagining that this young man was our son; that he had the passion and commitment to create such a meal, such a splendid, most excellent meal; and that he had decided to dedicate six months of planning and endless hours of preparation and give the result to us . . . well, our hearts (and our eyes) were overflowing.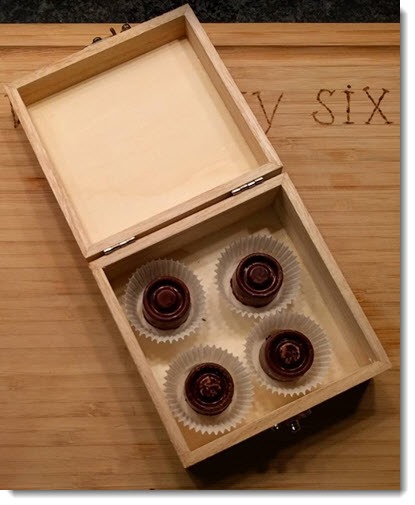 But wait there's more! A parting gift of homemade raspberry-filled chocolates to take home and enjoy. Properly molding chocolate was possibly the most difficult part of the meal.
It was like Columbo had turned back and was saying, "There's just one more thing . . ." A take-home box with homemade dark chocolate truffles. I tried one the next day. It was delicious. Of course.
---
Lessons learned
1) If Andrew Berls invites you to dinner, you should go.
2) Becky Nagel is charming and lovely and smart and a wonderful dinner companion.
3) Kaiseki at a fine restaurant is likely to be the most expensive meal you've ever eaten. Expect to pay several hundred dollars per person. But if you're in a position to consider it and you respect food enough to enjoy it, save carefully and treat yourself someday. Reservations at Michelin-starred restaurants are difficult to obtain and the meal will take 3-4 hours, so it will take some planning on your part. But it is truly a once-in-a-lifetime experience and the memory will stay with you forever.
But the most important lesson isn't about food. It's about passion and generosity.
I hope that you have received or someday will receive a similar gift – a gift planned by the giver for months ahead of time, a gift that displays all the skills that the giver can bring to bear, a gift that is born from love and presented with enthusiasm.
Receiving such a gift brings up a wellspring of emotions, feelings of pride and happiness and love. We are truly blessed.
And maybe it will inspire in you, as it did in me, the desire to plan such a gift and to give someone else their own once-in-a-lifetime experience. What a wonderful thing to do!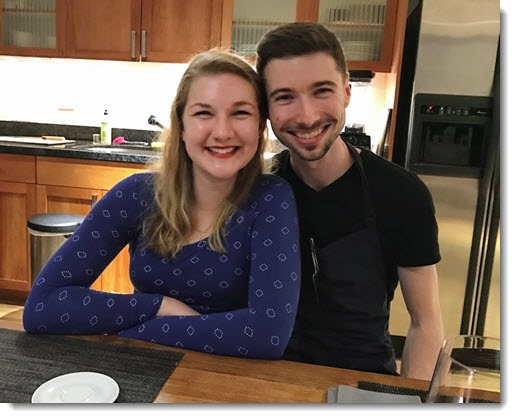 Want to find out more? Andrew Berls blogs about food at http://fivetwentysix.co. Andrew's recipes and commentary about his kaiseki dinner are at http://fivetwentysix.co/recipes/modern-kaiseki. You can see the latest pictures if you follow @aberls on Instagram.