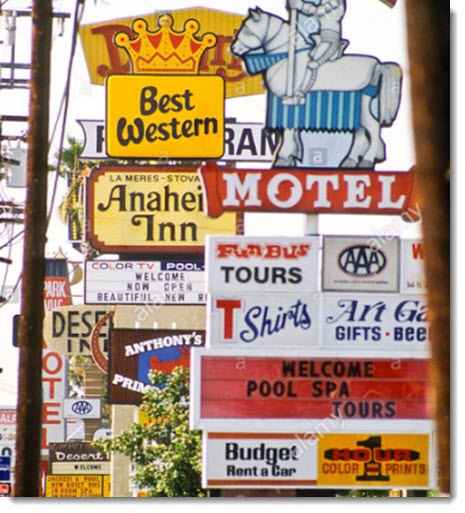 Desperation is not pretty.
Microsoft has successful cloud and enterprise divisions, but it is obviously true that some divisions of Microsoft are in a long-term decline.
• Windows is still the dominant computer operating system, but desktop PC sales are in a permanent downward spiral.
• There's a real danger that Chromebooks will begin to steal volume laptop sales later this year.
• Microsoft was shut out of the market for mobile devices.
• Its new browser Edge is being roundly rejected.
• Despite valiant efforts, Microsoft cannot interest developers in creating new apps for the Windows platform.
• A younger generation is entering the jobs market without much loyalty to the Office programs.
Big companies do not let multi-billion dollar divisions die a natural death. They flail around looking for ways to draw profits out for as long as possible. Microsoft is flailing.
Microsoft is so desperate to be noticed that it believes advertising in the operating system will help.

You may have seen the above panel in File Explorer in Windows 10. Almost everybody has gotten it. "Get the best deal on your cloud storage with OneDrive. For $6.99 a month, an Office 365 subscription gets you . . ." Etc., etc., etc.
It's an ad.
There's no way to make it any more pretty. It's just an ad. Like much advertising, it's targeted badly. You'll see it whether or not you use OneDrive already, whether or not you already have a subscription.
This is the first time Microsoft has invaded File Explorer with ads. It may not be the last. There's a deeply buried option to turn off the OneDrive ad by unchecking "Show sync provider notifications." (Go to File Explorer / View / Options / Change folder & search options / View tab / Advanced settings.) The generic wording – "sync provider notifications" – is partially to conceal the option by obfuscation, but it also leaves the door open for ads from Dropbox or Box to appear in File Explorer in the future.
Unfortunately, this is not the first time that Microsoft has cheapened Windows 10 by scattering ads around. Paul Thurrott recently called out a number of other ads built into Windows 10 – ads on the lock screen; ads on your wallpaper if you use the default "Windows Spotlight" wallpaper option; "Suggested" apps on the Start menu; "Suggestions" in the Action Center, the slideout panel on the right; and "suggestions" from Cortana, if you use it.
That's really only the tip of the iceberg, though.
Microsoft was paid to include Candy Crush Saga and other games in Windows 10 that rely on in-game purchases. Those game tiles on your Start menu are ads.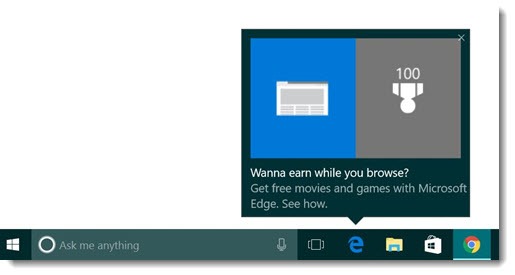 When it became obvious that the Edge browser was sinking into irrelevance, Microsoft started popping up ads like the above from your taskbar, and shoving ads into the Action Center about Edge's alleged superiority for power management. More recently it's been an unwelcome popup for Chrome users promoting "Microsoft's Personal Shopping Assistant for Chrome."
Not to mention that the Edge browser and Bing search results are loaded with advertising.
There are various settings and options to turn off many of the ads. The settings are scattered all over and you're required to read multiple articles (like this and this) and chase them down, one by one.
But that won't address the overall issue, which is that Microsoft's consumer facing divisions are frantic, determined to do whatever is possible to arrest the long-term decline, and making poor choices out of desperation. As Paul Thurrott said last week:
"There are all kinds of ways to compete. But as Microsoft diminishes Windows, cheapens it with ads, they are creating another kind of non-virtuous cycle. It's one in which its customers grow increasingly frustrated by a never-ending series of issues in Windows—sneaky, forced upgrades; privacy issues; advertising and more—and it only ends one way. They leave the platform. In other words, Microsoft is by its efforts weakening Windows, not strengthening it."
(The article is here, but behind a paywall for premium subscribers. If you're interested in Microsoft and technology, you should subscribe to Thurrott.com. He's a treasure.)
I said last fall that Microsoft may not recover from losing our trust. Now, on top of that, ads are cheapening Windows 10 and making Microsoft's problems even more difficult. I wish Microsoft could accept the inevitable and just focus on making Windows 10 the best operating system available for desktop and laptop computers, keeping it elegant and streamlined, and managing its decline with grace and dignity.