China uses smartphones differently than anywhere else in the world. It's a fascinating story! Understanding WeChat and why QR codes are displayed everywhere in China will give you a context to understand the importance of Google's announcements last week. I'll tell you about Google Assistant and Google Lens in the next article.
In the US and everywhere in the world except China, the most important consideration when we buy a phone is the operating system – iOS on iPhones, and Android on everything else. The operating system determines what apps we can install and which services work best. Once we've chosen a phone, we use the phone by opening individual apps to accomplish specific things. Some things are synced if we stay within one system. Apple's services are connected, for example, so your Apple ID allows you to open Apple Wallet to pay for a latte and open Facetime to connect to someone else with an iPhone.  Facebook, Instagram, and WhatsApp have loose ties as you move from one app to another. Google's services are tightly integrated, so there is a real advantage to using Chrome for web browsing plus Gmail, Google Calendar, Google Photos, and all the rest. But our fundamental understanding of a phone is a device that we use to open specific apps for specific tasks, an outgrowth of the way we learned to use computers.
That's not the way phones are used in China.
In 2011 Chinese Internet giant Tencent released WeChat, a mobile messaging app that grew into something much more than just another messaging app.
Today WeChat is deeply integrated into the daily lives of a billion Chinese people, who spend an average of more than ninety minutes each day using it. Every aspect of Chinese life – online and offline – is conducted through WeChat. It is the hub for all Internet activity; it is increasingly the only way that people in China spend money in what is quickly becoming a cashless society; and it is so much more.
WeChat handles every type of messaging you can imagine – "text messaging, hold-to-talk voice messaging, broadcast (one-to-many) messaging, video conferencing, video games, sharing of photographs and videos, and location sharing. It can exchange contacts with people nearby via Bluetooth, as well as providing various features for contacting people at random if desired," according to Wikipedia. The dominance of WeChat for messaging is the polar opposite of the confusing array of messaging options in the US, where Facetime users cannot reach Android phone users, Facebook Messenger is in its own world, SMS text messaging is randomly available in some apps but not others, and Google alone offers eleven different inconsistent messaging apps.
Messaging, though, is only the tip of a very large iceberg. In 2015 Connie Chan of Andreesen Horowitz wrote a fascinating study of WeChat's dominance of daily life in China. She put it this way: "Along with its basic communication features, WeChat users in China can access services to hail a taxi, order food delivery, buy movie tickets, play casual games, check in for a flight, send money to friends, access fitness tracker data, book a doctor appointment, get banking statements, pay the water bill, find geo-targeted coupons, recognize music, search for a book at the local library, meet strangers around you, follow celebrity news, read magazine articles, and even donate to charity … all in a single, integrated app."
Dune Lawrence wrote for Business Week: "WeChat serves many of the functions of PayPal, Yelp, Facebook, Uber, Amazon, Expedia, Slack, Spotify, Tinder, and more. People use WeChat to pay rent, locate parking, invest, make a doctor's appointment, find a one-night stand, donate to charity. The police in Shenzhen pay rewards through WeChat to people who rat out traffic violators—through WeChat. It's actually a lot of trouble not to use WeChat when you're in China, and socially weird, like refusing to wear shoes."
WeChat is used for everything.
One of the consequences of WeChat's hold on China is that the actual phone is not very important. It's one of the reasons that Apple is having trouble growing iPhone sales in China. The luxury cachet of an iPhone is not as important if the primary use of the phone – almost the sole use of the phone – is running the same app that every other phone is running.
Now look at it from the perspective of businesses. WeChat allows any business to easily set up an "official account" – something like a business Facebook page but far more flexible. There are well over ten million WeChat official accounts. WeChat is so deeply ingrained in Chinese life that every business, small and large, has a presence on WeChat. Since everything is integrated in WeChat, a business can provide rich services through WeChat without ever building its own website or mobile app. A user can get the equivalent of the experience of visiting a fully developed website without ever leaving WeChat.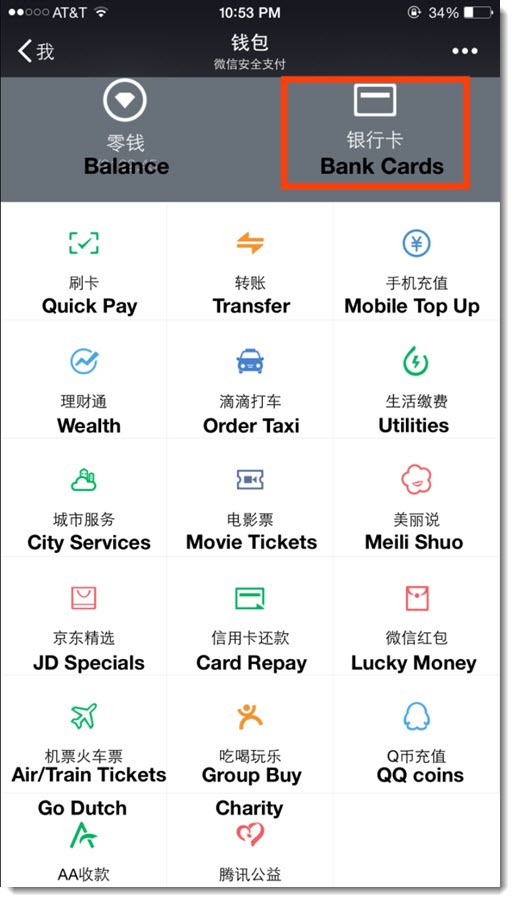 An important part of the glue that makes WeChat work is its control of payments. Users link credit cards or other payment methods to their WeChat account and can easily conclude payment transactions within WeChat. Apple and Google are both attempting to get merchants to permit phones to handle payments in real world locations, with limited success so far, but neither of them has anything like the flexibility that WeChat has created for payments in almost any context. From Connie Chan's article:
"Being set up for WeChat Payments means instant, frictionless ability to transact on the WeChat Wallet services, all official accounts that sell products or services, and any associated promotions or campaigns.
"To get a sense of this in the U.S.: Just imagine how many more transactions would occur on Facebook's platform if more users linked their credit cards to Messenger, how much faster Pinterest's buy-it button would take off, how much faster Snapchat users would move from sending cash to buying goods, and how many more Twitter users would pursue options to buy products. In this sense, WeChat gives us a window into the potential evolution of Western social networks and buying behaviors if they, too, succeed in convincing users to embrace payments on their platforms.
"In China, meanwhile, usage of the WeChat Payments platform is growing so quickly that WeChat is experimenting with processing payments offline via QR codes at brick-and-mortar stores, live events, vending machines, restaurants, and hotels. The network effects are obvious and substantial: The more places that accept these payments, the more users will jump on board (and it goes both ways, both offline and online) … benefitting everyone all round."
WeChat is not the only mobile payments platform in China but it recently surpassed Alibaba's AliPay, the other important player, and its growth in payment processing is not slowing down.
This month Tencent announced that it is adding news feed and search functions to WeChat, a direct threat to Baidu, the Chinese search engine equivalent to Google. It's yet another way that Chinese users will be able to stay locked into WeChat and never use anything else on their phones.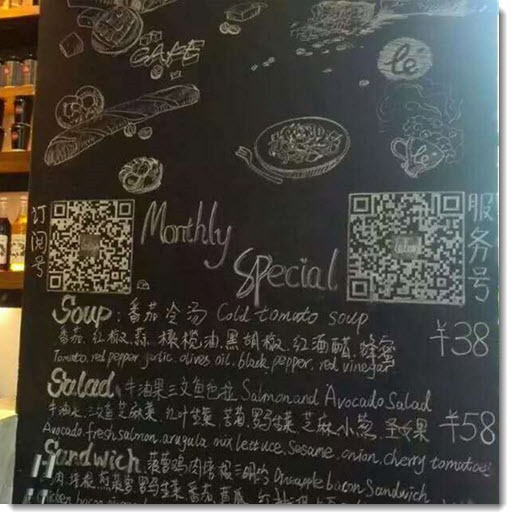 Then there are QR codes, which is where things get really interesting. QR Codes are the square versions of bar codes that have never really caught on in the US. The reason is obvious: when you see a QR code, the chances are you have no idea what to do. If you happen to have an app on your phone that reads QR codes, you can pull out your phone, unlock it, open the app, and hold up the camera to see if something interesting happens. Typically the QR code will do nothing except pull up a web page in the phone's browser.
In China QR codes are everywhere and used for a wide variety of tasks. QR codes at the entrance to a store link to the business WeChat official account and open up access to specials and discounts. Point at a QR code on a lunch bill and it's paid in a second. QR codes are used to transfer contact information – point your WeChat phone at the QR code on someone else's phone and the info is immediately transferred. Business cards are rapidly dropping out of fashion. Money can be transferred among individuals with no friction. There is no limit to what can be done with cashless, cardless transactions. QR codes are used for all purposes: chalked on restaurant boards (like the above picture), on book covers, in hotels and stores, for group chats, on movie posters, on classified ads on a physical bulletin board, for tickets and boarding passes, for payments, for logging into services, and especially for links to websites. Once you become accustomed to QR codes, it's obvious how burdensome it is to type in lengthy URLs or type in searches.
We haven't even gotten to the WeChat gesture – you can shake your phone to interact with TV shows and businesses. A TV broadcast on Chinese New Year's Eve 2016 invited WeChat users to shake their phones for a chance at cash rewards. There were eleven billion shakes during the show.
Then there are the WeChat red envelopes for cash gifts to mark occasions or just for fun. For Chinese New Year 2016, 516 million people delivered 32 billion red envelopes with WeChat.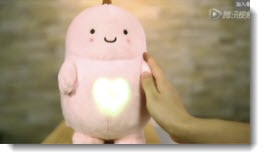 The platform allows unlimited creativity. "Take Chinese toy company Dan Dan Man, which created Mon-Mon, a bluetooth-enabled stuffed animal toy that integrates WeChat with the offline world. Parents can use the Mon-Mon official account in WeChat to send personal voice messages and pre-recorded English courses or bedtime stories to the toy while they are at work or traveling. Kids immediately get those stories or messages, and can even press Mon-Mon's belly to reply to their parents' WeChat account in a message delivered back as a voicemail."
Don't install WeChat on your phone in the US. By all accounts the app is nothing like the Chinese app, not even worth a look. There are some cultural reasons that we may never adopt anything in the West that becomes as monolithic as WeChat is in China.
But make no mistake: our big five technology companies – Apple, Google, Facebook, Amazon, and Microsoft – are all studying WeChat, trying to figure out how much of WeChat's functionality can be brought into their mobile apps and how far Western phone users can be pushed to stay within a single ecosystem.
We'll have WeChat's example in mind when we look at Google's plans to make its apps so valuable that you will return to them over and over again every day. More about Google Assistant and Google Lens in the next article.
---
More info
Ben Thompson, a smart and insightful business analyst at Stratechery, wrote about WeChat and its impact on Apple in Apple's China Problem (subscribers only). He also discussed WeChat at length with  James Allworth (Harvard Business Review), on this episode of his podcast Exponent. If you're interested in business strategy, with an emphasis on technology, follow Ben Thompson.
Connie Chan's article for Andreesen Horowitz is comprehensive and fascinating. Highly recommended.
Yibo Dai, an Interaction Designer for Google, wrote a fascinating article for Medium about why QR codes work so well in China.
In an article for Nielsen Norman Group, Yunnuo Cheng and Raluca Budiu use WeChat to explore the functions of QR codes and user interface issues.