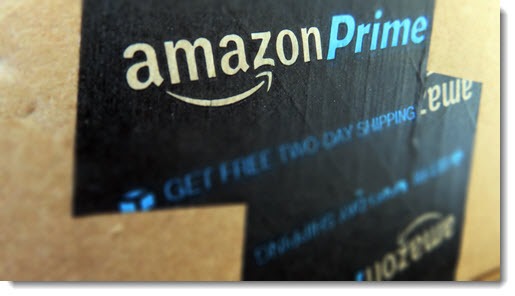 You're an Amazon Prime member, right? If not, goodness, get over there and sign up. Give Amazon $99 for the privilege of shopping there. You'll feel that it's money well spent. It does not work by trickery. It works because you are convinced that you are getting great value from it – and Amazon keeps making it better and better. Prime membership is one of the most ingenious creations by any retailer ever, and it is powering Amazon to ever greater heights.
You already know the basics. Prime members get free second-day shipping on over 50 million items. Many members in many cities get next-day or even same-day shipping. It is easy to convince yourself that you will save more than $99 on shipping in a year.
Free shipping is a powerful incentive by itself. At the moment the other big Prime benefit is free access to streaming movies and TV shows. Amazon is spending huge amounts to develop and produce its own shows, following Netflix's lead, and it is making deals with HBO, PBS, and others to add shows like True Blood and Downton Abbey. If you're a Prime member you can stream easily to phones and iPads, and can stream to your TV if you're willing to fuss a bit with a Roku or Amazon Fire TV.
Free shipping, streaming video – those are just the beginning of the benefits of a Prime membership. Amazon is about to add much more to your Prime membership, all at no extra cost. You're already a believer in the membership and in the next couple of years you'll just get happier and happier. I'll tell you about a few of the things that are in the pipeline, but let's start with the obvious question: what's in it for Amazon?
There are 80 million US Amazon Prime members. That's up 25% from a year ago. Almost two-thirds of American households are Prime members, according to Time. Soon there will be more households with Prime memberships than households getting cable or satellite TV.
The annual fee is hard for many families, of course, so for a long time Prime members have tended to be in upper income households. Last year Amazon introduced the option to be a Prime member for $10.99/month. That's not a very good deal if you run the numbers but it's a tough world and a quarter of Prime members are monthly subscribers now. Last month Amazon cut the monthly fee to $5.99 for anyone with an EBT card to attract even more low-income households.
The first bit of math, then, is the revenue from the Prime subscriptions themselves. Last year Amazon collected $6.4 billion from Prime members for their subscriptions. That's almost enough to cover its net shipping costs. Almost everyone renews, too; renewal rates are over 85% each year.
That's not the secret weapon, though.
Amazon Prime members spend almost twice as much per year at Amazon as non-members. According to a recent study, Prime members spend an average of $1,300/year at Amazon. Non-members spend an average of $700/year. That's an estimated $104 billion dollars in revenue from Prime members in 2017.
Amazon Prime is the most effective customer loyalty program ever created. Once you have paid the money to join, you will work hard to convince yourself that you are maximizing the benefits of your membership – by buying more from Amazon.
Here's an interesting thing to consider. You think of Google as the only search engine that matters, but it's not true in one important sense. Many of us do not do a Google search when we are shopping. We search Amazon, and only Amazon. We trust its low prices, wide selection, fast shipping, and generous return policies. Google is your search engine for a lot of things but Amazon is your search engine when you're shopping.
In your mind, you are a winner if you order frequently from Amazon because you're not paying directly for shipping. To keep winning, you order and order and order some more. If your membership fee doesn't seem to cover all of your "free" shipping – well, Amazon still smiles all the way to the bank.
Amazon wants a piece of all economic activity. It is about to expand its scope in many different directions, and many of those will have extra benefits for Prime members.
Fashion Amazon wants to become a major player in clothes and fashion shopping. A few days ago Amazon announced Prime Wardrobe, an upcoming program for Prime members that will allow you to order clothing (from 3 to 15 items) without paying for it. Get the clothes, try things on, return whatever you don't want for free in the included return box. You'll pay only for items you keep.
Amazon already has a wide selection of fashion brands. You'll be able to replicate the experience of grabbing things from the rack to try them on, getting a small and a medium to check sizing, with no penalty and no hassle.
The sweetener – and here is where it crosses over into genius – is a 10% discount for anyone who keeps 3 or 4 items, and a 20% discount for anyone who keeps 5 or more items. You'll talk yourself into ordering more items and keeping more items because you'll believe you're getting a deal. And you will be! That's the great part. The only harm is done to Macy's or Nordstrom's or wherever you might have gone instead.
Groceries Amazon's purchase of Whole Foods last month will unfold in many different ways. Amazon is almost certainly considering menu delivery to compete with Blue Apron, and home delivery of groceries. Expect Prime members to be given special incentives to try those services as they appear. Amazon can also leverage and extend its distribution system to disrupt the grocery business. SeekingAlpha says that Amazon's purchase of Whole Foods "may be one of the most significant economic disruptors of this generation, if not this half of the century. Amazon is viewed as a retailer, but is actually a logistics and supply chain company. It will bring that expertise to Whole Foods to significantly reduce its brick-and-mortar footprint and increase its margins by radically altering the retail food supply chain."
Pharmaceuticals This analyst says Amazon is positioning itself to break into the US prescription drug industry – with free delivery for Prime members, of course.
Home assistants The Amazon Echo is the first and most successful home assistant. A few million people already have an Echo in their kitchen or living room. Amazon is quickly moving to capitalize on its success by introducing cheaper models and variations, like the Echo Look that can sit in your bedroom and evaluate your style choices. Slowly Echo owners are learning that it is very, very easy to order things from Amazon by asking Alexa for them. The Amazon Echo devices are only available to Prime members. Amazon Echo devices work for anyone with an Amazon account but some things (especially music) work better for Prime subscribers.
Amazon has set a goal for itself of being the "earth's most customer-centric company." Prime membership is one of the important ways that it is making you a loyal and enthusiastic customer – and there will be more perks for Prime membership in the future. It works for Amazon and it feels good for us. There will be some collateral damage to WalMart, shopping malls and clothing stores, the grocery industry, and eventually every other business that sells anything anywhere. Can't really feel too sorry for WalMart. And hey, free shipping!