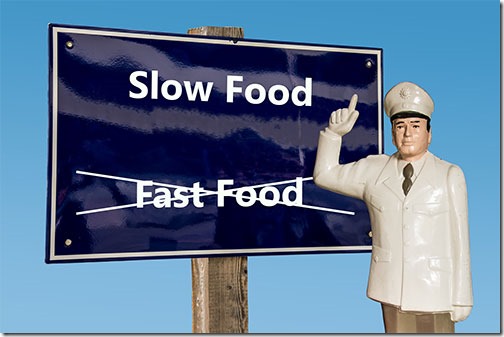 A few months ago, Microsoft announced that there will be two major updates for Windows 10 every year, in March and September. These are the big updates that bring Exciting New Features™, in addition to the regular monthly or more-than-monthly security updates. Microsoft said it is committed to making the update process "predictable." So you know we can count on it! Like clockwork, March rolls around, bang, big Windows update. September, bang, big Windows update. Microsoft is so excited about the idea that last month it announced that it will also release feature updates to Windows Server twice-yearly.
Funny thing about that. It's not really working that way. It's already obvious that Microsoft can't stick to that very aggressive schedule.
The first major update to Windows 10 was scheduled for its one-year anniversary in July 2016. There were no big new features but there were noticeable small changes and improvements throughout the system. The "Anniversary Update" began to roll out on August 2, 2016, and almost immediately reports began pouring in about problems caused by the update – bluescreens, dead devices, and more. Microsoft shifted gears to damage control and stopped distributing the update until it could get a handle on the problems. Slowly, agonizingly slowly, Microsoft began to update drivers and patch Windows so more computers could install the Anniversary Update safely.
It took months. Almost everyone had forgotten about the Anniversary Update and were taken by surprise three or four or five months later when their computers launched into a 30-60 minute update that always seemed to happen at an inconvenient time.
Microsoft forged on, though, and last fall confidently announced exciting new features aimed at artists, musicians and creative professionals that would be included in the next major update in early 2017, the "Creators Update." There was a long list – mixed reality headsets for interacting with 3D objects, "Groove Music Maker," a new interface for contacts called "My People," and more.
And then in the next six months, those features were yanked from the Creators Update, which wound up having nothing for Creators. In fact, it has nothing that matters to almost anyone. But it's still a major update to the operating system and Microsoft was under pressure to avoid the problems from last fall and roll it out smoothly. Microsoft started distributing the Creators Update in April 2017.
It has gone smoothly! There have been almost no reports of problems caused by the Creators Update.
The reason is almost no one has actually gotten the Creators Update. A recent report from AdDuplex shows that three months later, only half of the Windows 10 PCs in the world have gotten the update. That's significantly behind the deployment rate for the disastrous Anniversary Update last fall. One of the more embarrassing statistics: fewer than one in five of Microsoft's own Surface Pro 3 devices have gotten the update. Apparently Microsoft cannot even make this update stable enough for its own devices.
We are barreling through July and into August. Half the world has not gotten the last major Windows 10 update supposedly released three months ago. But Microsoft committed to releasing feature updates twice per year and time flies, so Microsoft is polishing up the next major update for Windows 10, cleverly named the "Fall Creators Update." When will you get that? Good lord, who knows? It's obvious that the announced release date for these updates has nothing whatsoever to do with the date that it will be delivered to anyone's computer.
There is a distinct feeling of deja vu about the Fall Creators Update. Also, there is a distinct feeling of deja vu about the Fall Creators Update. Once again, Microsoft announced a variety of new features and improvements for the upcoming update that have since been pulled out and will not actually be delivered. Paul Thurrott goes through the list here. A new app named "Story Remix" for transforming photos and videos – no sign of it. A feature named "Timeline" for going back to the previous state of programs and files – not being delivered. A cloud-powered clipboard that allows you to copy items on one device and paste them on another – dropped. Mixed reality (again) – nowhere near being ready.
The Fall Creators update is not final yet but right now it appears there will be nothing in it that you will notice. In some ways that's good, if installation goes smoothly and Windows 10 is slightly more solid than it was before. My fear, though, is that Microsoft's frenzied quest for new "features" is only making Windows 10 more confusing and perhaps less stable.
There's one more promise that I don't believe in.
Yesterday MSPowerUser reported that the Fall Creators Update will improve the way Windows 10 installs updates to make the experience less disruptive – less time spent on the "Installing updates" screen when the computer restarts.
Great. That will be swell. But I've heard that story before. The last update (the one that half of you haven't gotten yet) was also supposed to improve future updates by reducing the number of reboots, "which will reduce the likelihood that an update will be installed at an inopportune time," according to Microsoft.
I installed the Creators Update three months ago and I haven't seen a reduction in the number of reboots for updates. In fact, if anything, I'm seeing more restarts than ever now that Microsoft is more or less ignoring the predictable once-a-month Patch Tuesday schedule. Every security update seems to require a restart.
There are two things that have become very clear in the last year.
(1) Microsoft has developed a bad habit of over-promising and under-delivering.
(2) The last word anyone is using right now to describe the schedule for getting major Windows 10 updates is "predictable."