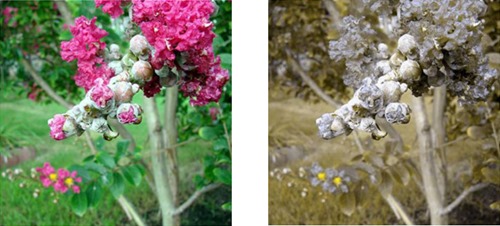 The latest Windows 10 update includes filters that help color blind users see colors normally. That might sound matter of fact to you, but as a person who has moderately severe deuteranopia (red/green color blindness), I am grinning broadly and feeling proud of Microsoft for working hard every year to improve the assistive technologies in Windows. Certain types of color blindness are very common – red/green color blindness affects one out of eight men of Western European descent – and this is the first time anything has been available to make a computer display work better for us. If you're in that group (it also affects 1 in 200 women), this is a simple and quite nice enhancement to Windows 10.
The effect is subtle but important. The two pictures above are designed to show the effect of deuteranopia. To my eyes, they are identical. Literally identical. I cannot perceive any difference between them.
When I turn on the deuteranopia color filter in Windows 10, the red flowers on the left jump out and look completely different than the photo on the right. The greens shift to completely different shades. That's how they looked to you all along, right? If you look over my shoulder at my display after turning on Microsoft's color blindness filter, the reds and greens will look a bit unnatural, but they look great to me. And what are you doing looking over my shoulder, anyway? Eyes on your own screen.
---
How to turn on a filter for color blindness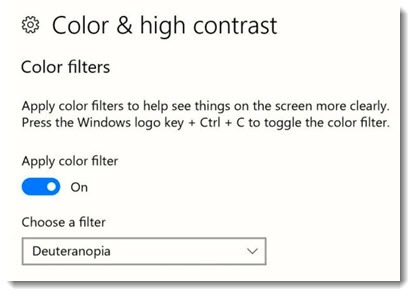 The filters for color blindness were added to Windows 10 in the Fall Creators Update, which is in the process of being installed now on most Windows 10 computers. If you don't see these filters, you may not have gotten the update yet.
If you have Deuteranopia or Protanopia (the two types of red-green color blindness) or Tritanopia (blue-yellow color blindness), try the color filters to make colors look more accurate on your Windows 10 display.
•  Go to Settings / Ease of Access / Color and High Contrast.
•  Toggle Apply Filter on. Choose Deutaranopia, Protanopia or Tritanopia from the dropdown menu.
•  After the toggle is turned on, you can turn the color filter on and off using the keyboard shortcut Windows key + Ctrl + C.
The filters are applied at the system level, so they affect all displays from all programs.
---
Advances in compensating for color blindness
Four years ago researchers at 2AI Labs developed Oxy-Iso lenses that cure red/green color blindness for some people. The lenses were developed for medical professionals for clearer views of veins, blood oxygen levels, and other blood physiology; the effect on color blindness was a side effect, but revolutionary for the people who could benefit from it. I was in that group and my Oxy-Iso glasses give me a magical view of a world with far more interesting colors than I see normally. The eyeglass business flagged and the 2AI researchers went on to do other things but Oxy-Iso glasses are now available again at www.vino.vi. I wrote about Oxy-Iso glasses here.
A separate group at Enchroma developed a completely different technology to correct red/green color blindness and had more success with it. Apparently more people benefit from Enchroma glasses than from Oxy-Iso glasses. Personally, I got a pair of Enchroma glasses and found they did absolutely nothing for me. Other people have the opposite experience – Enchroma lenses bring the world to life and Oxy-Iso lenses don't do anything important. There's no way to tell ahead of time. If you're interested, order a pair from each company and take advantage of the return policy for the one that doesn't work for you.
A year ago two Microsoft engineers put together Color Binoculars, a set of color filters for iPhones that corrects for color blindness by applying a filter to the camera display. It was released through Microsoft Garage, an incubator for experimental apps and projects. It's possible that the new filters in Windows 10 grew out of that Garage project. I'm not aware of anything like the Windows 10 filters for other devices.
---
Microsoft's commitment to assistive technology
Microsoft has always worked hard to make Windows the most powerful and flexible environment for those with accessibility needs. The company's commitment is long-standing and quite sincere. Windows includes a multitude of tools for people of all abilities and a variety of needs, including vision, hearing, speech, mobility, and learning. There is more info on the Microsoft Accessibility website. The company declares its commitment regularly, including a statement to employees by Satya Nadella two years ago: "As I think about living our mission, top of mind for me heading into 2016 is how we must make Microsoft products accessible to the more than 1 billion people globally of all abilities," Nadella writes. "This is a shared goal. Universal design is central to how we realize our mission and will make all our products better. Along with our Senior Leadership Team, I will continue to devote my time and passion to this priority."
It is inspiring and emotional to hear stories of the work Microsoft is doing on accessibility and inclusion. From a presentation by Microsoft Chief Accessibility Officer Jenny Lay-Flurrie earlier this year:
"Last week at Microsoft Build, Harry Shum, executive vice president of Artificial Intelligence & Research, shared technology that is already having an impact on my life: Real-time captioning in PowerPoint, which is currently in preview and leverages an add-in powered by Microsoft Translator live. This translates speech into one of 10 languages, but also provides speech-to-text with an incredible level of accuracy for folks like me with deafness. Can't wait for you to try it. In addition, Terry Myerson, executive vice president of the Windows and Devices Group, demoed Narrator developer mode during his Windows keynote, and CEO Satya Nadella closed his keynote with details of new research into technology for people with Parkinson's called Project Emma. If you haven't watched the video, please stop what you're doing and check it out (have tissues nearby). . . .
"With Windows, we continue to deliver accessibility features that enable you to do more. The Windows 10 Creators Update continued the journey of accessibility improvements across the spectrum of disability. For people with visual impairment and blindness, we enabled the installation of Windows without sighted assistance, delivered improvements to Narrator and launched the ability to use braille devices with Windows. For the deaf and hard of hearing, mono audio launched to send sounds across left and right ears, and for everyone, improvements to Microsoft Edge including Read Aloud and text spacing make it easier for everyone to read and enjoy text, including people with learning disabilities such as dyslexia and emerging readers, as well as English Language Learners."
There are videos on Microsoft's accessibility website that will tug at your heartstrings, not because they are manipulative but because they show real people experiencing real progress. "A mother witnesses her eight-year-old son with dyslexia read for the first time. " "A college student with low vision uses built-in accessibility in Office 365 and Windows 10 to create a perfect presentation." "A college student with athetoid cerebral palsy uses Office Online and his communication device to promote inclusivity and inspire others to do the same."
The Fall Creators Update for Windows 10 includes improvements to the Narrator feature, which allows those with low sight to have their screen read to them. There are usability improvements, Braille improvements, magnifier improvements, and more. More info about specific accessibility updates here. There is also an early beta release of an eye tracking feature for individuals with certain neural muscular diseases (like Lou Gehrig's disease) who are unable to use a conventional keyboard and mouse but whose eye muscles are unaffected by the disease.
If you live in Northern California and want more information about services for individuals with vision loss or visual impairment, contact my good friends at the Earle Baum Center in Santa Rosa. They're up to date on the latest technology, including improvements in Windows and the stunning impact of voice-activated home assistants like the Amazon Echo. Earle Baum Center is hosting the EBC Tech Fair on December 4, 2017, where you can talk to vendors about the latest products.
And if, like me, you have some form of color blindness, throw the switch in Windows 10 and enjoy the red flowers.