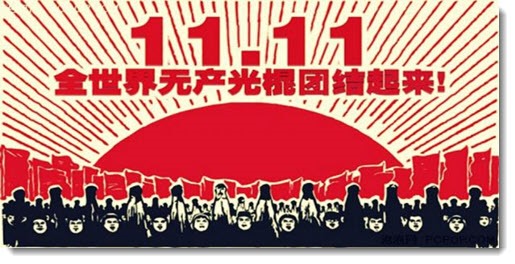 Ever since Richard Nixon, American presidential candidates have railed against China, promising to crack down on human rights abuses or trade policy or some other hot button issue. I've always assumed that very serious advisers sit down with each newly elected president and explain the facts of economic life to them about China, because invariably each new president immediately dials back the rhetoric and starts treating China as a valued if sometimes frustrating partner. The sheer number of people in China and the amount of Chinese money flowing through the global economy dwarfs anything that we can understand.
Here in the US we are terribly proud of Black Friday and Cyber Monday, the endlessly-promoted shopping days with Special Sale Prices Buy Now Buy Buy Buy™. People flock to brick-and-mortar stores, of course, but the volume of online shopping increases every year. For now, let's focus on online shopping from computers and mobile devices.
We spent about 3.5 billion dollars online on Cyber Monday 2016, the biggest single US online shopping day to date. If you combine online sales on Black Friday and Cyber Monday last year, we spent not quite seven billion dollars. Not bad! Go America!
A few days ago, Chinese shoppers spent ten billion dollars.
In one hour.
At one company.
That was the first hour of sales in a 24-hour Chinese shopping marathon. By the end of the day, the Chinese online shopping holiday nicknamed "Singles' Day" had generated nearly forty billion dollars in sales, more than five times the combined total of the two biggest US online shopping days of all time.
Chinese Singles' Day is celebrated on November 11. The origin of the name is unclear but the date (11/11) was chosen because one is the loneliest number, or something like that. Alibaba turned Singles' Day into a shopping event in 2009 to promote online sales, and turned up the volume for the "Singles' Day Of The Century" on 11/11/11. Retailers have been boosting the pressure to shop online on Singles' Day every year since then.
Alibaba is a Chinese conglomerate that connects shoppers to thousands of companies. Alibaba is the world's largest and most valuable retailer, surpassing Walmart in 2016. Its online sales and profits are larger than all US retailers (including Walmart and Amazon) combined. Alibaba almost singlehandedly transformed Singles' Day into a 24-hour nationwide shopping craze, and sales on Alibaba accounted for about 70% of all Singles' Day sales in 2017. But it's no longer just an Alibaba event, as another huge Chinese retailer, JD.com, took its own big chunk of sales and other retailers filled in the rest.
The scale of Singles' Day is hard for us to grasp. The entire country has been building up to it for months with endless promotions of sale prices and one-time-only deals. Alibaba held a televised gala to mark the few hours leading up to the start of sales, featuring Nicole Kidman, Pharrell Williams, and Maria Sharapova, as well as Chinese stars. Alibaba's online payment service was handling 256,000 transactions per second at its peak in the first hour of sales. Warehouses and delivery services were bracing to handle 1.5 billion parcels in the week after Singles' Day.
There's another number from Singles' Day that has some significance because it demonstrates where China is now and where the rest of the world is going.
In the US last year, about a third of online sales on Black Friday and Cyber Monday came from mobile devices – phones, in other words.
On Singles' Day in China last week, mobile transactions accounted for 90% of sales. Chinese consumers think it's easier to use Alibaba's payment system on their phones than to log in from a computer.
A staggering day of online sales, and ninety percent from phones! The mind, it boggles.
If you squint and turn your head sideways, you can find a way to look at it so we come out ahead in the US. Add up all the retail sales in the US (not just online), through the entire Thanksgiving weekend (not just Black Friday), and by golly, we bought more stuff than the Chinese did on Singles' Day!
But not by much.
Amazon's online sales processing, its warehouses, and its distribution system are unquestionably big and impressive. That's why it's so daunting to hear about a single day in China that makes Amazon look puny. And I still can't get over it – forty billion dollars in sales in one day, and ninety percent of it to people shopping from their phones. It's an interesting world.
Happy Thanksgiving to all! More news after the holiday.