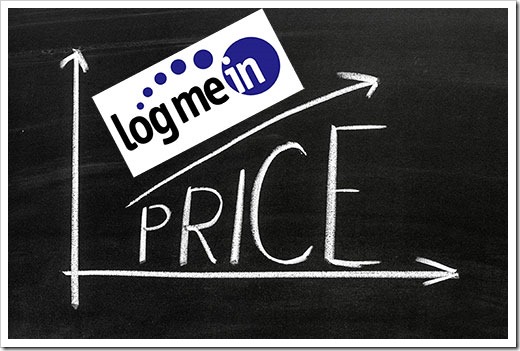 In 2013 LogMeIn was free for individuals.
In 2018 the exact same service from LogMeIn costs $349.99/year.
That is so outlandish, so absurd, that it seems like it must be a joke.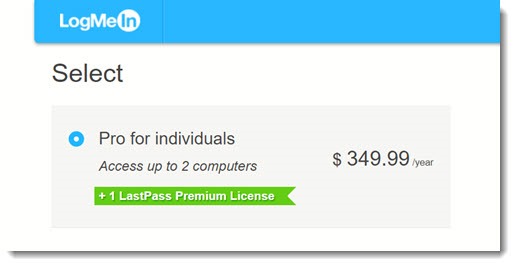 No joke.
LogMeIn is a publicly traded company that offers a number of services for collaboration, IT support, and remote access to computers. For many years its remote access program, the eponymous LogMeIn, was offered for free to individuals and small businesses, which enthusiastically embraced it until January 2014 when the company unexpectedly yanked the rug out and discontinued the free product. Although many people complained, the company did not suffer because its core business came from large enterprises and IT support companies willing to pay for enterprise-class security and sophisticated tools for managing large groups of computers and IT technicians. For a while, it continued to be chosen by small businesses and individuals because its name was well known and alternatives were hard to come by.
So in January 2014, the price for LogMeIn went from free to $99.99/year.
The price has been jacked up every year since then. The 2018 price is a 40% price increase from last year.
LogMeIn bought its best known competitor last year. GoToMyPC was owned by Citrix for more than ten years before it was sold to LogMeIn in 2016.
In 2018 the price of GoToMyPC has suddenly doubled to $240/year.
LogMeIn has abused its customers for a long time. Its standard business practice – which appears to continue today – is to quietly increase its subscription prices, then process credit card renewals at the higher price without any notice. I had it happen to me – no email notice before or after the renewal, nothing that might call attention to the gouging. Oh, and no refunds, of course. LogMeIn disputes this and claims that it sends company executives to each subscriber's house for prayer meetings and counseling about the price increases. And yet there are hundreds of stories online about price increases without any notice, going back for years and continuing today. I think the company is telling a little fib.
There is no way to set a LogMeIn subscription not to renew. There is no way to cancel a LogMeIn subscription online. The only way to cancel is to call the support line and wait on hold. This forum thread was started by someone to pass the time while she was on hold. She must have gotten through eventually; her last comment came when she'd been on hold for 112 minutes.
LogMeIn runs services for IT professionals – LogMeIn Central, for centralized management of remote access, and LogMeIn Rescue, for remote support. The prices of those services have also sharply increased in 2018, as well, just as they have increased each year for quite some time.
If you look for complaints online, you will conclude that LogMeIn has a death wish and is being deserted in droves. Here are some threads in just one forum online where people are complaining.
There are articles in the tech press and blog posts about LogMeIn's abusive business practices like this one, or this one, or my article from 2015.
We live in a complicated world. Small IT shops, small businesses and casual users just don't matter very much to LogMeIn. LogMeIn is attractive to large enterprises because it is a known quantity and has robust tools for large IT departments. The blue line in the chart below shows LogMeIn's revenue for the last few years.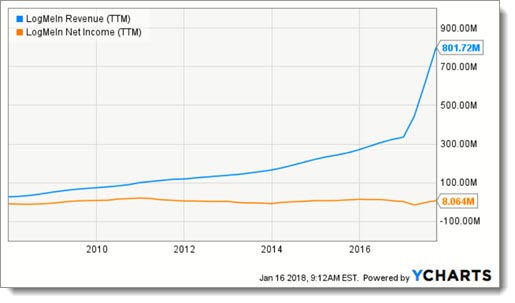 Now, granted, earnings have not increased very significantly (the flat red line) and for that reason an analyst might have some second thoughts about buying LogMeIn stock. But that line for revenue makes it very clear that the price increases are not driving away the enterprise customers that are at the heart of LogMeIn's real business.
$350/year (LogMeIn) is way too much to pay for remote access to a computer.
$240/year (GoToMyPC) is way too much to pay for remote access to a computer.
Just say no.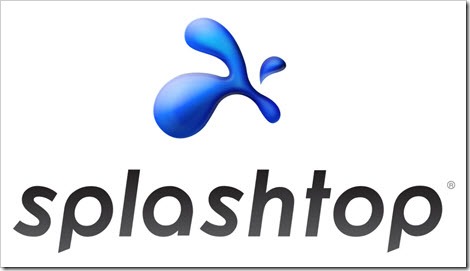 Splashtop is the best alternative to LogMeIn and GoToMyPC. I've been a happy Splashtop customer for a couple of years. There are many options for remote access but Splashtop has worked hard to gain trust in the IT community and many IT pros are using it now. An individual user can set up Splashtop on one computer for as little as $17/year, but their Business product has extra features and is a much better value – $60/year for up to ten computers. Here's some info about Splashtop from an article I wrote in 2016. (Splashtop prices haven't changed in the last five years.)
You might not know the name Splashtop yet but it's time for it to become the familiar name in remote access. Maybe then we can wash away the bitter memories of LogMeIn.
$350! Wow.