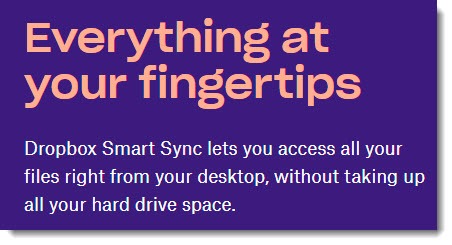 Dropbox Smart Sync is a new feature that allows you to store files online and browse through them with Windows File Explorer or Mac Finder. The files are not synced. They are only online, not on your local hard drive.
This is an important change in technology for small businesses and individuals with a large number of files. It is exactly like having a server for your files, but this server is always available whether you're at your office or using a laptop on the road. And better yet, it's someone else's responsibility to keep the server running and backed up. You have access to all of your files at all times, regardless of the size of the hard drive on your computer. You can get a 256Gb solid state drive for your laptop and still have full access to hundreds of gigabytes of files and photos stored online.
Box was the first company to make this available when it introduced Box Drive last summer. Box Drive is now the preferred way to access files in Box and will become the default for all users in the next few months.
Microsoft added the same feature with OneDrive Files On Demand in the latest Windows 10 update, but it has implemented it in an utterly confusing way. I've set up OneDrive Files On Demand on many computers and I find it confusing every time.
Dropbox began testing Smart Sync for its business customers early last year. Dropbox For Business is the Dropbox service for teams that want to have central administration of user accounts and other business features. It's quite a nice service but it doesn't fit for individuals, and some small businesses are happy to let employees use their individual Dropbox accounts to avoid the IT overhead of Dropbox For Business. Until recently Smart Sync was unavailable to all those individual and small business users.
Enter Dropbox Professional. It is a new tier of service aimed at individuals and small businesses with large numbers of files – entrepreneurs, creative professionals, law offices, or anyone who can benefit from an online file server that can be browsed easily. Dropbox Professional includes Smart Sync.
Dropbox Professional is expensive – $199/year or $19.99/month. That's twice as much as a comparable Dropbox Plus plan with the same amount of storage space (1 Tb), and slightly more than a Box business account. (OneDrive costs far less and OneDrive Files On Demand is available to every Windows user, even for free personal OneDrive accounts. Seriously, though, OneDrive is such a mess that I actively steer my clients away from it now.)
If you can benefit from Smart Sync, $199 is a small price to pay. With Smart Sync, your computer is not slowed down by the need to sync all the online files and your hard drive does not fill up with files. When someone shares a folder with you on Dropbox, you don't have to wait for it to be synced before you can browse through the files.
A Dropbox Professional subscription has a few other unique features. The important ones: deleted files can be recovered for 120 days instead of 30 days; and "Version history" allows you to roll back to any earlier version of a file from the previous 120 days, while Dropbox Plus only covers the previous 30 days.
Dropbox Professional also has a new Showcase feature that can be used for branded Powerpoint-like presentations of shared files – useful for marketers and designers and very diligent professionals but likely to be ignored by everyone else.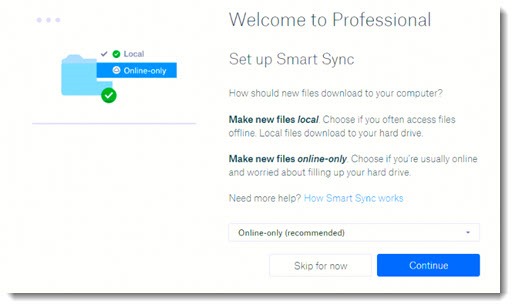 If you have an individual Dropbox subscription and you upgrade to Dropbox Professional, the only setup option is an easy choice: should new files be synced ("local") or online-only? You'll be able to browse through them on your computer either way. Choose "online-only."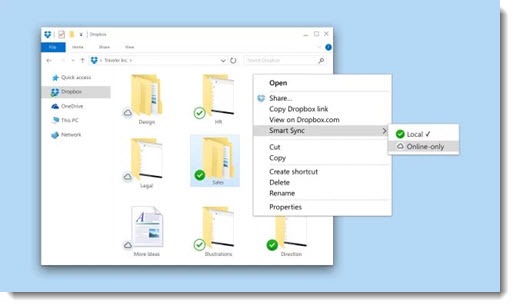 Smart Sync is available immediately after you sign up. You don't have to install a new agent or restart your computer. "Smart Sync" will be on the right-click menu for each file and folder in Dropbox. You can right-click a folder and click on Smart Sync / Online-only. The files will still be listed, exactly the same as before, but the hard drive space will be freed up. The icon for the files will change to a little cloud. When you click to open a file, Dropbox will silently download it in the background, then open it exactly like any other file.
You can also right-click files and folders and mark them as Local to have them synced to your hard drive. That's the traditional way for working with Dropbox files, and it allows you to climb on a plane and still have access to the files without an Internet connection.
This is a natural evolution for our technology. It works smoothly and requires no learning curve. I think this will become the standard way for us to work with our files soon. If it would help you to free some space on your hard drive, look hard at Dropbox Professional. It's a small price for the people who need it.