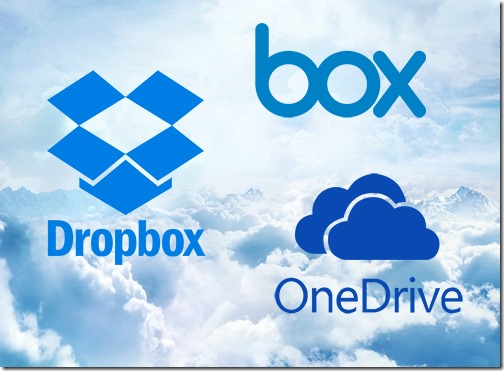 It's time to move your files to the cloud.
Box, Dropbox, and OneDrive now all have plans that support an important feature: You can store your files online and access them with Windows File Explorer or Mac Finder, without syncing the files and without using space on your hard drive. Today I have to explain a bunch of stuff for that to make sense, but I think this will be our natural expectation without a second thought in a very short time.
It is exactly like having a server for your files, but this server is always available whether you're at your office or using a laptop on the road. And better yet, it's someone else's responsibility to keep the server running and backed up. You have access to all of your files at all times on all devices, regardless of the size of the hard drive on your computer. You can get a 256Gb solid state drive for your laptop and still have full access to hundreds of gigabytes of files and photos stored online.
The important part, the thing that makes this different than the way the programs have worked in the past, is that the files can still be browsed in File Explorer even though they're not actually on your hard drive. You don't have to learn anything new. It's completely natural. Your list of files and folders appears identical regardless of whether files are synced or not. When you click on a file, it opens, just like before. Behind the scenes, the files don't take up any space.
This new feature eliminates the overhead of running a syncing program that can be churning away and slowing down your computer if it's constantly processing thousands of files. It reduces the risk of errors when files are not synced properly or quickly. You won't fill up your hard drive. (You also won't be able to do full-text searches. More about that below.)
Even though most of the files are stored online, you may still want to have folders available offline to work on when you don't have an Internet connection – climbing on a plane, for example. Each of the services now includes that capability. (Box is the last to add that feature; it will turn on "Mark for offline" on October 31, 2018. It will require version 2.0 of the Box Drive program, which will be released any day now.)
The three services – Box, Dropbox, and OneDrive – have different names for these features and the plans that support them. I want to give you just a quick overview of where each one fits for a small business or individual, and the vocabulary for the feature that lets you store files in the cloud and access them in File Explorer.
I'm not including Google Drive and G Suite, which overlap the others in many ways. They are wonderful for people who are fully committed to Google's ecosystem, which tends to be (1) people under 40, (2) relatively new businesses, and (3) students. There is a pretty sharp divide between Google and the other services because Google's file storage and business apps do not play nicely with Microsoft Office. The most efficient way to use them is to bypass Office and File Explorer. Everything happens in a web browser using Google's apps for word processing, spreadsheets, and the rest. They're probably not a good fit for people accustomed to the Office programs or who have to share or collaborate with traditional businesses that use the Office programs.
---
Which service is right for you?
Box and Dropbox Business are for businesses that want a central place where employees can access company files – like a traditional onsite server.
Dropbox Professional, OneDrive, and OneDrive For Business are for individuals to store their own files. Although each service has tools for sharing and collaboration, they are not designed as a central repository for company files.
There is no end of details about pricing, storage allotments, and features. I'll leave it to you to find charts full of checkmarks if you want to compare them in depth.
A few interesting things to know:
• Personal Dropbox accounts are lovely but they do not have the feature I'm focused on here to store files online and view them in File Explorer without syncing.
• Despite its name, OneDrive For Business is not for company files. It's for employees to store their own files. It's called "For Business" because the business controls the accounts and can turn them on and off. Microsoft thinks company files belong in a "Sharepoint Team Site," which should not be considered by small businesses. If the idea of using Sharepoint even occurs to you and you don't have an in-house IT department with a lot of free time, you should lie down until it goes away.
• All of the services offer secure access to files across devices and collaboration tools. Box, Dropbox Business, and OneDrive For Business also have enterprise-level features – domain management tools, greater admin controls and logging for IT departments, a range of custom integrations, and deployment support.
---
What is the vocabulary for this "files are online but appear in File Explorer" thing?
Box Box has now completed its migration to Box Drive, the Windows and Mac program that does this by default – it displays online files in File Explorer and Finder without syncing. (The old program was "Box Sync," which worked similarly to Dropbox. It's still supported but Box is urging everyone to switch over.)
Box just announced that everyone will be updated to Box Drive 2.0 in the next few days. On October 31, on the right-click menu for Box folders in File Explorer, the option to Mark For Offline will appear. When a folder is "marked for offline," it will be synced to the local hard drive and can be accessed even if the computer is offline.
Dropbox Dropbox Professional and Dropbox Business both include Smart Sync. If you're installing the Dropbox agent for the first time, the setup routine inquires whether you want files by default to be online only. If you upgrade to Dropbox Professional or Business, the Smart Sync option appears automatically on the right-click menu. You can set everything to "online only" with a single click, then mark individual folders to be synced locally if desired.
Dropbox began as a consumer-facing product and gradually made its way into the workplace. Dropbox Professional is for individuals who want advanced features, including Smart Sync and additional storage space. Dropbox Business adds "Team Folders" and the other enterprise features.

OneDrive Both OneDrive and OneDrive for Business now can be set to store files online only by turning on Files On-Demand in the program settings. I think (but I'm not sure) that this is now the default when OneDrive is connected for the first time on a computer.
Once that feature is enabled, then OneDrive works like the other services. You can right-click on a folder in File Explorer and mark it with a checkmark to "Always keep on this device."
OneDrive has a couple of features that ought to be more interesting than they are. Word, Excel, and PowerPoint have a new "AutoSave" option that automatically saves work in progress every few seconds and lets you go back easily to earlier versions. No more lost work if you forget to click Save! Even better, you can collaborate with other people working on the same file in real time in the desktop versions of those programs.
Funny, when you look at the autosave button in the upper left of Word, it's greyed out. What's the problem, I hear you say?
The problem is that those features only start working if you open files from where they are stored online rather than from where they appear in File Explorer. My experience so far is that virtually no one understands that distinction or can make any sense of what's happening. Microsoft's attempts to make that more clear have only made the File / Open screens in Word and the others more cluttered and confounding. When you add the confusion of having two different services, both named "OneDrive" . . . well, I wish I could love OneDrive wholeheartedly, but my goodness, it's a mess.
---
Wait. What was that thing about searches?

Oh, yeah. That might be a big deal for some of you. It is for me.
Windows can only search files on the hard drive. If you have files stored online that are not synced to the hard drive, then you can do a search for a file by name in File Explorer, but you cannot do a full text search – a search for words contained in the file.
I'm a search junkie. I do searches constantly. This would likely keep me from using any of these services, except that I found a clever workaround using X1 Search, a full-featured business search program that I've relied on for years. (Drop me a note if you're curious.)
Box has a clever way to work around that limitation. If you click on the Box icon in the lower right of the taskbar, the window that comes up includes a search bar that returns full text search results. You can't preview the results or narrow them down easily but it's not bad for quick searches.
All three of the services will do full text searches from the websites. If you go to Box.com, Dropbox.com, or OneDrive.com, you can do searches and see thumbnails and previews, and you can open files directly into the Office programs. (And if you open a file from the OneDrive website, the AutoSave button will light up. Score!) Using the websites for searches is actually pretty effective after you've done it enough to make it a habit, but it's different than what you're used to.
Although that's a frustrating limitation, the advantage of being able to store an unlimited number of files online and access them from any device in a familiar way is pretty compelling. Take a look at Dropbox Professional if you're an individual, or Box or Dropbox Business for company files. Move your files to the server in the sky!