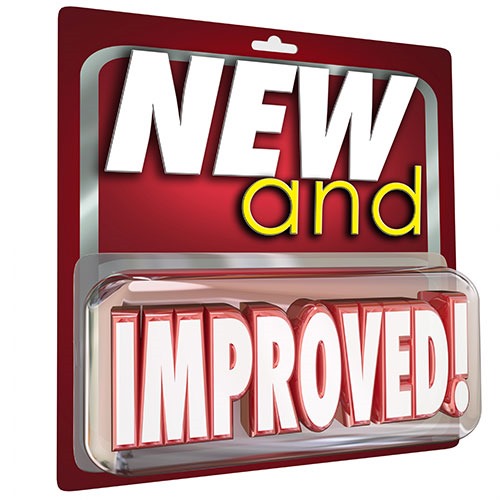 In the last two months, there have been major announcements of new products by every computer and phone manufacturer on the planet. You don't know about any of them, do you?
On September 12, Apple put on its annual presentation of new iPhones for hundreds of tech journalists, with the same showmanship that it has relied on since the days when Steve Jobs would take the stage in his black turtleneck and wow the faithful. Carefully crafted films were shown extolling new features, engineers came onstage to wiggle with excitement about the latest improvements in the Apple Watch oscillation overthruster, Tim Cook beamed with pride, and journalists lined up to get a few seconds of video holding a new iPhone that looks just like last year's iPhone.
A month later Google dutifully followed suit with an equally splendid affair to introduce the latest Pixel 3 phones and a variety of home devices.
Samsung has new Galaxy and Note phones. Microsoft updated some of its Surface laptops. Amazon announced a startling array of new Echo devices – there is literally a microwave oven with Alexa baked in, so to speak. NokiaHuaweiOculus. Facebook! Did you know Facebook announced a home device with a camera that follows you around the room? (It is hard to imagine anything more creepy than the Facebook Portal. It will die a quick, not particularly merciful death.)
Lenovo, HP and Dell have introduced or upgraded dozens of premium laptops in the last sixty days.
Do a search for media coverage of any of them and you will find literally hundreds of articles about each and every one, ranging from rewritten press releases to in depth reviews to lab testing results to critical analysis of minute details. Actually that understates it. There have been hundreds of articles about the size of the notch on the screen of the Google Pixel 3 XL phone.
There are people who pay attention, of course. Who am I kidding? I love this stuff. There is an audience of tech aficionados with free time who obsess over the details. That's what supports the gadget sites and tech news outlets.
But non-tech consumers have tuned out. The coverage in mainstream news outlets has faded away. If you picture an old-fashioned newspaper, then Apple's and Samsung's latest phones not only aren't front-page news, they might not even be the front page of the business section. (Is there a comparable metaphor for this decade? Hmm.)
I'm very old. I just realized that I've seen this happen before.
For a while it was cars. We paid attention to new car introductions every fall, we could recognize the current models on sight, we let our car reflect our status and our identity. It's still true for some people to some degree, but almost no one follows new car announcements the way we did in the 1960s and 1970s.
Personal computers were introduced in the early 80s. For almost twenty years, PCs were novelties that we paid attention to for their own sakes. They evolved rapidly and even non-technical people followed the new models and new features each year. PC Magazine appeared every two weeks with hundreds of pages of glossy advertising and computer magazines were hot sellers at airport kiosks. For a long time even non-technical people kept track of new versions of Windows.
At some point, though, we turned the corner and PCs began to be perceived as tools that we use to get our jobs done. The PC market split into niches with different devices best suited for gaming, productivity, or media consumption. Different form factors added novelty for a while. On the whole, though, most of you stopped paying attention to the details, despite the best efforts of manufacturers to wave their arms and beg for attention.
Premium laptops are the only part of the computer market that is active but even at the high end, executives are no longer expecting anyone to ooh and ahh when they pull a Thinkpad X1 Carbon out of a briefcase. They're just laptops, just tools, not status symbols. No one is going to notice whether you have the 2016 or the 2018 model of the HP Elitebook X360.
Today there are differences between laptops new and old, expensive and cheap. A newer laptop built with a solid state hard drive will be faster and likely have better battery life than an older one. It might be lighter and thinner than the previous year's model.
But you could likely use that older, less svelte, slower laptop and get your work done just fine, and your ego would probably not be damaged. They're just tools.
Phones are now going through the same process. Everyone has a smart phone running Android or iOS. They are essentially just a new generation of computer that happen to be pocket sized. We call them "phones" for convenience but voice calls are almost an afterthought these days, and the volume of calls is starting to go down. We use our phones as tools hundreds of times every day, but it's no longer necessary (or even very interesting) to have the latest and greatest.
The era of rapid change in phones is over. New phones resemble old phones. The picture above shows the Apple iPhone XS, Samsung Note 9, and Google Pixel 3. If they were in front of you on a table, you would find it virtually impossible to tell which was which.
The phone market is mature. Phones are starting to diverge into categories just like PCs, with models that have specs and features that make one or the other better for gaming, picture taking, communication, social media, or commerce. Some odd form factors are about to appear. If Samsung eventually shows off a phone with a foldable screen, it will be obsessively covered by the gadget sites – and it will barely cross your radar.
Phones are still improving. Nothing is at a standstill. Each year's iPhone is better in meaningful ways than the previous year's model. If you want to see real innovation, look at Night Sight, the new camera feature that Google will roll out soon to its Pixel phones, which uses AI processing to improve low light photos in ways that are breathtaking even to jaded photography experts. (Seriously, go look at the comparisons in this article in The Verge. We live in an amazing world.)
But in the next few years, I can imagine that the manufacturers might stop trying to drum up enthusiasm for yet another media blowout event. The annual product announcement events are expensive and time consuming and increasingly strained, and the audience is paying less attention every year.
Our phones and our computers are just tools. New tools get press releases. Maybe they don't also need media circuses any more.