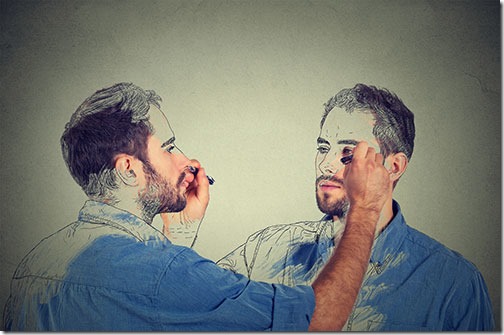 Microsoft has two giant identity systems set up by different divisions of the company – one system for personal accounts, a different system for "work or school" accounts. It's confusing. There is a team at Microsoft trying to make it less confusing; they may be doing things behind the scenes but there has not been any visible change in the last two years.
The login name for both systems is an email address. Some of you are set up to log into both systems with the same email address. Things are particularly confusing for you; I have specific instructions below to help you discover if you're in that position, and how to simplify your life if you are.
I've written about this frequently. My long article here is still the best info you can find about the two types of Microsoft accounts.
The update for late 2018 is that nothing is new. Microsoft makes it look as if it recently posted a couple of articles (here and here) about its progress on tying the two identity systems together – but all it did was change the date on two articles originally posted two years ago. The Microsoft world is still a maze of duplicative names and confusing login choices. It's up to you to keep the two accounts straight in your mind.
---
The history of Microsoft's two types of accounts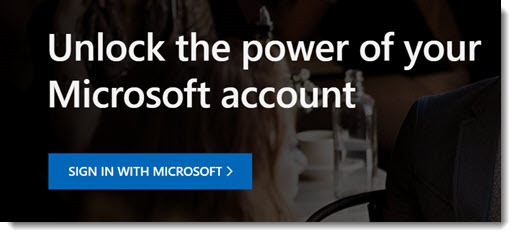 • Twenty years ago Microsoft set up a system to handle accounts used by individuals for Hotmail (now Outlook.com) and other consumer Microsoft services. Those are mostly referred to as "personal accounts."
• Ten years ago a different division of Microsoft set up a completely separate system to handle accounts used for business email and corporate services. For the last few years Microsoft has called those "work or school accounts."
• Microsoft refers to both types of accounts as "Microsoft accounts." (The screen shot above is from a login screen that can be used for both types of accounts.)
• We hate them for that.
• Microsoft uses the name "Office 365" for services and licenses related to both types of accounts.
• This is deliberately cruel.
Microsoft's consumer and work divisions have been caught between the desire for consistency, on the one hand, and the desire to make it possible for non-engineers to understand what's going on, on the other hand. It has not gone well. OneDrive, for example, can be reached through either the personal or work logins, but the personal and work OneDrive file systems are completely separate from each other, making it easy to be confused about how to get to your files. There are services named "Skype" available when you use either a personal or work login, but they are completely different services with literally no point of similarity between them.
We've lived with Microsoft's dual accounts for years now. It is most difficult for people who set up a personal MS account using their work email address. It causes so much confusion that Microsoft has blocked everyone from doing that for the last two years. Old-timers, though, may still be in that position.
---
How to tell if your work email address is the login for both a personal MS account and a "work or school" MS account
This is a pretty reliable test.
• Open up a browser in incognito mode. In Chrome, click on the three dots in the upper right corner, then click on "New incognito window."
• Go to www.onedrive.com.
• Type in your work email address.
• If it asks for your password, you're done. Your work email address is NOT used for a personal Microsoft account.
• If you see the screen below, then the same address is used for both kinds of Microsoft accounts. You should change that so you can keep them straight.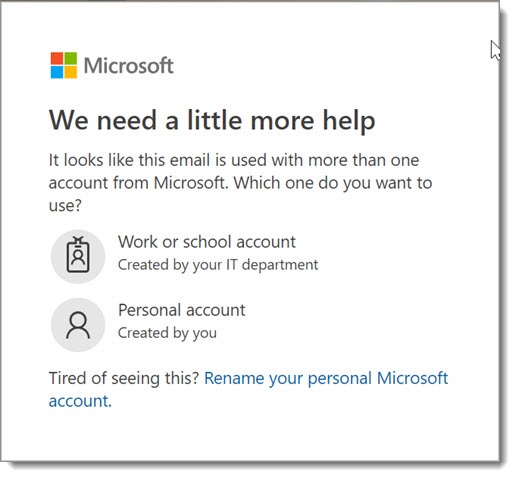 Microsoft's advice is now right there in the window: "Tired of seeing this? Rename your personal Microsoft account."
---
If the same email address is used for your personal and work Microsoft accounts, then change the email address of your personal Microsoft account
if you're using the same email address for both Microsoft accounts, then rename your personal account by getting a new @outlook.com email address. Doing this changes the way you sign in to your personal account, but it won't affect any data.
I wrote instructions here about how to change the address on your personal account. Microsoft has published similar instructions.
This is a slightly abbreviated version of the instructions.
• Sign in to the Your Info page of your personal Microsoft account.
• Select Manage how you sign in to Microsoft.
• Look under the Account alias section. If your work email address is the only one listed, select Add email and set up an @outlook.com address.
• Select Make primary to set it as your primary alias.
• Select Remove next to your work email address to remove it from your account.
You don't have to start using Outlook.com for email. It's just a login name. Just remember to use the @outlook.com email address to log into personal Microsoft services like the non-business OneDrive.
Good luck!