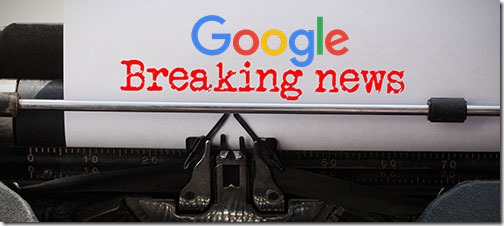 Google, Microsoft, and Facebook held developer conferences last week to showcase new products and services. Google had some exciting announcements. Microsoft and Facebook, not so much.
MICROSOFT Microsoft is an enterprise company. At its Build Conference, it showed off new cloud services for developers and enterprises. That's it. That's what it does now. Microsoft isn't very interested in you or me any more. But don't take it personally – that strategy made Microsoft the most valuable company in the universe a couple of weeks ago, valued at more than one trillion dollars. It's hard to argue with its focus on big business.
FACEBOOK Meanwhile, at its F8 conference, Facebook announced that someday (not today) it will offer vaguely described changes for privacy. Someday (not today) it will improve some of its services. And someday (not today) it will hand out less of your personal data like Halloween candy to advertisers, "consultants" like Cambridge Analytica, and hackers. Everything was in the future, details were hazy, and there was a lot of handwaving.
GOOGLE Then Google started its own conference, Google I/O, and in sharp contrast, it showed off inspiring things that are changing lives – not vague promises about the future but real products available today, right now.
"I liked that very much."
We all need something uplifting. Take five minutes to watch a portion of the Google keynote. (Click here to watch the video if you don't see it above, from 12:30-17:30.)
Google Go is a search app specifically designed for low-cost Android phones in emerging markets. In the video, Aparna Chennapragada, general manager of Google's camera and augmented reality (AR) products, describes a new feature in Google Go: users can take a picture of anything with text and have the words read out loud, with the words highlighted as they are read. Plus, the app will translate the words into any of a dozen languages (and more to come), showing the translation onscreen in place of the original words – and it will read it out loud in the translated language.
Aparna briefly demonstrates the technology, then shows a short video about the impact this can have in the lives of the 800 million people worldwide who are not literate or have reading difficulty, many of whom are just now getting their first phones. Google is doing more than anyone else to dream of how technology can improve everyone's lives, not just the privileged few who can afford luxury iPhones. It's amazing. It makes me cry happy tears.
Google engineers compressed the feature so it uses only 100kb of space, an engineering feat so mind-boggling that it has implications for the future of privacy – more on that below. It will roll out later this month to Google Go, and it will be added soon to our versions of Google Assistant and Google Lens.
Privacy
Apple has piously claimed the mantle of the "privacy" company because it collects less data from us than the other technology companies. Google is doubling down on a different approach: Google says it fully intends to collect data about you, but with three promises: (1) it will keep the data private within Google, not sharing it with third parties and not allowing it to be hacked; (2) it will set reasonable defaults to protect your security and privacy, then give you clear explanations and controls to opt out of data collection if you choose; and (3) it will use the data it collects to make your life better. Google CEO Sundar Pichai wrote an op-ed for the New York Times sniping at Apple: "Yes, we use data to make products more helpful for everyone. But we also protect your information. Privacy cannot be a luxury good offered only to people who can afford to buy premium products and services."
Privacy and security has always been built into Google's company culture, and it's clear that the company is now going all-in on making them a priority in all products and services. Google Maps, Google Search, and YouTube will get incognito modes, like the Chrome browser, where your searches are not transmitted to Google or stored in your Google account. Privacy will be moved to the top of the Android Settings screen. We will have the option to automatically delete our location, web, and app history every three months.
Our mobile device hardware has improved so much in the last couple of years that more things will be able to be done on the phone in real time without uploading anything to Google. Google Assistant will be as much as ten times faster and will only transmit personal data to Google when necessary to carry out a request. Gboard, Google's Android keyboard, was upgraded a couple of months ago; now when I dictate a text message or email on my Pixel phone, the dictation is transcribed instantly on the phone instead of being sent online to Google. Similarly, real-time audio and video transcription will be done on the phone without transmitting your words or your voiceprint to Google. That's the significance of the small program size for the Google Go app that translates and reads text out loud – it's all done on the phone.
"We're also working hard to challenge the assumption that products need more data to be more helpful. Data minimization is an important privacy principle for us, and we're encouraged by advances developed by Google A.I. researchers called "federated learning." It allows Google's products to work better for everyone without collecting raw data from your device. Federated learning is how Google's Keyboard can recognize and suggest new words like "YOLO" and "BTS" after thousands of people begin typing them — without Google ever seeing anything you type. In the future, A.I. will provide even more ways to make products more helpful with less data."
Finally, a mid-priced phone with a premium camera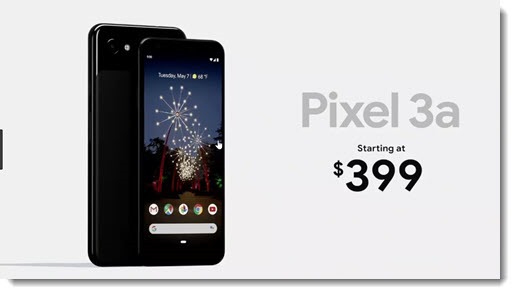 The Pixel 3a ($399, 5.6 inches) and Pixel 3a XL ($479, 6 inches) are very similar to their far more expensive cousins, the Pixel 3 phones that Google introduced last fall, including a great camera, which is very hard to find in phones in that price range. Google has finally reached deals with more carriers, so the Pixel 3a phones can be purchased at Verizon, T-Mobile, Sprint, and US Cellular stores. (They work with AT&T but have to be purchased from Google, then activated with AT&T.)
The Pixel 3a phones look and feel quite a lot like premium phones. Google dropped the price by using a slower processor (although reviewers so far feel as if the processors are good enough for almost everyone), and housing them in a plastic case instead of metal or glass. Battery life might be surprisingly excellent – the Pixel 3a XL actually has a bigger battery than the more expensive Pixel 3 XL. The Pixel 3a phones do not support wireless charging and are not water resistant, but those are not deal-breakers for most people.
The rear cameras on the Pixel 3a phones are identical to the cameras on the Pixel 3 phones, widely considered to be the best in the industry. Google accomplishes much of its photo magic with software algorithms, which are the same on all its phones. There has never been a mid-price phone with a premium camera; the camera is one of the important reasons that many people stretch to buy the latest iPhone or Samsung Galaxy phone for a thousand dollars.
Personally, I strongly prefer the pure Google experience on my phone. I squeeze the sides and use Google Assistant all the time. Samsung's phones are beautiful but the duplicative apps and terrible defaults make me irritable. (And there's no excuse for Bixby.)
Five years ago Google offered mid-price Nexus phones that were a great deal for the money. Google dropped the Nexus phones and started chasing after Apple in the premium, high-price market, with great phones (I love my Pixel 3 XL) but without much market success. The Pixel 3a phones might redefine the market and put pressure on other manufacturers to follow suit.
Oh, and Google might sell boatloads of the Pixel 3a phones. You should look into them for your next phone if your budget needs a break.
The new name is "Google Nest"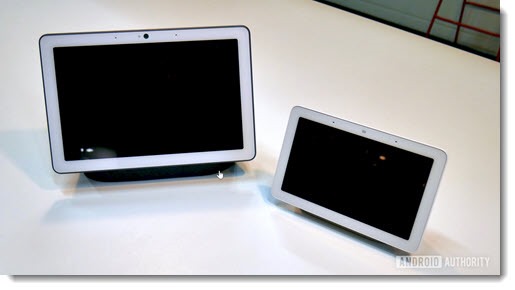 Google is adopting the name "Nest" for all of its home products, trying for consistency among its home hubs and the Nest products acquired by Google five years ago – thermostats, smoke detectors, security cameras, and video doorbells.
The smaller screen in the above picture is now the "Google Nest Hub" instead of the "Google Home Hub." It's one of my favorite new devices, useful and perfectly sized for a bedside table.
The larger screen is the Google Nest Hub Max, a new product aggressively priced at $229, with a ten-inch screen and a camera, perfectly sized for a kitchen counter or living room table. The camera means the Nest Hub Max can be used for video calls with Google Duo, which no one uses, but also allows some useful new features – for example, Face Match in addition to voice recognition to pull up items tied to your Google account (reminders, appointments, etc.). A small but useful addition: you can pause music by holding up your palm. And Google is integrating Nest security features, so Nest subscribers will be able to check their home from their phones.
Want to know the best announcement about Google home assistants? If an alarm or timer is going off, you can say "Stop" and it will stop. You don't have to say "Hey, Google" to get its attention. Try it! It works today.
Walking directions with visual aids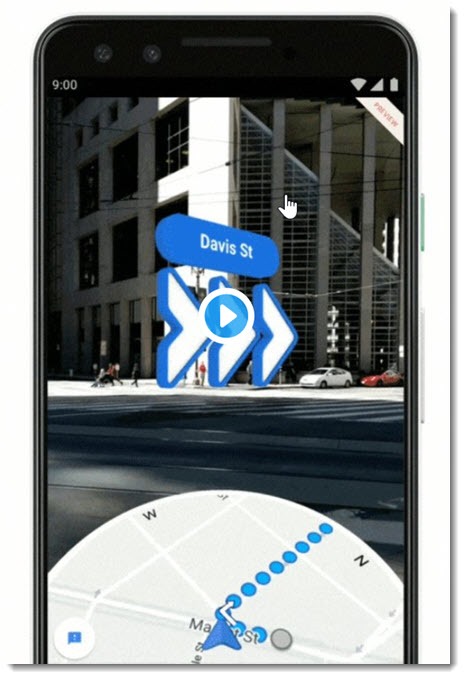 Pixel phones are now able to test an improvement to the walking directions in Google Maps: an AR mode that shows arrows and directions overlaid on your surroundings. One of the shortcomings of Google Maps has always been the ambiguity about which way to walk – like many people, I've walked half a block in the wrong direction before Google Maps showed me that I had chosen poorly. With Google Maps AR, the phone gets a quick calibration by looking around at nearby buildings, then shows on-screen 3D arrows and visual cues. All Pixel phones can use it now (it's very cool), and at some point it will become part of Google Maps for everyone.
Facebook makes me nervous. Google makes me optimistic and gives me services that I love. Ben Thompson put it this way: "What Google is offering is a compelling trade-off: give your data to us — no one else, just us — and we will use it to make your life better and yes, more secure. To put it another way, for users willing to make Google the one entity they trust with their data, the more benefits and general privacy, they can enjoy."