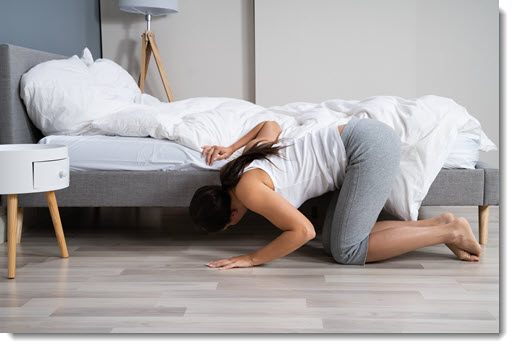 Microsoft is mucking around with Windows Search. It might be better someday, although it's not like anyone was screaming for changes. But hoo boy, is it obvious that the B team is working on Windows these days! Because Windows Search has been horribly broken for the last few weeks, and the whole process of changing it, breaking it, fixing it, making it worse, has all been shrouded in secrecy as things get worse and worse.
Windows Search used to be simple. There were two parts: if you clicked in the box in the upper right corner of File Explorer, you'd search for files; if you clicked on the Start button and started typing, you'd search for programs.
Microsoft has dreams of something bigger, one search bar to rule them all. In that vision, you'll use Windows Search for everything – simultaneously searching your documents and your programs, and searching the web (with Bing, natch, not that nasty Google search).
And that's not all! Microsoft also intends to integrate Microsoft Search, the AI-driven enterprise intranet search that uses Bing to help users find internal company data – documents, contacts, projects, collaborations, calendars, mail. Microsoft thinks it will gain a huge market advantage if it can give enterprise workers precisely what they need from the company intranet. Individuals and small businesses will get no benefit from the enterprise search (quite the contrary, we'll get clutter and distraction), but we don't matter much to Microsoft any more.
This whole enterprise search thing is clouding Microsoft's judgment. It led Microsoft to announce plans to hijack millions of web browsers and force Bing down our throats – plans which it has still not withdrawn. Now Microsoft has mucked up Windows Search while it lays the groundwork for this new unified search.
What's wrong with Windows Search?
Searching in File Explorer has been badly broken in the latest version of Windows (build 1909) ever since its official release in early November. Microsoft has never acknowledged the bugs, but it has hinted that various updates since then have fixed things – except they haven't.
Many people reported that typing in the search bar would cause File Explorer to freeze up for a long time.
It was impossible to right-click in the search bar, and you couldn't paste anything into it with the mouse.
For some people, it was literally impossible to click in the search box; it never got the focus so you could type.
It wasn't possible to delete recent searches.
My own experience: I could type in the box and get a dropdown list of results, but I couldn't click on anything in the dropdown list. It was useless. My only option was to hit Enter and get a full list of search results.
Here's a description of the search problems in mid-December. After some updates, some but not all of those problems have been fixed. A few days ago, Rafael Rivera highlighted some of the remaining glitches: it takes two clicks to set the pointer in place or right-click; still can't delete search history; a few other things. I can sometimes click on files in the dropdown list, but not always. Rivera's conclusion: "It's still a crummy experience."
That's not all.
If you have a search box or magnifying icon on your taskbar, click on it. (If you don't have one of those, click on the Start button, type a letter, then backspace to clear it.) You'll see a big search window that you've never seen before. It's typical Microsoft, like the Windows 10 Start menu – good intentions but hopelessly cluttered.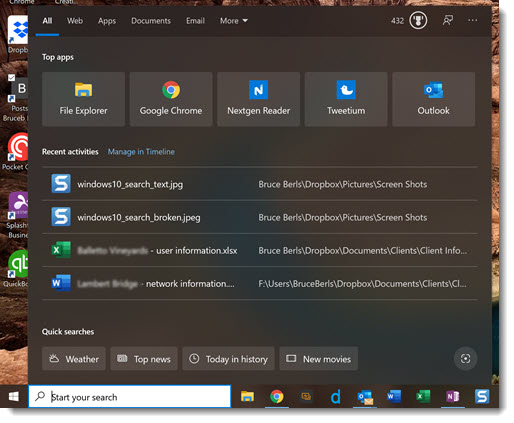 There are tabs across the top to search the web with Bing, to search through documents or mail (including Outlook), and a few more things hidden under the down arrow.
There are sections for Top apps and Recent activities, kind of like Quick Access in File Explorer. Okay, those are at least plausibly useful.
At the bottom is Quick searches – which means, do a web search with Bing for "Today in history" or "New movies." Those buttons are displayed every time you start a search why, exactly?
The icon in the upper right is for the Microsoft Rewards program, which is high up on the list of Pointless And Slightly Embarrassing Things Done By Major Companies. Use Bing and get points for valuable prizes! Seriously, that's what it is. I'll bet you're glad to have a running total on that every time you do a search, right?
But a poorly designed search window isn't the problem. The problem is that Windows Search went entirely dead for most Windows 10 users for at least a few hours last week. (My outage lasted nearly a day.) Clicking on the search bar produced a big unusable black box.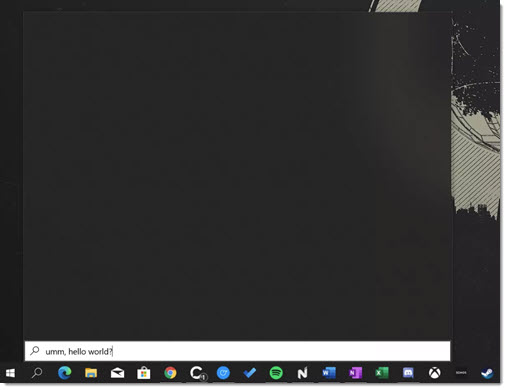 Searches went dead in File Explorer. There was no way to search for local files or apps.
Around noon on February 5, Microsoft blamed a fiber provider (which makes no sense, of course) and said, "This issue has been resolved for most users and in some cases you may need to reboot your machine." Journalist Mary Jo Foley had to restart her computer three times before search started working again.
What's causing the problems?
Funny you should ask. Nobody knows. Microsoft appears to be completely rewriting everything about Windows Search without telling anyone a single thing.
You have to understand how unusual that is. Changes to Windows go through an extensive development process. IT departments all over the world count on Microsoft to document and/or preview those changes. An army of journalists cover Microsoft closely; even the most trivial changes are the subject of interviews and leaks.
The changes to Windows Search have been slipped out to everyone's PC without any warning, apparently using an update system that is NOT the normal Windows Update channel. Version numbers of Windows Search are being incremented every day, but no one knows how the new version arrives – no interaction with users, no entry in Windows Update. Microsoft is literally updating Windows computers overnight with no notice and without permission, using an unknown update channel.
Patch lady Susan Bradley describes it this way in an open letter to Microsoft:
"Today's search issue is an example where transparency of what happened here needs to be talked about. Most of us had no idea that our shiny new Windows 10 search box had a dependency on something that broke. Most of us had no idea that you are not only updating our operating system with patching updates, with store updates and now apparently another updating mechanism that none of us really had a clue was being updated on a regular basis."


The Windows Search updates are rolling out in an inconsistent way that doesn't match any update in anyone's memory. At this point, five different variations in wording for the Search box have been spotted in the world at the same time, which is just weird. (Type here to search / Search the web and PC / Start your search / Start a Web Search / Search)
It appears the entire search component of Windows has been rewritten in an attempt to integrate Bing. A post on AskWoody, a forum for tech professionals:
"What really sticks out for me with some of these newer Search versions, is that they use a ton of memory. Click on the Search box and it immediately consumes 120+ MB of memory on my machine. I did a little digging around I think I figured out why … the entire search box is now a web application built with JavaScript & React. This of course means that some kind of web rendering engine is required … it's probably Edge."
Which leads to a fairly damning guess – just a guess but it fits the facts.
" There is a lot of evidence in the JavaScript source to suggest that it was built by the Bing team. If I had to guess, I'd say that what happened here was that the desktop search experience was moved from the Windows team to the Bing web team, and they just don't have the skills to build desktop programs with efficient C++."
Microsoft reshuffled its executive lineup a few days ago. Panos Panay is taking over the remnants of the Windows division, now treated as an unloved stepchild lumped together in the hierarchy with Surface hardware. Perhaps he will bring some order to Windows development.
In the meantime: Windows Search is broken and it's Bing's fault.