Dropbox started as a drop-dead simple product for individuals: a folder on your computer that seamlessly syncs with the cloud so you can work with the identical folder on all your other computers. That's it! That's all there was to it. Ten years ago, that was revolutionary.
Last year, Dropbox introduced a new desktop app for PCs and Macs. It popped up unexpectedly for me a few weeks ago, and a few clients ran across it recently. I'm not sure why it's just turning up now – maybe Dropbox changed a default or something. But I got unambiguous feedback from the people who saw it. Seriously, folks, you kiss your mother with that mouth? Wow.
How to turn off the Dropbox desktop app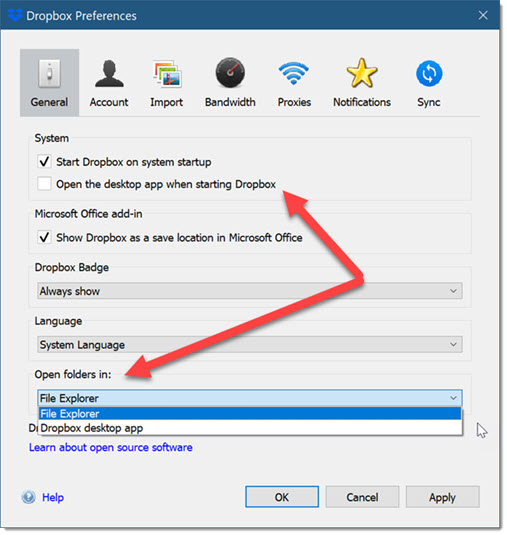 This only applies if the Dropbox desktop app has opened unexpectedly, and you're pretty sure you never want to see it again. If you've never seen the Dropbox desktop app, don't worry about changing anything.
Click the Dropbox icon in the taskbar.
Click the account icon in the upper right – your picture or initials.
Click Preferences.
Uncheck the box Open the desktop app when starting Dropbox.
Click the dropdown next to Open folders in. Choose File Explorer (Windows) or Finder (Mac).
After making this change, you can still open the desktop app from the Start menu.
Why is there an "all-new Dropbox experience"?
Dropbox is flailing around, pushing a lot of disruptive changes in the last year. I need to give you a bit of history to explain why.
First, though, I want to be clear. There is no reason to stop using Dropbox. I use it. Lots of clients use it. It continues to be a simple and reliable cloud storage service. I think it has the best balance of simplicity, features, and price for personal cloud file storage. It's frustrating that technology keeps changing, but this isn't the end of the line for Dropbox.
Are we clear? This is interesting but not a reason to panic.
Here's the back story.
Dropbox pioneered cloud storage ten years ago. It added users at a dizzying pace by making its basic service free, and it made a bunch of money by charging for additional space.
In 2018, Dropbox had its IPO and became a publicly-traded company, bringing pressure for constantly increasing revenue and profits. Unfortunately, at the same time, Google and Microsoft ramped up their efforts to commoditize cloud file storage, offering it far more cheaply than Dropbox, or bundling it with other services to create the impression that Google Drive and OneDrive file storage is "free."
Dropbox has been having trouble converting users to paid accounts, but it can't simply eliminate the free tier and live with the consequences, as LogMeIn did in 2014 when it killed its free remote access app. In 2014 there were no good alternatives to LogMeIn. Today consumers have lots of good options for file syncing.
Last year Dropbox had 600 million registered users, but only 14 million paying users. Only 2.4% of Dropbox users had been converted to paying customers!
Dropbox was pushed into a corner. Dropbox stock almost immediately fell below its IPO debut and has continued sliding ever since. Dropbox needs more paying customers, and it needs them fast. This will give you the idea – a selection of 2019 headlines about Dropbox from Seeking Alpha.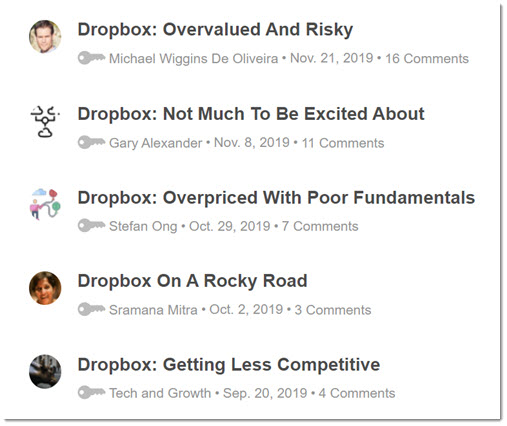 So Dropbox is trying to ride a couple of industry trends.
Enterprises are the path to big profits for certain kinds of technology.
Dropbox can only compete for enterprise customers if users treat Dropbox as more than "just a folder." Dropbox was designed from the ground up for individuals, which has led to its being shunted off to the side as Slack and Microsoft Teams began to be adopted for group collaboration.
In Dropbox's dreams, it is evolving into a platform that enables enterprise users to create and collaborate without ever leaving the Dropbox app. It's all there in the app! You can start and edit Microsoft and Google-based docs, spreadsheets, and presentations. You can start meetings with Slack and Zoom. You can use the Dropbox app for project management, with to-do lists, tasks, comments, a "team activity feed."
Thus the "all-new Dropbox experience" was born. It was introduced in June 2019. At some point, Dropbox added it to your computer when you weren't looking by including it as an "update" to the basic sync app running on your PC.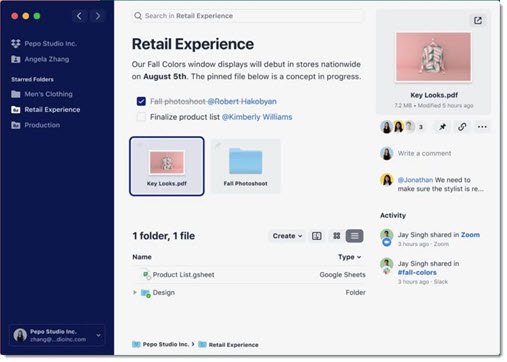 It's got the kind of cluttered interface that drives me crazy. If you're an enterprise user dealing with it every day, perhaps it grows familiar and lovable.
Unfortunately, it is, at best, a pale imitation of the collaboration tools in Microsoft Teams and Slack. At the moment, Teams has all the momentum in enterprises, and one reason is that Teams is deeply integrated with OneDrive for Business. Slack has stalled. That's why analysts have floated the idea that Slack should acquire Dropbox, so it can stand on slightly more equal footing with Microsoft. If you see headlines in the next few months about Slack and Dropbox, it will likely be their bold attempt to stand up to the Microsoft enterprise juggernaut.
If you want to be fair and give the Dropbox desktop app a chance, look through the official Dropbox page about how wonderful it is, and this Dropbox blog post about 5 things you can do with the new Dropbox desktop app.
I'm pretty confident that the Dropbox desktop app has nothing to do with my workflow. That means everything is fine. Nothing has changed about Dropbox file syncing. The Dropbox folder is in File Explorer, just like always. Don't panic if you see the Dropbox desktop app – just turn it off if you don't want to see it again.