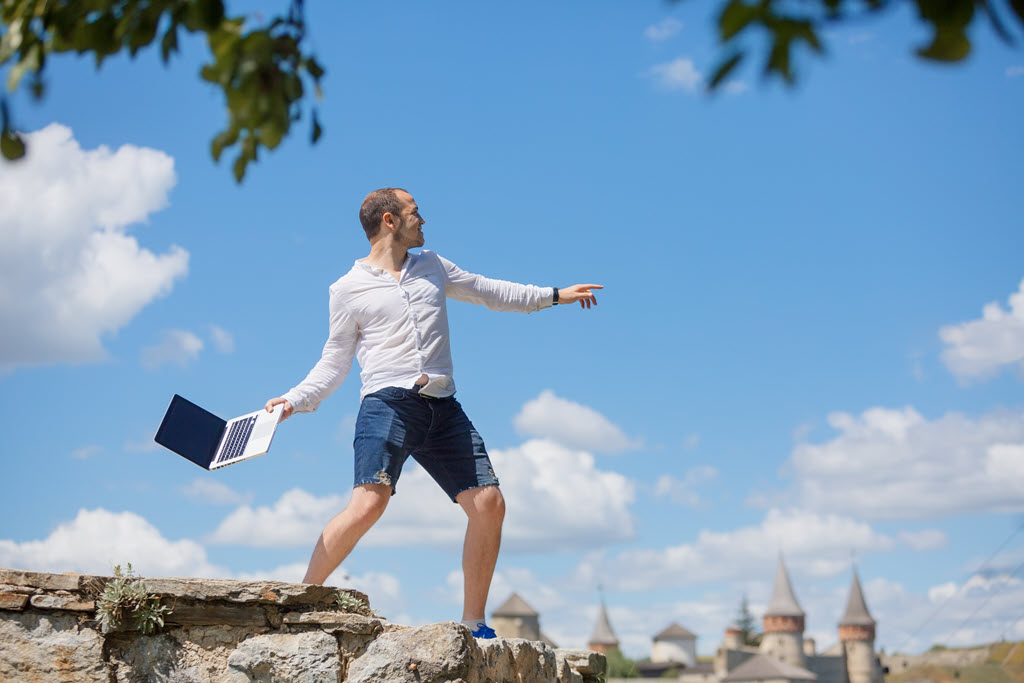 This is a fun and interesting story that ends with me so angry that I want to feed my laptop into a wood chipper. Fair warning: to get there, you have to read a bit more about ARM processors and Intel processors. Yuck! I know, right? But this story is WAY easier than the last couple of articles. Give it a try.
I've described ARM processors as having "better connectivity" than the Intel processors in our laptops. Here's an easy way to understand what that means.
Your phone is always online, everywhere you go. If someone sends you a text message, you're notified even if the phone is in your purse. The phone rings when you get a call, it keeps collecting your mail, it's backed up to iCloud or Google Photos, it installs app updates, all day, nonstop. As long as you're in range of Verizon or AT&T, the phone stays connected. You can go on the Internet any time.
Your laptop goes to sleep, and it's only online if there's wifi nearby. It takes anywhere from a few seconds to a minute or so to wake up. It's only after it wakes up that your laptop starts downloading your mail and syncs with Dropbox or OneDrive. On the bad days it starts installing updates after it wakes up. When you go to an unfamiliar place, the laptop is offline unless you can figure out a wifi password that works or you go thru the dance to make your phone a hotspot.
That's connectivity. The ARM processor in the phone is designed to stay awake and connected without blowing out the battery. The Intel processor in the laptop is designed to go to sleep to save power, only waking up infrequently for specific chores.
Wouldn't it be nice to open your laptop and be online, just like you expect with your phone? That's one of the things that Apple is promising when it migrates Macs to ARM processors. And it's what Microsoft has been trying to do for Windows but can't quite seem to accomplish.
It's possible to equip a laptop with a WWAN card to keep you online with a cell phone carrier even if there is no wifi. The laptop still goes to sleep, but it's immediately online when it wakes up.
A WWAN card option is only available on a few business laptops. When it's installed, there is a SIM slot for exactly the same kind of SIM that goes in your phone. The laptop connection is added to your Verizon or AT&T account, which probably means an extra monthly charge. A modest charge, though, may be a small price to pay so you don't have to fuss with wifi passwords again, and for the extra security that comes from bypassing public wifi networks.
Take your phone out of your pocket, you're online. Open your laptop, you're online. A seductive vision, yes?
The cautionary part of the tale

Last year I ordered a new Lenovo Thinkpad X1 Yoga 4th Generation, a beautiful premium business laptop. I spent an extra two hundred dollars to install a WWAN card. My phone carrier is Google Fi, which offers free SIMs to subscribers and charges only for the data that's used, with no additional  monthly fee. Exciting!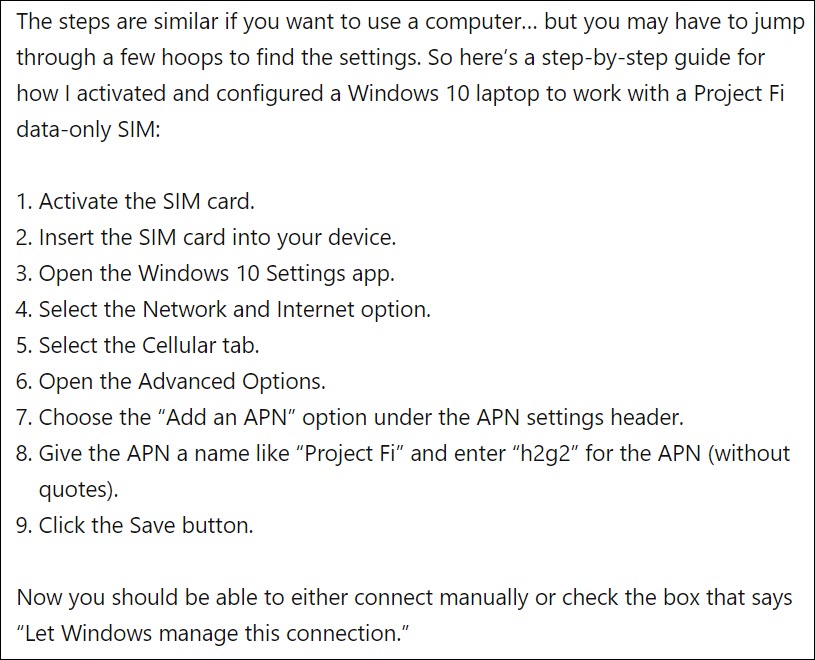 Using a Google Fi SIM card in an iPad or Android tablet takes only a few seconds. Nothing is easy about Windows but it only took a few minutes to Google around and find the right instructions. Up and running!
Everything about the experience was awful. I hated it.
The goddamn connection virtually never connected. "No service," it lies, as I'm sitting in the shade of a cell tower. "Connected," it lies, as no data comes through and web pages time out. "No Internet service" it says truthfully, even though that's its entire job.
Oh, I tried. I've been dealing with Windows for twenty-five years, and I am strong in the Google-fu. I can find Reddit threads. Roll back the driver. Fuss with settings buried on the device property page. Uninstall and reinstall the driver. Reboot the computer, which would work some (but not all) of the time. Shut down completely, then turn the computer back on, which would work sometimes (but not always) when a reboot had not worked. Do a network reset (Settings / Network & Internet / Status / Network Reset).
And mostly restart and restart and restart until I wanted to take an elevator to the top of a tall building for the pleasure of dropping the laptop over the edge. It went on for months – I stuck with it out of sheer perversity – and virtually every time I wound up turning on my phone's hotspot and connecting immediately, which of course is what I should have expected before I bought the WWAN card for two hundred dollars because there is no always-connected Windows computer with an Intel processor.
And that's the moral. The always-connected Windows computer is a myth.
You'll see more advertising for always-connected Windows laptops in the next couple of years. My experience might have been an outlier – I saw some speculation that the particular Fibocom chipset used by Lenovo was at fault.
But my god, there is no way I would tell anyone to buy a computer with a WWAN card. I wouldn't wish that hell on anyone.