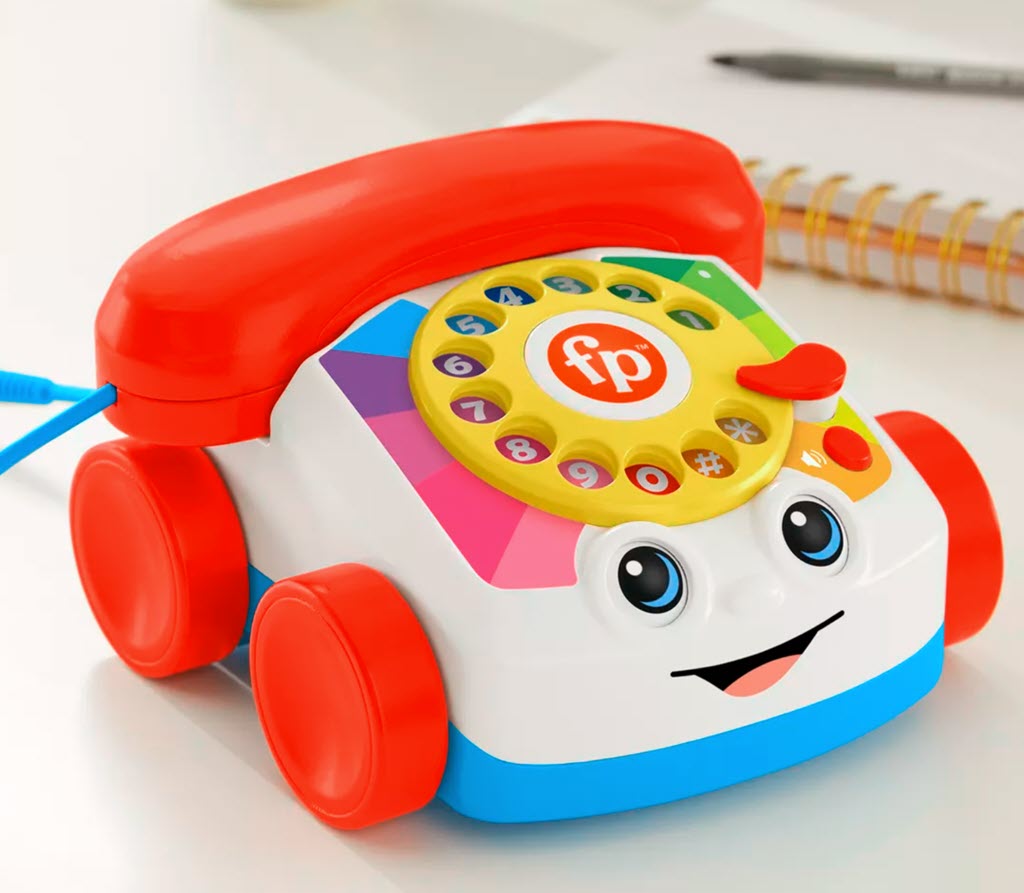 This was an exciting week for technology, filled with announcements of new devices. Given the supply chain problems this fall, I hope you've already got your order in for the one new phone that really stood out. Demand will be high. Yup, the picture shows the Fisher Price Chatter Telephone replica, a real working phone available at Best Buy for $60. It connects to your phone with Bluetooth but sadly does not come with a pull string. It will fly off the shelves.
I joke. I don't joke. The toy phone was almost the most interesting announcement this week. I think Google edged it out – the new Pixel 6 phones really stand out, so those are what I want to tell you about. But I can't blame you if what really attracts you is that the advertising tagline for the Fisher Price phone is "Your first mobile phone," which is so cute that I want to buy one just because of that.
You know about the Pixel 6 launch, right? I bet you were glued to your computers for the launch on Tuesday.
No?
No surprise. You were probably exhausted after watching Apple launch the refreshed MacBook Pro laptops with the second generation M1 chips on Monday.
What? Missed that one? Too focused on Samsung's announcement of who the hell knows what on Wednesday?
That's right, this week was one of the peaks in The Season Of Exciting New Technology, the annual parade of new products that has been happening for so long that it is effectively invisible to everyone except the population of tech nerds. Which is a decent sized population! We could probably fill New Zealand. (The richest of the tech nerds have been trying to get a head start on that.)
Maybe there aren't enough tech nerds to fill New Zealand. Maybe Kauai. Anyway, the point is that there are a few enthusiasts who follow the never-ending stream of incremental improvements to our devices, and there is everyone else, who stopped caring years ago.
And that's okay! You might have heard that Apple released a new iPhone 13 last month, but no worries if you missed it because the details were frankly kind of boring. The new iPhone is just like last year's iPhone 12 but slightly better. It should be better, right? That's the way this goes. You're not going to get a new iPhone because the new ultra-wide camera is more light sensitive, oooh. You're going to get a new iPhone because the battery life is way down on your phone and you dropped it and it got scratched and it's been three years and probably the new one is better in some way. You'll be right! You probably won't notice much of a difference but it will be shiny and the battery will last longer and that's enough.
If you're a creative professional, Apple's announcement on Monday of new MacBook Pros was welcome and overdue – getting rid of the hated touch bar, the return of the MagSafe charger, and a notch at the top of the screen to match the iPhone notch, which will give Mac users something to argue about for the next few years. There are new iPad Pros and new AirPods and updated this and refreshed that. Great!
Meanwhile Samsung and Microsoft are working on phones and tablets that fold in half, because . . . why? Do you want that? Do you know anyone who wants that? I don't either. There's a certain desperation to find a new form factor whether we want it or not.
But I want you to pay attention to the new Pixel 6 phones because Google is making quite a power play and it's always fun to watch the giants tussle.
Pixel 6 – Google's power play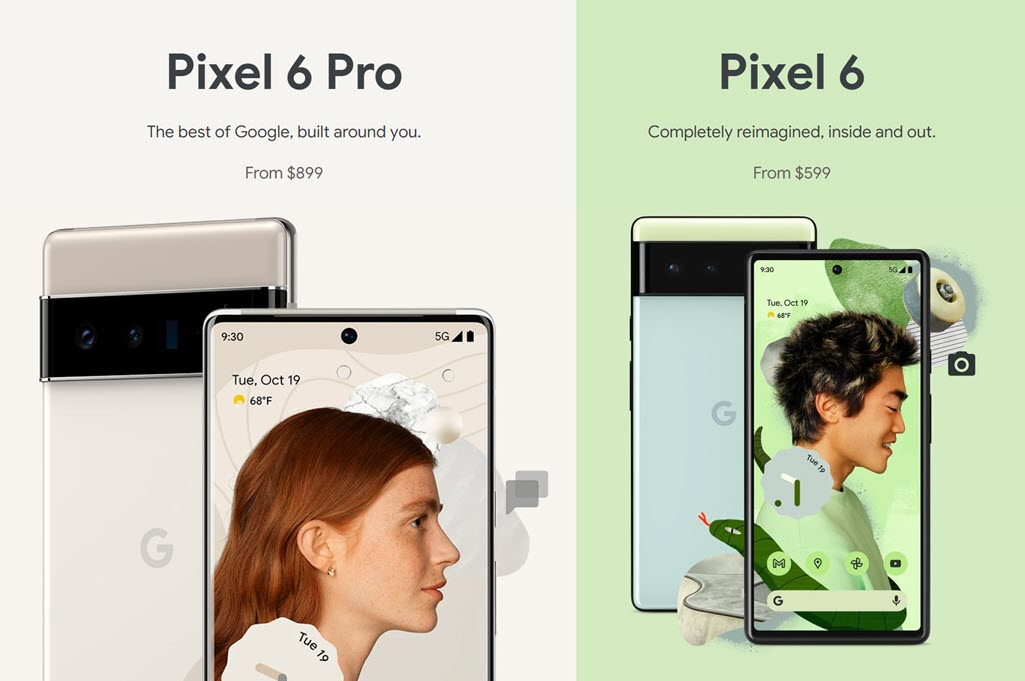 Google has been in the phone business for more than ten years without making much of an impact – five years of Nexus phones followed by five years of Pixel phones. Some of them were cheap but better-than-you'd-expect-for-the-price, trying to take over the vast lower-end worldwide market that Apple doesn't pretend to serve. Some of them were high-priced models trying to share the spotlight with the iPhone. The Pixel 4 and 4XL in 2019 were flagship phones with luxury prices and features that should have made them head-to-head iPhone competitors, except that the carriers didn't sell them aggressively and consumers were not very interested. In the last couple of years Google has introduced cheaper models of the Pixel 4 phones, and a placeholder in the Pixel 5, and an even cheaper Pixel 5a. All of them had two things in common: (1) they're all good phones, and (2) relatively few people bought them.
Google is trying again to take its place on top of the hill, muscling its way onto the podium next to Apple, determined to get the respect it's due.
Say hello to the Pixel 6 and Pixel 6 Pro.
Google is making its claim to greatness. The Pixel 6 and Pixel 6 Pro have best in class features across the board. Google says the AI is so smart that everything works better – pictures are better, the phone is more helpful, new worlds open up for translation on the fly.
Those are some good promises, right? I've been a Pixel fan for years so I think there's a good chance that Google can deliver. They've developed a new custom processor to run the phones, trying to catch up to the advantages Apple has had with its customized processors for iPhones and laptops. The phones will run a new version of Android, version 12, which is elegant and streamlined. (Android 12 will also come to other Android phones but it's part of why Pixel 6 phones look so good.)
The Pixel 6 phones have a distinctive style, with a black camera bar across the entire back. (The cameras are amazing but physics dictates that camera lenses need some depth to work with – thus the Pixel camera bar and the iPhone camera lump.) Like any new design, the black camera bar will be polarizing for about 72 hours until we get used to it. Remember when Apple Airpods looked funny and we made jokes about cigarettes dangling out of people's ears and then one day they were just . . . earbuds? Like that.
Perhaps the most important Pixel 6 feature is a single number. Pixel 6 prices undercut comparable iPhones by hundreds of dollars. Google is apparently subsidizing these phones in a big way to gain market share and mind share.
At its presentation, Google focused on security. Pixel 6 phones are arguably more secure than iPhones, with better options for privacy – if you accept that Google knows more about you than Apple. I'm at peace with that because I trust Google to keep my data private and use it to make my life better, and because I think Apple is fudging and collects way more data about its users than it pretends. But I understand the security/privacy claims will ring a little hollow if you don't trust Google.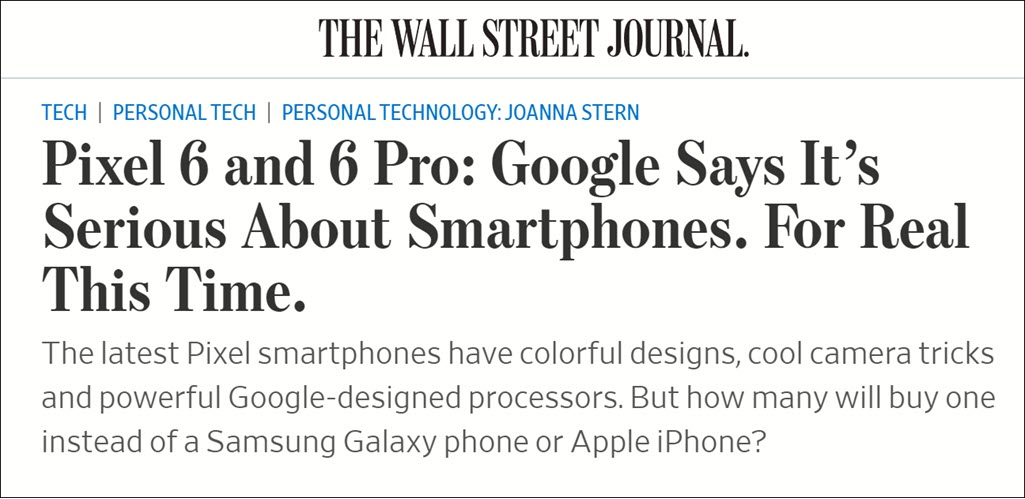 This is another big swing by Google for the fences. It hopes to sell seven million Pixel 6 phones in short order, still not a huge number compared to Apple or Samsung but not bad. More importantly Google wants consumers to think of it as a company that produces top-tier phones that deserve as much respect as iPhones and top-of-the-line Samsung phones.
If you're thinking about a new phone, consider the Pixel 6 or Pixel 6 Pro. There are lots of details online about specs and features. Google's launch on Tuesday was a prerecorded hour-long advertisement, featuring a fun conversation at the end with Marie Kondo, using the phone to do a live translation from English to Japanese. Google talked about one very important feature that has been done behind the scenes: Google highlighted its work on training its camera AI on more diverse groups of people. The camera should be able to do a better job with different skin tones and ethnicities. There's reason to hope that the new phones will have the best cameras on the market, not just for basic high quality pictures but for new features that real people might use to remove unwanted objects, keep moving faces in focus, create interesting effects, and zoom in with a 4X telephoto lens.
And don't forget whatever the hell Samsung announced on Wednesday! And the announcements next week, and the week after that, and the week after that, forever, amen.