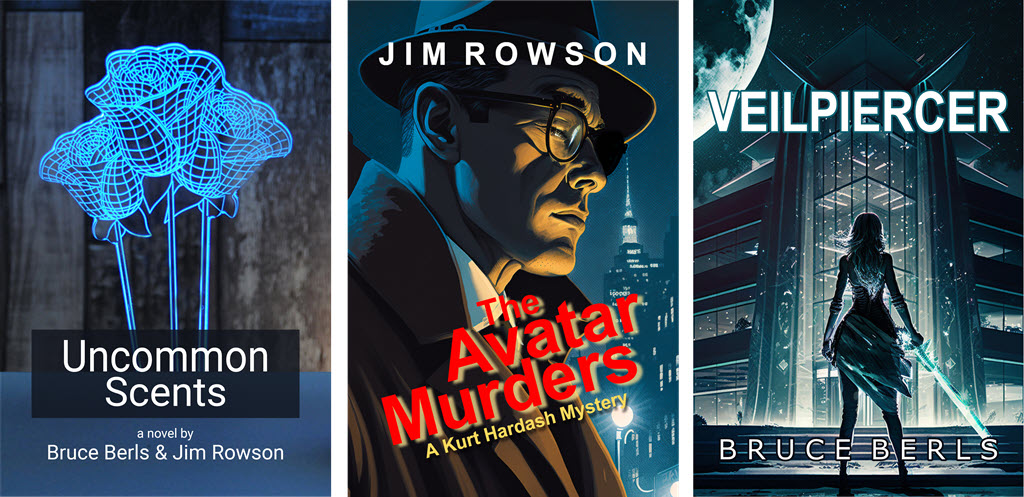 The future belongs to Arrgle.
Arrgle is a giant tech company. Thirty years from now, it's the largest company in the world.
Jim Rowson and I have written some books about people's adventures with Arrgle technology. In Uncommon Scents, an engineer comes up with a plan to leak details of a shadowy secret project. The Avatar Murders is a Raymond Chandler-style detective story about a PI investigating a series of high-profile murders. A young woman assembles a team to hack into a powerful computer in Veilpiercer.
Arrgle is fictional. You got that, right? It has four endearing characteristics for a fictional company name:
1) It's a mashup of Apple and Google.
2) It has "AR" at the beginning, a reference to augmented reality, the technology driving the company's success.
3) The domain name arrgle.com was available.
4) It sounds silly and it's impossible to hear it without thinking about pirates.
Bruceb News is going to be reborn as a newsletter from Arrgle.com. You'll get the first one in a day or two.
I'll keep you updated on developments in augmented reality and virtual reality. I'm still convinced it will be the most significant tech development of our lifetimes. But it's going to be five or ten years before it becomes obvious – and maybe instead it will be clear that it's not going to happen, brought down by technical difficulties and privacy issues.
But that's not all.
Jim and I are going to tell you about what it means to be a writer in the 2020s. Self-publishing, traditional publishers, editors and book coaches, discoverability, marketing – we're having adventures.
We'll shamelessly promote our novels and writing projects. You can read Uncommon Scents today. The Avatar Murders and Veilpiercer are works in progress. We'll share excerpts and give you glimpses behind the scenes at the process of turning ideas into books.
Jim is an inexhaustible source of information about classic SF. He'll tell you about some of his favorite novels and you'll fill up your bedside table with books to read. After you finish our books, of course.
We plan to mail an Arrgle newsletter every week or two. As always, there will be no ads, no cost, no obligation, and an Unsubscribe button at the bottom if you don't care about our feelings.
Keep an eye on your junk folder. The newsletter is handled by Mailchimp, a large and well-known mailing list manager, but newsletters tend to get sent to spam until you whitelist them.
I'll see you soon – new name, same snark. Thanks for your loyalty and support!