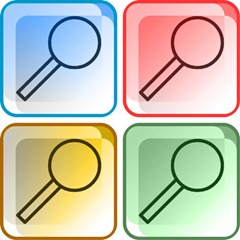 If the right elements are in place, Windows 7 can be used for lightning-fast searches through shared folders in small businesses and law firms. There are a couple of tricks to that process; it will take a couple of days to give you the background and show you some search techniques.
When Windows Search 4.0 was released in the summer of 2008, one of its important features was "remote query" or "remote index discovery." A computer with Windows Search 4 responds to a search query from a remote computer by consulting its own index and sending the search results. When Windows Search 4 is running on a server sharing company documents, the server returns the results instantly with high accuracy and a minimum of network traffic. Two years ago I wrote instructions about how to search network shares from Windows XP and Vista workstations.
Windows 7 leverages that feature through the new "library" feature that I'll talk about tomorrow. If libraries are set up correctly and the right search programs are running, it's possible to do a unified search that covers Outlook, local documents, and shared documents, with easy tools to narrow the search results so you find exactly what you need.
The tools are either built into Windows or available from Microsoft. I'm going to repeat this description of the current status of Microsoft's search technology. Make sure Windows Search is installed on each of the computers with files to be searched.
Windows 7 – includes the Windows Search 4 technology but does not use the name.
Vista – Windows Search 4 is included in Vista Service Pack 2. (By this time, all Vista computers should have Service Pack 2. Right-click on Computer and click on Properties to see the service pack on your Vista computer; if you don't have Service Pack 2 yet, install it manually.)
Windows XP – Windows Search 4 can be installed manually; it's offered as an optional update in the Automatic Updates system. When it's installed on WinXP, a search toolbar and magnifying glass will appear down on the taskbar in the lower right. (It appears separately in Add/Remove Programs if you want to see if it's already installed.)
Outlook 2007 – When Outlook 2007 is installed on a Windows XP or Vista computer that doesn't have Windows Search 4, it will offer to install Windows Search 4 at the same time to power instant searches within Outlook.
Windows Server 2003 (including Small Business Server 2003) – Windows Search 4 can be installed manually.
Windows Server 2008 (including Small Business Server 2008) – Windows Search 4 is included in Windows Server 2008 Service Pack 2. The search service has to be activated manually, which is only suggested for small businesses and law firms; Microsoft has other ways to handle searches for mid-size businesses and enterprises.
Windows Home Server – Windows Search 4 can be installed manually for businesses using a WHS device for shared files. It is installed in a Remote Desktop session, not through the console.