Google Apps For Business is a suite of Google applications customized for small businesses. Everyone in the business gets a domain email address and access to a smorgasbord of integrated Google products, including Gmail, Google Docs, Google Calendar, and Google Sites. Everything is completely cloud-based and can be accessed from any device with an Internet connection. Google Apps For Business is inexpensive, $5/user per month, and there's even a limited free version for groups of up to ten people.
I want to use it to reinforce something that must be kept in mind when evaluating any technology today: The cash out of your pocket is only one element in deciding whether a technology solution fits your business. Frequently it's not even a very important element.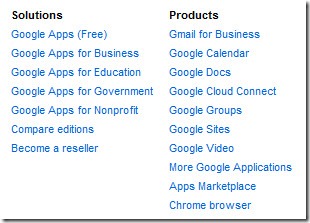 Choosing Google Apps for Business will impact every single thing that your business does, every day. It will be the engine for email, collaboration inside and outside the company, and all your file handling. It will determine your choices of mobile devices and tablets. There will be strong incentives to give up Microsoft Office programs and work in Google's online word processing and spreadsheet apps.
That all might be exactly right for your business! Those are strengths, not criticisms. The cost is the time required to evaluate whether the features of Google Apps are a good fit for your business or law firm, and to try to predict the side effects before they happen – the programs that break, the people who rebel. Training is available and probably required – do the personalities of the movers and shakers in the business make it likely that it will happen?
Many things today cry out for you to try them. They're free, or they're cheap, or you can install a demo with a few clicks. Thirty seconds looking at the web site makes them sound appealing. There are very few thirty second services out there! Whether it's a law firm considering a case management package or a sales department looking for customer relationship management software – if it looks like the choice is easy, you probably haven't thought it through completely.
There have been a number of recent articles about the experiences of various groups implementing Google Apps. Some claim to have had glowing success; some highlight the rough edges. If you look through them, though, what ought to stand out is the sheer scale of the project. Here are some snippets to give you an idea of the range of experiences out there.
---
"Companies are finding the move to cloud software is easier and faster than the tortured process of shifting between server-based software. Witness the experience of Australian wireless telco Big Air.
" 'I think we're unique in adopting Google Apps overnight,' CEO Jason Ashton says. 'You probably wouldn't believe me if I told you' how long it took. . . .
"Ashton says there were no complaints from any of the 50 staff, although he admits that the company is unusual in that almost all are technically savvy and young."
---
"Analyst reports and sales figures are one thing, but what was Google Apps like to deploy and support? To find out I asked Matt a few questions about his own move to Google Apps. . . .
" 'I would say that the number one complaint has to do with learning the "search instead of sort" philosophy that Gmail uses. Some users have a very hard time finding their mail without doing a sort and, unless they use Outlook with Google Apps sync, there is no way to get this functionality. The second largest user gripe about Google Apps is actually a double edges blade of sorts. Because Google is constantly changing and improving their software and you always get the latest stuff, it is sometimes hard to keep up with all of the changes.'"
---
[A helpful article with details about the process of signing up for a Google Apps account and sorting out some of the startup issues with DNS and account setup.]
"Don't forget the other available services. Calendar access is at calendar.google.com/a/yoursite.com for all the users of that domain. Each user gets an individual calendar, Docs (docs.google.com/a/yoursite.com), and Sites (sites.google.com/a/yoursite.com). All you need to know to share, typically, is the e-mail address of the others. You can share with any user of Google Calendar or Google Docs; they don't even have to be on your Google Apps domain.
"You can also access all the apps in the Google Apps Marketplace. Browse from the link you get in setup and anything you add is automatically part of your domain. Some of them are free, though not all, so be careful of incurring unnecessary costs. Google will try and sell you on some user training, but it mostly sends users to learn.googleapps.com to read some instructions. You get all the online support you want, but to get e-mail and phone support you must upgrade to Google Apps for Business. (There's a free trial period.) . . .
"Everything worked. You'd think I couldn't be happier, but I have a few issues.
"I'm grateful "disaster" didn't strike when I combined IDs, but I now have too many Gmail IDs to work comfortably within a single browser. I have an account with the Gmail.com domain, associated with all my other Google services like YouTube, Blogger, Google+, and more; a couple new addresses on the Squishedfrog.com domain using Google Apps; and my work e-mail address also provided by Google Apps for Business."
---
[Interesting and detailed description of the nuts and bolts of getting Google Apps up and running for an ad hoc group.]
"About six months ago, about a dozen people in Buffalo, NY, including myself, wanted to put together a thing that would get people talking about great ideas. . . . Over time, that dozen or so grew into a larger group of helpers, and we needed something to manage our communications, documents, and lots of information. I was the guy at the top, and I chose a Google Apps installation. . . .
"[The Google Docs] big ol' list of recent documents works great if you're a one-person shop. When you have a sizable group, it gets very easy to lose track of who has access to what, what kind of naming schemes you're using to designate something as "official" or "finished," and why Tim can't see the document that Mary supposedly shared with everyone. You can form folder-like "Collections" and share them, but we ran into the same issue – who can see them, and what do they mean? You need a plan, and a tight naming scheme, to use Google Docs professionally (much like any shared document space, really), but it's too easy to think it will sort itself out when it's all in the cloud. . . .
"I honestly can't think of a system that could have replaced Google Docs, and Google Apps, for our team, which was operating in lots of different places, at different times, and with all kinds of varying technology. It's easy to get irked at the little things – contact management, default spreadsheet column widths, the font selection on presentations – when the major headaches of file storage, backup, access, and, again, cost have been vaporized.
"If we weren't working on a fairly tight five-month schedule to put together a conference, we might have brought in someone with experience to set up our Google Apps instance, give us some guidelines, and anticipate our what-the-heck headaches. And we might have made better use of features we never gave a chance, like a Sites-based "intranet," or a shared Calendar that never quite seemed to export itself the right way."
---
Take the time to learn about services before you try them.
Take the time to learn how to use a new service before you begin to rely on it for business-critical chores.
Those sound like simple, common-sense reminders but it can be hard to keep in mind when you're looking at a nicely designed web site with soothing buzz words. Pick your tools wisely!