An updated version of Microsoft Security Essentials is being installed automatically for anyone currently running the free antivirus program. It is being pushed out silently by the Automatic Updates system and will likely be completely invisible to most of you. It does not require a restart after the update is installed.
One recent report showed that Microsoft Security Essentials has become the most popular security program in North America and second worldwide. MSE is one of Microsoft's best program designs precisely because it is nearly invisible when it is doing its job: it installs with two or three clicks and no restart, and there are virtually no popup windows calling attention to the program when it is running, unlike every other antivirus program on the market. It is free – no registration, no trials, no expiration date, no renewals. The license authorizes it to be used in businesses up to ten PCs (and personally I sleep well even if I discover that a business with 20 or 25 workstations is using it).
Windows 8 has the functionality of Microsoft Security Essentials built into the OS. At that point malware protection will finally sit where it has always belonged, as a function of the operating system rather than a bolted-on afterthought.
It's important to keep in mind that most malware sidesteps your security program by arriving from poisoned web sites that attempt to convince you to click an OK button. When you click the OK button, you are telling your security program to stand down. Your most effective security is your common sense. Antivirus programs are just one item on the Rules For Computer Safety. (If those aren't taped to your refrigerator already, do it now!)
The interface for Microsoft Security Essentials is almost unchanged, other than a new background color. If you're curious about whether you've gotten the upgrade yet, open MSE and click in the upper right on Help / About Security Essentials. The upgrade shows 4.0 for both the Security Essentials Version and the Antimalware Client Version.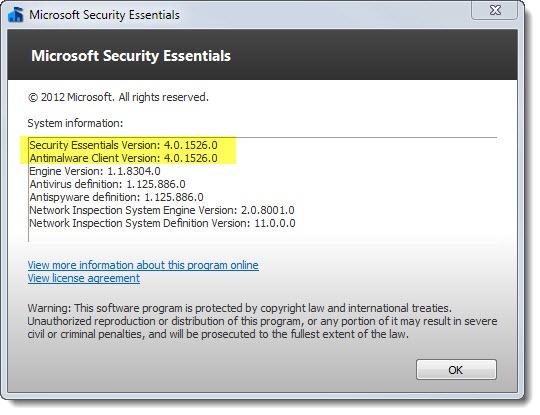 The updates are all under the hood. One interesting improvement, according to Microsoft: "We have improved on Microsoft Security Essentials' Automatic Remediation, which will automatically quarantine highly harmful threats without prompting the user to take action." A reasonable interpretation: if a web page drops a potentially dangerous file into your Temporary Internet Files folder, MSE might remove it without bothering you.
The upgrade began to be rolled out on April 24. I got mine on April 25. I've seen several computers get the update in the last couple of days. If the update is installed while you're using the computer, you may see a popup that Microsoft Security Essentials has been turned off. It will disappear in a minute or two when the updated version is turned on. (On one computer today, the old version was uninstalled but the new version failed to install correctly. Windows popped up its notice that no antivirus program was installed. Manually installing directly from the MSE web site cured the problem.)
Be careful out there!