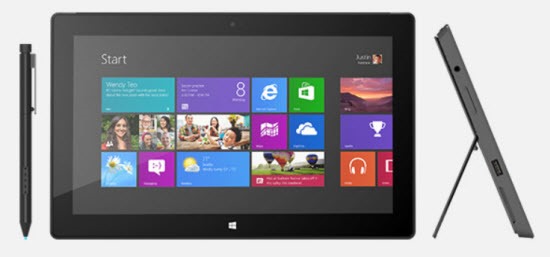 In late January Microsoft will start shipping the second version of the Surface tablet, the one with the full version of Windows 8 Pro. There are two models, a 64Gb version for $900 or a 128Gb version for $1000. A keyboard is not included so you'll buy one separately, either the Touch cover (non-movable keys, very thin, cool colors) or Type cover (movable keys, slightly thicker, black), for another $120-$130.
Microsoft would like the audience for the Surface tablets to include shoppers considering iPads, for obvious reasons, but Surface tablets are not likely to put much of a dent in iPad sales. Not only are they more expensive, they're not enough fun, at least not yet. Microsoft miscalculated badly when it did not press tablets and phones into the hands of every developer on the planet as early as possible, and now it's hard to ignore the lack of apps available for Windows 8 tablets and phones during the 2012 Xmas shopping season. The app stores for iPhone/iPad and Android are exploding with apps that are useful, fun, quirky, stupid, helpful, specialized, everything you can imagine. The Windows app store is thin and many well-known apps have not shown up yet.
Don't write off the Surface tablets that quickly.
Windows 8 tablets are not iPad wanna-bes. They are the thinnest, lightest Windows laptops on the market. If you use devices to do work, you should be considering a Windows 8 tablet as a possible alternative to a laptop – and maybe as an alternative to an iPad, if you had a fantasy about using an iPad to do something productive.
There is something about the Surface form factor that makes it different than an iPad. Even though the Surface RT is the same weight as an iPad, it feels heavier, more solid somehow. The wider screen makes it feel awkward to use the Surface tablet in portrait orientation -  you'll naturally use it only in landscape mode, set up like a laptop.
If your life revolves around Microsoft Office – Word documents, Excel spreadsheets – you can be productive with the less expensive Surface RT tablet. Using the included Office programs to work on files stored on Skydrive is surprisingly effective. I've been using my Surface RT tablet constantly to read Kindle books, to watch Netflix videos, to read the New York Times, and especially to do work in Word and Excel, and it has become a trusted and valuable accessory.
The Surface with Windows 8 Pro is a full-blown laptop computer, with an Intel Core i5 processor, a USB 3.0 port, and a mini DisplayPort connector for projectors and big screens, in a 2 pound package. It's about the same price as an Ultrabook with a 13" screen, which some of you might prefer, which is my point: the Surface with Windows 8 Pro isn't for everybody. It's for someone who wants to be able to get work done on something that is exceptionally thin and light.
The Surface Pro will not include a pre-installed copy of Microsoft Office but you won't have to buy an expensive license. When the Surface Pro goes on sale in late January, you will be able to subscribe to Microsoft Office 2013 for a small monthly fee and install it on up to five devices – your computers and your Surface Pro tablet.
The Surface Pro screen has a very high resolution 1920×1080 display for its 10.6" screen, a far higher resolution than the Surface RT 1366×768 display. That might turn out to be a mixed blessing. Windows programs running on the desktop will be very small, even after applying whatever tweaks are available to make things larger. It's impossible to work in Excel on Surface RT by touch – fingers are just too big to hit a cell with accuracy. That will be even worse on Surface Pro. The keyboard covers have a touchpad which gets past that problem to a certain extent, and you might wind up packing along a Bluetooth mouse for the Surface Pro.
THE WINDOWS 8 ECOSYSTEM
One of the reasons to get a Surface instead of an iPad is to take advantage of Microsoft's efforts to create an ecosystem, where each device works with the other devices in the ecosystem to give you a consistent experience.
Here's the way that works for someone like me who wants to stay in the Windows 8 ecosystem.
When I got my first Windows 8 computer, I began to personalize it, just as you do. I attached my mailbox to Microsoft Outlook. I chose wallpaper. I saved Favorites in Internet Explorer (not Chrome or Firefox). I moved my documents and photos to Skydrive.
Next was my laptop. After installing Windows 8, I logged in to the same Microsoft account. When my desktop appeared, it had my familiar wallpaper, it had the same Favorites, it had all my documents and photos ready to go as soon as I installed Skydrive. All of those settings are synced behind the scenes by Windows 8.
The Surface RT arrived and I logged into the Microsoft account, and many of the same things happened – wallpaper, Favorites, documents and photos. But a couple of new things happened as well. The Surface mail, calendar and people apps filled up automatically with the contents of my mailbox, because it synced those settings from Outlook on the desktop. The Surface automatically joined my office wireless network, because it synced wireless network settings from the laptop.
That's powerful stuff. If you have an Android phone, an iPad, and a Windows computer (and trust me, a lot of you have exactly that combination), you can get bits and pieces of things to work together, as more and more apps are developed for all of those platforms. But there is some real synergy from staying within one ecosystem, and Windows 8 is the only one that can extend to deep settings on your phone, your tablet, and your computer.