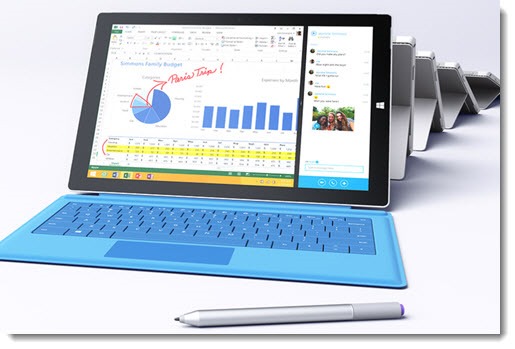 Microsoft's new Surface Pro 3 is the first device that can replace both a laptop and a tablet with a single hybrid that fits in both categories. It has a 12" screen and full-powered internals worthy of a powerful laptop, combined with a detachable keyboard and the impossibly thin and light characteristics of a tablet.
It's no secret that Surface sales have been underwhelming but the bright spot has been the increasing appeal of the Surface lineup for people in business who are looking for premium devices oriented toward productivity. Apple rules the consumer world of high-end devices but Microsoft Surface 2 and Surface Pro 2 tablets have been making inroads in the business world thanks to the smoothly integrated keyboard and enterprise-oriented security and management tools.
People in business using devices to get work done should take a long look at the Surface Pro 3. Some models will be available in June but the version you really want isn't scheduled to ship until late August.
I'll mention quickly some of the features of the Surface Pro 3 but the overall impression is the important part: Microsoft seems to have gotten everything right. The reactions from journalists who have seen it and used it have been uniformly positive. Even Apple fan David Pogue gave it a surprisingly positive review, noting that the Surface Pro 3 outdoes an iPad in every way and offers more than a MacBook Air (lighter weight, touchscreen, tablet form factor) for less money.
Let's go through the basics.
WINDOWS 8.1 The Surface Pro 3 is a full-blown laptop running Windows 8.1 on an Intel processor. It can run all Windows programs. This is not Windows RT, the tablet version of Windows that can only run new Metro apps.
SCREEN The 12" screen is similar in size to small laptops and significantly bigger than iPad and Surface 2 screens. For the first time in a decade the screen is not the traditional 16×9 elongated movie shape; it has a more square 3×2 aspect ratio which will make it feel more natural when it's held in portrait mode as a tablet. The screen has a resolution of 2160×1440, which will make everything on the desktop very crisp and very small. Baby boomers should use caution and check it out in a store to decide if a high resolution display will work for their aging eyes.
PROCESSOR Surface Pro 3 can be configured with an Intel Core i3, Core i5, or Core i7 processor, and various amounts of storage, from 64Gb to 512Gb. The processors sip power daintily with Intel's latest mobility improvements, allowing Microsoft to estimate that the battery will last for up to 9 hours of web browsing. According to one source quoted by Paul Thurrott on Windows Weekly, there is only a small difference in battery life among the processors. (Real world testing is still to come.)
KICKSTAND Microsoft has reworked the kickstand again; instead of one or two fixed positions, the kickstand has a friction hinge that can be set to any angle, including almost flat. Once you use a tablet with a kickstand, it feels very limiting to return to an iPad or Android tablet without one.
THIN AND LIGHT The Surface Pro 3 is only 1/3 of an inch thick, 30% less than the Surface Pro 2, and it weighs just 1.76 pounds. The combination of thinness, light weight, and more square screen reportedly makes it feel more like a pad of paper than a laptop.
DIGITAL PEN Microsoft has a lot invested in the experience of using a digital pen with its tablets to take notes. They claim that the new technology in the Surface Pro 3 along with the bundled stylus provides a big jump in comfort and accuracy over any previous stylus and tablet. One interesting example: pressing the button on the top of the pen wakes up the Surface Pro 3 and brings OneNote to the front for taking notes, even if the device is locked.
The jury is out on the value of the pen. My instinct is that it will be more important on a smaller device, like the 8" Surface Mini that was also supposed to be announced last week. (It was delayed at the last minute.) There is no place to attach the pen firmly to the Surface Pro 3, so it's a safe bet that it will be left behind or lost by most people.
KEYBOARD The backlit Type Cover is similar to the Surface Pro 2 Type Covers, available in a variety of colors and not included in the price of the base unit. The touchpad is improved over previous versions. Microsoft worked out a clever trick where the keyboard folds up and attaches across the front of the Surface Pro 3 to make it more stable and elevate the back of the keyboard from the desk so it feels more like a laptop keyboard. The reports are that it works quite well.
It's worth noting that the Surface Pro 3 is not as comfortable to use in your lap as a true laptop. Unlike a laptop, all the weight is in the top with the screen and there is still no good way to balance it in your lap with the kickstand. For some people (journalists and perhaps students) that's a problem. It's irrelevant if you're going to use it on a desk or table.
PRICE This is a premium product. Microsoft is competing with Apple at the high end of the market. Prices look reasonable compared to the MacBook Pro and MacBook Air but there are many laptops and tablets that cost less. If you spend less you'll give up features and build quality but budgets matter and this is definitely not a casual purchase.
When you look at prices, remember that the $129.99 keyboard is an essential separate add-on. The cheapest Surface Pro 3 with a Core i3 processor and 64Gb of storage is $799 ($928 with keyboard), but you don't want that one. The lowest one you want is the next step up, Core i5 processor and 128Gb of storage for $999 ($1,128 with keyboard).
Personally, I pre-ordered the Core i7 processor and 256Gb of storage for $1,549 ($1,678 with keyboard).
SHOULD YOU BUY ONE? Each person wants something different from our fragmented technology world. One size does not fit all.
If you need a laptop, buy a laptop.
If you want a tablet, buy a tablet.
But if you're interested in the idea of a single device that fills both roles – all the power of a Windows laptop in a very, very thin and light device that can be used as a tablet – then stop and take a close look. The Surface Pro 3 is Microsoft's most interesting device yet and seems to be one of the most creative and elegant devices to come on the market in years.