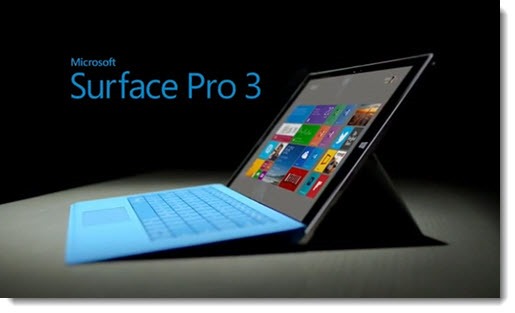 It's Patch Tuesday and your computers are dutifully installing the usual crop of Microsoft updates and restarting overnight, or asking you to restart when you log in Wednesday morning. It's a modest collection of Patch Tuesday updates this month.
Surface Pro 3 owners are getting an important firmware update that may fix a number of small but noticeable problems. The update is supposed to fix several issues: failure to reconnect to wireless when the Surface wakes up (the one I experienced); an alarming startup icon suggesting that the Surface is overheating (it's not, but the icon appears anyway); and occasions when the Type cover doesn't send the Surface Pro 3 to sleep or doesn't come to life when it's connected. This month's update addresses all those problems and more. If you have a Surface Pro 3, go do a manual check for updates – you want this one.
Updating the firmware is different than a patch. It's actually rewriting the information on the hardware chips in the Surface Pro 3 at a deeper level than updates to Windows or the programs that run on the device. One of the advantages for Microsoft of building its own hardware is that it can update its firmware whenever necessary. There have been firmware updates for the Surface lineup almost every month. I got one of the first shipped Surface Pro 3 devices and immediately noticed that it was running very hot. That day it automatically downloaded and installed the first firmware update and it's been running cool ever since.

Subscribers to Bruceb Remote Management get patches installed automatically on their computers. I go through the list and personally approve the patches to be installed. If Microsoft releases a patch that is valuable but not marked to be installed by the Automatic Updates system, I can approve it and get it installed for you anyway. This week subscribers will automatically get the security update released by Adobe for Adobe Flash Player, and next week they'll get the security update for Adobe Acrobat and Adobe Reader. In the last couple of weeks, subscribers have gotten these updates:
•  Google Chrome 37.0.2062.103
•  Snagit 12.2.0.1656
•  Mozilla Firefox 32.0
•  OpenOffice 4.1.1
•  Skype 6.20.0.104
•  Box BoxSync 4.0.5237.0
•  RealPlayer 17.0.13.2
•  WinRar 5.11
•  Opera 24.0.1558.53
•  Java 8.0 update 20
•  Foxit Reader 6.2.3.815
•  Adobe Air 14.0.0.178
Keeping your computers up to date is an important part of basic security. You're all following the Rules For Computer Safety, right? If you want help managing the flood of updates, become a subscriber to Bruceb Remote Management!