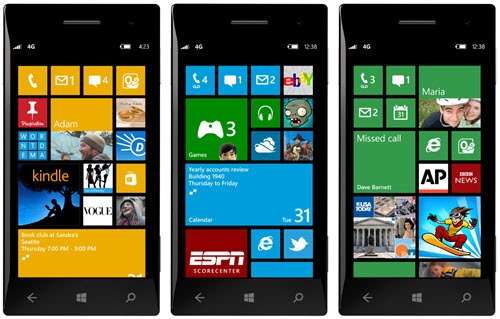 Windows Phone is barely a blip in the market compared to the overwhelming market share for Android and the overwhelming mindshare of Apple iPhones. The Windows Phone operating system is unique and lovable; the live tiles on the home screen are more attractive and more useful than the wall of icons on iPhones and Android phones. Despite that, it's never been clear whether Microsoft can overcome the miniscule market share for Windows Phone. Important apps aren't available on Windows Phone; when they're delivered, they arrive late and frequently with fewer features than the comparable apps on iPhones and Android phones. Developers aren't tempted to write apps for Windows Phone because of the small number of users, but customers won't buy the phones because all the apps are on the other platforms.
Unexpectedly, Microsoft has become one of the best examples of an app developer who focuses first and foremost on iPhones and Android phones, and only half-heartedly on Windows Phones. It's easy to understand why it has changed its focus – it's following market share, just like all the other developers. But there is another consequence that I find myself speculating about: Microsoft is also positioning itself so it can bail out of Windows Phones completely without missing a beat.
There have been a lot of examples in the last year that illustrate the lack of momentum for Windows Phone, and the shift in focus at Microsoft under new CEO Satya Nadella to become a cross-platform company. All too many of Microsoft's mobile apps are better on iOS and Android than on Windows.
Microsoft delivered a mobile, touch-first version of Office to iPads in March of this year. Last week it updated those apps for iPads and introduced new Office apps for iPhones. At the same time, Microsoft started a preview of similar mobile, touch-first Office programs for Android devices and promised that the final versions would be delivered early next year. Meanwhile, on the Windows side, there have been only vague rumors of new touch versions of the Office programs for Windows tablets, and nothing about updates to the apps on Windows Phones. The latest rumors say that the Office programs will not be updated until the release of Windows 10 in the fall of 2015. At the moment, the mobile versions of the Office programs – Microsoft's core business products – are far superior on iOS than on WIndows mobile devices, and Android will leap ahead as well in a few months.
It goes beyond Office. The Skype app on Windows Phone is slow and buggy, and has received little in the way of updates in the last year. During that time, the iOS and Android versions of Skype have been significantly updated and are in far better shape than the Windows Phone version.
OneNote is quite good on Windows Phone but arguably better on iPhones.
The latest update for OneDrive on Windows Phone was a step backward. (Response from the product manager: "We've heard the feedback on the new UI in our latest update to the Windows Phone app. We're in the process of improving the usability and polish of our app." That's engineering code for: "Wow, the latest update makes the app really suck.") Meanwhile OneDrive has been continually improved on iOS and Android.
Last month Microsoft announced a preview of Sway, a new program that will join the Office family to create online displays that combine features of web pages, slide shows, Powerpoint presentations, and interactive elements. It promised iOS and Android apps soon. It promised a Windows Phone app . . . eventually. If they get around to it.
There is very little that is unique to Windows Phone any more. Microsoft released a fitness band last week, along with an app named Microsoft Health which promises to be an important platform for health and fitness tracking for many devices. The app was released simultaneously for iOS, Android, and Windows Phone. It makes sense from a marketing perspective but it adds to the perception that Microsoft's services are equally or more available on iOS and Android, and that there is no reason to prefer Windows Phone even if you are deeply within the Microsoft ecosystem.
Then there are the hardware problems.
Last year the flagship Lumia phones were beautiful devices with best-in-class cameras and specs. Last year the cheap Lumia phones offered more for less money than any other comparable Android phones.
Then came 2014.
There are no new flagship Lumia phones. None are currently rumored to be in the pipeline. Something will eventually be released but it will be well into next year.
Meanwhile, the iPhone 6 camera offers virtually identical photo quality to the best Lumia phones, and it can take pictures with breathtaking speed. Lumias take beautiful pictures with a multi-second delay between each shot. iPhone owners take beautiful pictures as fast as they can click-click-click. Android cameras are improving almost as quickly.
On the low end, the market is being flooded with cheap Android phones, faster than Microsoft can get cheap Lumias on the market, which means Windows Phone market share is not likely to rise.
In the US, Verizon is actively hostile to Windows Phone. Its only flagship Windows Phone was the Lumia Icon, a beautiful device with a great camera and great specs – right up until Verizon dropped it with no warning last month. Microsoft released a major update for Windows Phone 8 in July, a combination of a software update that adds major new features, and a firmware update ("Cyan") to improve the camera and battery life. Verizon has still not delivered that update to Lumia owners and now it appears it is not even close. Microsoft already has another major Windows Phone update ("Denim") rolling out on other carriers and new phones but there is no telling whether Lumia owners on Verizon will ever see it.
The result is a murky future for Windows Phone. On the hardware side, Microsoft may surprise us with exciting new Lumia models next year, but at the moment its focus is entirely on a handful of new low-end and midrange models, and deals with overseas manufacturers for low-end phones in developing countries and China. On the software side, Microsoft appears to be firmly committed to developing first for iOS and Android, and only secondarily for Windows Phone – just like every other developer.
My guess: Microsoft is hoping to make an impact in 2015 with increased market share for Windows Phone from the low-end models combined with a new flagship phone or two to burnish the Lumia reputation.
But if those things don't make much of a difference, Microsoft is already well-positioned to let Windows Phone wither away without affecting Microsoft one whit, because its ecosystem is well established on the other platforms. In that new vision of Microsoft's future, it is a cross-platform company offering Office programs and cloud services across Windows and Mac computers and iOS and Android devices. The disappearance of Windows Phone does not disturb that vision in the slightest.