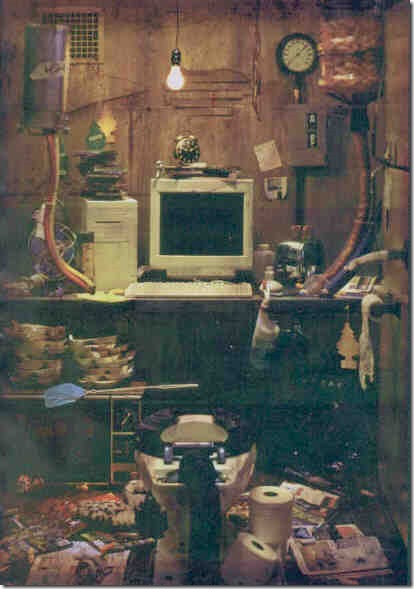 This week I'm starting a makeover of the main office at Bruceb Consulting Global Headquarters, pictured above. With a bit of new equipment and a thorough hosing down, I'll be ready to do an even better job providing support as a disembodied voice on the phone next year.
You can help! If you're going to shop at Amazon, I'd be pathetically grateful if you would start your shopping from the link to Amazon on Bruceb Favorites (or at the bottom of every Bruceb.com page). The Amazon links are affiliate links. When you buy something after starting from one of those links, your experience is the same (no change in prices), and I get a really small percentage. (Your purchases are private, of course – I don't get any information about who you are.)
My promise to you: for every dollar that is paid to me through the Amazon affiliate program, I promise to spend another dollar at Amazon. It's just my way of saying thank you.
Wondering what to buy? Yeah, me too. The tech world is a blur. Here are a couple of ideas, in case it helps.
HP Stream 11 inch / 13 inch laptop
The HP Stream 11 ($199) and HP Stream 13 ($299) are dirt-cheap Windows 8 laptops that are getting complimentary reviews. At those prices, you can't expect miracles. Neither of them will be your daily business laptop. They have slow processors and small hard drives. But they are widely regarded as good enough and good buys for the price, which has not been true of most of the other ultra-cheap competitors.
Even more amazing, each one comes with a free year of Office 365 Personal, which allows installation of the Office programs on a single computer along with unlimited OneDrive storage space. That's a $70 value thrown in with a $199 laptop. It wouldn't make any difference how cheap they are if they were complete crap, of course, but that's the amazing part – these are supposed to be pretty good.
It's a no-brainer to choose one of these instead of a Chromebook for the same price. Here's a review with details about what to expect.
Logitech peripherals
Logitech has been on a roll for the last couple of years. Their tiny "unified" USB adapter talks to all your Logitech devices, and batteries in their wireless keyboards and mice last for years instead of months.
I'm a long-time fan of the lightly curved keyboard in the Logitech MK550 wireless keyboard and mouse combo, only $49.99 from Amazon tonight.
I recommend the Logitech H390 USB headset/microphone ($24.95) for basic Skype duty.
There are webcams at every price point. The Logitech C920 HD Pro webcam is only $69.95 and delivers high-resolution Skype video conferencing.
Plantronics headset
Plantronics has long been the expensive but superior choice for a wireless office phone headset. I use the Plantronics Savi 740 wireless headset because a single button switches the headset between my VOIP phone, my cell phone, and my computer. Plantronics also makes a variety of plain Bluetooth headsets, of course.
Amazon Kindle
The Kindle Paperwhite ($119) is the perfect device. It has only a single purpose: deliver black and white pages of text crisply and quickly at an affordable price. Amazon has a more expensive Kindle Voyage ($199) with dubious improvements over the Paperwhite, and a basic Kindle ($79) that compromises too much. If you couple the Kindle Paperwhite with a Kindle Unlimited subscription, you'll have a lovely gift for someone who can live within a generous but not endless selection of books new and old.
Web services
Think about giving a subscription to someone who might use it but is unwilling to buy it for themselves. Suggestions: Spotify ($10/month), the best music streaming service; Pandora ($5/month to eliminate ads and get more skips); Amazon Prime ($99/year), for free two-day shipping plus streaming music and video and more; and Netflix ($7.99/month), of course.
Remember to start your Amazon shopping from an affiliate link like the one on the Bruceb Favorites page! With your help, someday I'll be able to relax in a new Aeron chair, watching my dual 28-inch 4K ultra high definition monitors and thinking contentedly about how hard you worked to get me there.