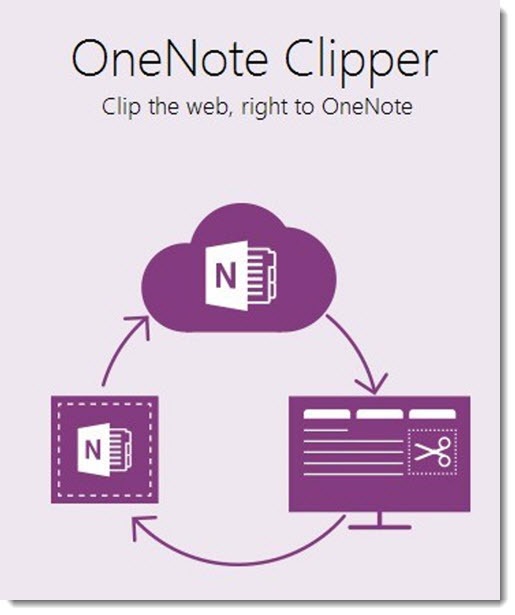 An update to OneNote Clipper has made it the easiest and best way to save content from the web, from entire web pages to just the content you want – articles, recipes, pictures, or anything else. It's only the latest in a series of updates for OneNote; Microsoft has been improving OneNote continuously, taking an already great program and making it better, especially on mobile devices. Oh, and it's completely free on all devices without any limitations.
If you're not familiar with OneNote, this article has the basics. OneNote is Microsoft's program for storing random bits of information, then syncing your notes everywhere through your free Microsoft account. Although OneNote can work as a standalone program on a single computer, that misses the point. Its purpose in life is to be available everywhere, synced by OneDrive and available as readily at www.onenote.com as it is on your phone, your computer, and your tablet. OneNote Clipper only works with synced online notebooks.
OneNote Clipper was introduced last year as an extension for web browsers to send a copy of an entire web page to OneNote's Quick Notes section. Although it was a useful tool, it was occasionally unreliable and it needed some flexibility. The new version is exactly right. OneNote Clipper can be installed from here.
When it's installed, OneNote Clipper appears as a button on the Favorites bar across the top of Internet Explorer, or as an extension icon in the upper right of Chrome's toolbar. When you're on a web page that you want to save, click the button. It might ask for your Microsoft account credentials the first time (it will remember them after that).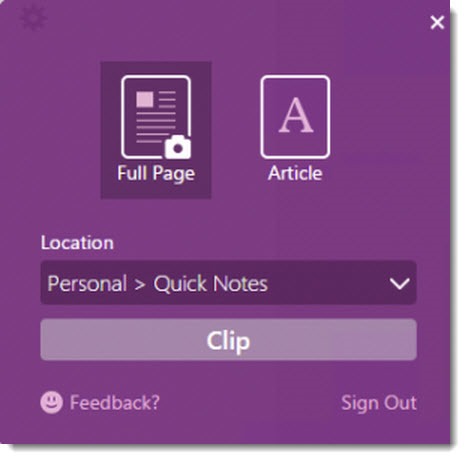 In Internet Explorer, you'll get a box in the upper right where you'll make a choice of what to clip and where to store it.
•  If you choose to clip the "Full Page," a picture of the page will be saved in OneNote, along with a link to the website. Although OneNote only contains an image of the page, OneNote performs OCR behind the scenes so the text on the page can be searched in OneNote.
•  If you choose to clip "Article," OneNote will find the main content on the page and clip the words, without any of the surrounding graphics or ads. In that case, what's saved is the actual text, not just a picture of the text. OneNote formats clips appropriately if you are clipping articles, recipes and products, and displays a preview of how the clip will appear in OneNote.
•  Clicking on "Location" allows you to choose where to save a clip. The dropdown menu displays all your online notebooks and lets you choose the section for the clip. It remembers your previous choice, so you don't have to re-select the same section each time while you're collecting recipes or working on a project. OneNote Clipper is actually saving the clip directly into the online copy of your notebook, so the copy of OneNote on your computer will only show the clip after it syncs. In my experience that takes less than thirty seconds after the clip is created.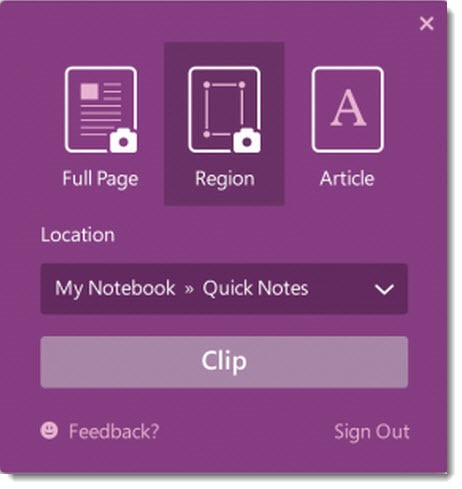 OneNote for Chrome adds one more button, the option to save a "Region." After you click it, you can use the mouse to draw a rectangle around the exact portion of the page that you want to save.
There has been a steady stream of updates for OneNote on various platforms in the last few months.
•  Previously there were a few limitations on the free version of OneNote on Windows; all of those limitations have been removed, so a feature-complete version of OneNote is now available for free on every platform imaginable. Although it's still installed with the other Office programs on Windows and Mac computers, OneNote has effectively been separated from the Office suite and is best thought of as a standalone cloud-based service.
•  Handwriting and drawing with a stylus is now supported on iPads.
•  OneNote now performs OCR on images and scans in all versions of OneNote – Windows, Mac, mobile and the web.
•  OneNote displays previews of notes on iPhones.
•  It's easier to share notebooks on Macs after a recent update.
Spend some time with OneNote, watch some videos, install it on your devices, and try it out. I use it constantly for research, client notes, travel planning, recipes, and a few dozen other things. It has the potential to be an app that you rely on every day.