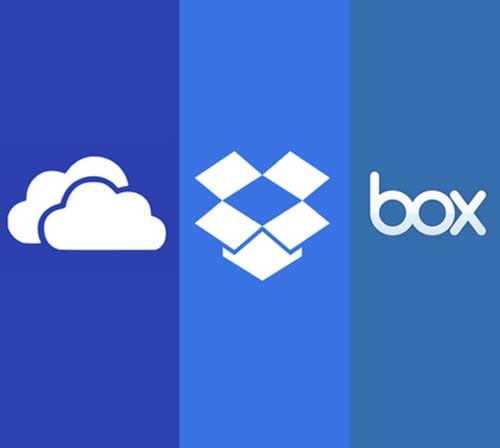 Previously: The Threat That Nearly Destroyed Microsoft Office
Microsoft opened the Office programs to third party cloud services in February. Since then, connections have been added at a dizzying pace for directly accessing files stored in other services. Dropbox and Box are being integrated in a variety of ways (including an interesting connection to Office Online, described below), and connections to Google Drive, iCloud Drive, and others will follow.
In the last article I described the business strategy that is leading Microsoft to make the Office programs available everywhere. These connections are specific examples of how that's being carried out. Each week brings another announcement that moves closer to the goal.
The goal for Office Everywhere and cloud services
Here's where this is going.
•   You will be able to use Word, Excel and PowerPoint to edit your files regardless of where your files are stored – OneDrive, Dropbox, Box, Google Drive, iCloud Drive, or others.
•   You will be able to reach those files easily, either by starting from the cloud service website or app and opening directly into an Office program, or by starting from an Office program and opening the files from the cloud service.
  •   You will be able to open the files in Office Online if that's more convenient than using an Office program installed on your computer.
  •   And you will be able to do that on any device – PC, Mac, iPad, iPhone, or Android phone or tablet.
In other words, you can use Word, Excel and PowerPoint as the engines to edit your files without giving it a second thought, regardless of where you store your files.
Again, take a moment to appreciate the significance of that change in Microsoft's strategy. Only a year ago it was trying to promote OneDrive by building it deeply into the Office programs and excluding the other services. This year the attitude is the opposite: it doesn't matter to Microsoft one whit where your files are, as long as you use Office to work on them.
How does this relate to files synced with Dropbox or Box Sync on your computer?
All of these new features are in addition to what can be done with files that are synced to your computer and edited from the hard drive on your computer. You already know that OneDrive, Dropbox and Box have programs that can be installed on PCs and Macs to sync files so you can work on them in a magic folder, even when you're offline. You can still do that, of course.
There are three reasons for this new emphasis on reaching files stored online that are not synced:
(1) We're storing ever growing numbers of files online and don't want all of them also filling the hard drives on our computers.
(2) The long term trend is to do more work on mobile devices where we are directly browsing the files stored online.
(3) We're becoming more comfortable with accessing our files through websites (Dropbox, Box.com, OneDrive) instead of viewing them in File Explorer.
Connections to mobile apps and computers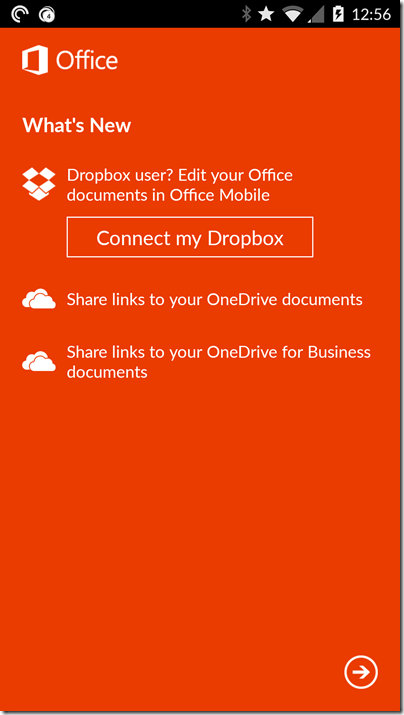 Much of this is already working. The Dropbox integration with mobile apps is nearly complete – here's a rundown of many details of how to go back and forth. If you install Office Mobile on an Android phone, the screen above will connect the Office apps to Dropbox in a couple of clicks so you can open the Dropbox files straight from Office Mobile. Click on a .DOCX file in the Dropbox app on an iPad and it will open in the iPad Word app; changes will be saved directly back to Dropbox.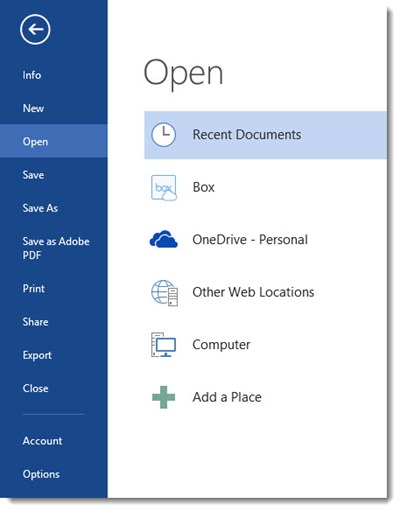 The Box mobile apps are similar, but Box has gone one step beyond and has the best integration on a computer at the moment. Two small apps, Box Edit and Box for Office, set up connections between the Box website and the Office programs installed on your computer in both directions. When you click to edit a file from the Box.com website, the file opens in the appropriate program on your computer, and changes are saved back to Box. If you prefer, click on File / Open in the Office program and Box is integrated so files can be browsed directly, as in the above screenshot. It all just works – you don't have to download a file, edit it, and remember to upload the changes.
Connections to Office Online
The latest announcements will make it even easier and faster to go in and out of your files. When you're browsing files on Dropbox or Box, you will be able to open a file into the online versions of the Office programs with a single click. Your changes will be saved in Dropbox or Box without any extra steps. (You don't even have to click "Save." Changes are automatically saved.) The online versions of Word, Excel and Powerpoint are fast and full-featured, making this a tempting alternative when the goal is to get to work immediately.
Dropbox already has this feature available (here's the announcement). If you preview a Word file on Dropbox.com and click the Open button in the upper right, you'll see the option to open the file in Word Online.

Box sent an email to subscribers last week announcing the same feature, likely arriving in July. Preview a Word document in Box and click the Open With Word button in the upper right and you'll have two options – open the file in Word Online, or open it with the Word program installed on your computer.

You can also browse your Dropbox files from the Office Online program website, and you'll be able to access your Box files from there as well.
The details don't matter. If you don't see a connection in some particular context today, expect it to be there before long. We are well on the way to fulfilling the goal that Microsoft set for itself: You will be able to use the Office programs to do your work without any friction. They'll just be there. Word, Excel and Powerpoint will once again be ubiquitous and inevitable in our mobile, connected world.