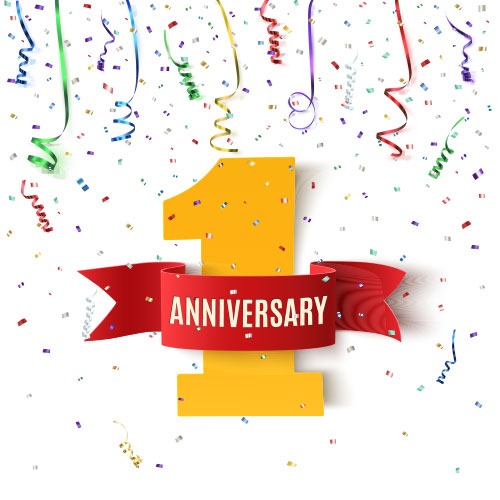 Microsoft released the Anniversary Update for Windows 10 on Tuesday. Your Windows 10 computers will be automatically updated. Eventually.
Here's what you need to know.
• What is the Anniversary Update?
• When will you get the Anniversary Update?
• What's new in the Anniversary Update?
• Are there any snarky examples of things that look stupid?
---
What is the Anniversary Update?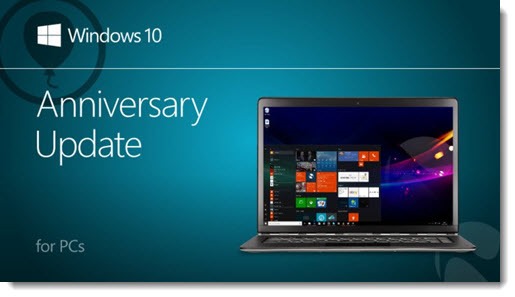 This is the second major update for Windows 10 since it was first rolled out in July 2015, following a less ambitious update in November. It is a collection of new features, tweaks to existing features, and bug fixes for Windows 10. It may be delayed on enterprise computers but in general everyone running Windows 10 will get the update soon; one of the important goals for Windows 10 is to ensure that all PCs are running the same version of the OS all the time.
It's not called the Anniversary Update in the Windows Update system. That would be too easy. It's also not a service pack, patch, hotfix, rollup, maintenance release, new version, power pack, or QFE – all names that Microsoft has used in the past to identify updates. Microsoft apparently believes that no name should ever be used more than once.
The Anniversary Update is "Feature update to Windows 10, version 1607."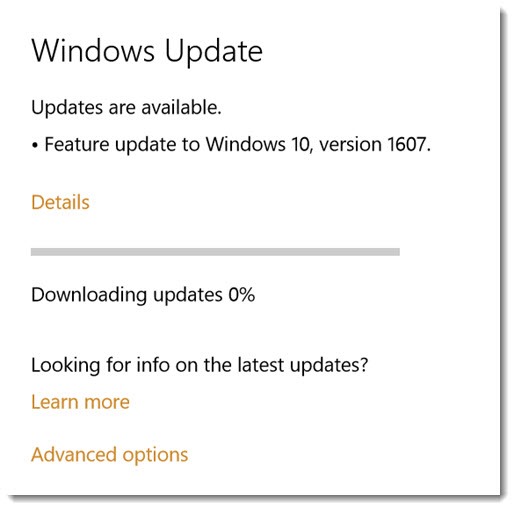 ---
When will you get the Anniversary Update?
Microsoft is rolling out the Anniversary Update to 350 million computers worldwide "in phases starting with the newer machines first." The rollout started on Tuesday August 2. It comes through the Automatic Update system, so you don't need to do anything. It will arrive eventually.
The update requires a lengthy restart to finish installing it. That won't be a problem if the restart happens overnight, but might be a problem if your laptop or desktop was turned off overnight and then asks permission to restart when you're working.
If you are prompted to restart to install updates in the next couple of weeks, be careful. Installing the Anniversary Update takes a minimum of 25 minutes, and might be an hour or more on a slower computer. Once started, the update cannot be interrupted. If you get impatient and shut down, you're at risk of killing your computer.
You can install the Anniversary Update any time. Go to this page to bypass the Automatic Update system and go to the head of the line. You can probably also start the installation by going to Settings / Updates & security / Windows Update and pushing the "Check for updates" button; most (but not all) computers will begin the installation right away.
If you have trouble installing the Anniversary Update, this article has a collection of tips that addresses the most common errors.
---
What's new in the Anniversary Update?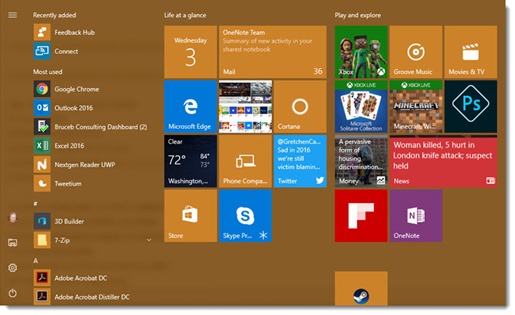 There are no big changes to Windows 10 in the Anniversary Update that will call attention to themselves right away. The update is a collection of small changes and improvements throughout the system. You don't have to worry about having to learn anything new.
Look at the Start menu above for an example. The narrow sidebar on the left is new. You'll find the power button, settings, File Explorer, and your user folders in the left column. The second column now shows all your programs, all the time, with sections at the top for recently added programs, "most used" programs, and some Microsoft advertisements for programs from the app store which can be turned off (Settings / Personalization / Start / turn off "Occasionally show suggestions in Start").
Your Start menu won't change if you're using Start10, the highly recommended utility from Stardock Software that makes the Start menu look like it did in Windows 7.
The other changes in Windows 10 Anniversary Update are like that. The Action Center has new tricks for notifications. Cortana can be reached from the lock screen, without unlocking the computer. There's a Windows Ink center to make it easier to get started with a pen, like the one that comes with Surface laptops. There's a dark theme that puts a black background on many (but not all) OS and app windows. (It's good for battery life.) You'll get the idea when I tell you that those are the major changes.
There are details about all the changes in Anniversary Update here.
Microsoft has worked hard to improve the Edge browser, which was unfortunately the weakest part of Windows 10 when it was released a year ago. Edge now supports extensions, the add-ins that add new functions for better web browsing. Chrome has long had a thriving developer community producing extensions at a rapid clip; there are tens of thousands of Chrome extensions for every niche you can imagine. Do a search for "best chrome extensions" and you'll get an idea of the incredible variety of things that a browser can do.
After a year of work, you can now download extensions for Edge from a collection of thirteen that are currently available in the Windows Store. Thirteen. Granted, there are some useful choices, including the essential LastPass extension, but still – thirteen?
At one time I believed Microsoft would engineer Edge so any Chrome extension could be installed seamlessly without any changes. That turned out to be incorrect. For better or worse, developers will have to make changes to extensions for them to run in Edge, and the extensions will then have to be curated and installed through the Windows Store. I'm worried that few developers will go to the bother, even if it's relatively easy.
Personally, I don't believe Edge has achieved even rough parity with Google Chrome. It is lacking features big and small that I take for granted in Chrome. I'm not changing my default and I can't easily imagine using Edge for anything except testing, which I will do because I love you.
One final note about changes to Windows after installing the Anniversary Update. There was one small but noticeable change that made me grimace: although I had removed them, icons returned on the taskbar for Edge and the Windows Store. Right-click and unpin them if you don't want them.
---
Are there any snarky examples of things that look stupid?
Snarky? Me? I'm hurt.
Well, since you ask, there are perhaps a couple of things. I'm not cruel, you know. I would never have mentioned these if you hadn't asked.
In the Anniversary Update, Microsoft pushed the icon for the Notification Center to the right of the clock in the lower right corner (shown above). Clicking on it raises the "Action Center," a column on the right of the screen with tiles on the bottom for a variety of settings and notifications at the top ranging from calendar entries to messages from Windows and apps.
The first notification popped up after the Anniversary Update had finished. "New updates have been installed. Click here for more info." I eagerly clicked the notice to get more info about the Anniversary Update. This is the screen that appeared.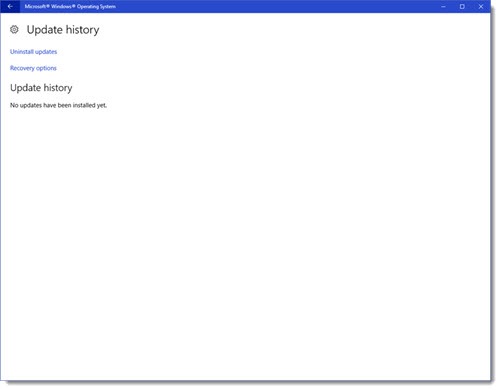 This did not increase my confidence.
Then I started reading about the new features in the Anniversary Update.
We are all special snowflakes. Windows Ink will be welcome and important for creative professionals drawing on tablets with pens, and people who are more comfortable writing notes than typing them. I understand that. As it happens, I've never met anyone who has ever used a pen on a computer, and the pen in my Thinkpad X1 Yoga has never been removed from its holder under the keyboard, but our world is full of niches and I want happiness for people who want to use a pen.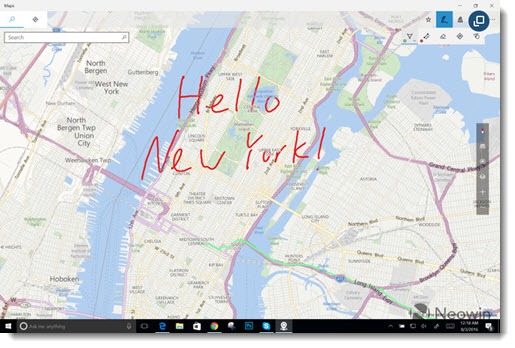 Microsoft has been pushing pens in Windows for a long time, and apparently believes it will become a generally used feature. That's the part I'm not sure about. I'm not persuaded by examples like the picture above, which is intended to illustrate the excitement and usefulness of using a pen with an updated version of Microsoft Maps. Really? "Hello New York"? All the demos of using a pen to draw on a web page in Edge have the same flavor, and frankly it matches my instincts: I have no idea what I would ever want to write by hand on a web page. The pen is going to stay in the holder.
Notifications have become one of the most important things about our phones. Many people live by their phone notifications of messages, email, events, news, app updates, nearby Pokémon, and so much more. The only thing most people found interesting about the Apple Watch was getting notifications even more immediately than on a phone screen. Microsoft is drawing attention to the Windows notification center in the hope that it can deliver the same compelling experience at a computer. Who knows? Maybe some people will begin to look at their Windows 10 notifications routinely. More power to them. Personally, I've never cared about anything in the Notification Center so far, and I'm not encouraged by the reports that the first thing many people are seeing after the Anniversary Update is . . . a notice dissing Chrome and advertising Edge.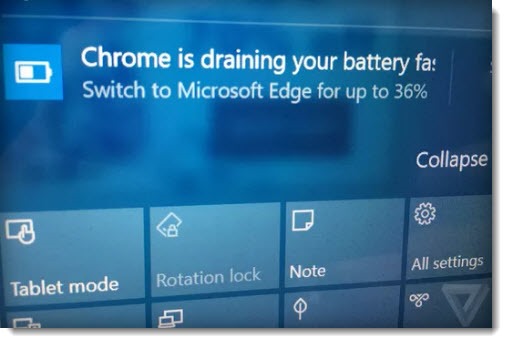 It's just an advertisement. Don't want it, thanks.
Since traditional Windows desktop programs have effectively stopped being developed, Microsoft's remaining hope for growing Windows as a platform is a shift by developers to Windows apps delivered through the Windows Store. The first job is convincing you to look in the Windows Store. Listen hard and you can hear them pleading from Redmond: If you look, just once in a while, maybe developers will come.
After the Anniversary Update, I opened the Windows Store to see what was new. This is what it looks like tonight on my computer.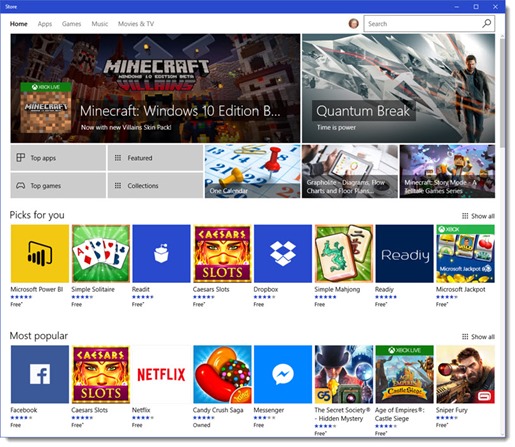 Snowflakes. We are snowflakes. Maybe there is something there that makes you want to click. Maybe the overall look does not repel you like it does me. Maybe you can imagine searching for something to make you productive or help you pass time.
I have an iPhone. If I want an app store full of junk, I have the granddaddy of app stores full of junk at my fingertips. I don't need one on my Windows computer where I get work done.
Enough snark. Windows 10 is the best desktop operating system yet, and the Anniversary Update makes it more secure and stable. That's the important thing. There are meaningful improvements under the hood for IT professionals, particularly in enterprises. There is no reason to dwell on the little questions that have no easy answers. Like, who are the people who want to talk to Cortana without unlocking the computer? How many people have been waiting anxiously to write "Hello New York" on a map? Not to mention: if you're sitting at a computer with an Internet browser, who in their right mind would use Microsoft Maps instead of Google Maps?
Questions, questions. Maybe the Anniversary Update is the answer. Enjoy the latest and greatest Windows 10!