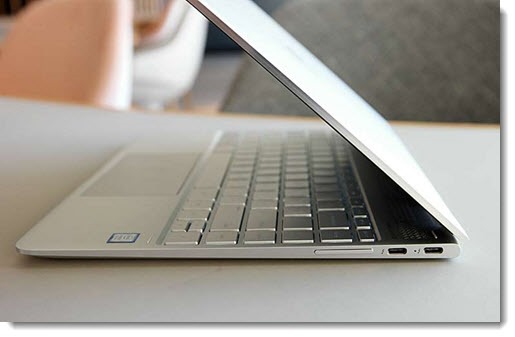 The new HP Spectre X360 joins the small group of the best business laptops.
A business-quality laptop costs $1,000-$1,200. The best laptops in that price range are not gold-plated; they're not over-powered; they don't have unnecessary extra features. Instead, they're perfect. They're thin and light, they have long battery life, the screens are crisp and large enough to get work done, and they have full-size keyboards that are comfortable to type on.
The HP Spectre X360 was originally released two years ago but the one you want is a new version that just went on sale this week. When you're shopping, look for "7th generation Intel processor." HP still sells the older version with a "6th generation Intel processor" and it's quite nice, but this month's redesign improves on the previous model in meaningful ways. The new model is thinner and lighter, offers longer battery life, and fits the same 13" screen into a noticeably smaller case by eliminating most of the bezel on the left and right of the screen. Lots of other improvements, too: the speakers are better, there are now USB-C ports (rapidly becoming the new standard), and the keyboard is improved.
Instead of a fingerprint reader, HP built its webcam to do facial recognition, using Microsoft's "Windows Hello" technology. It will be interesting to get real-world feedback about how effective that is. When it works, you sit at the laptop and it unlocks – no password, no delay. Sounds great. Wonder if it's true?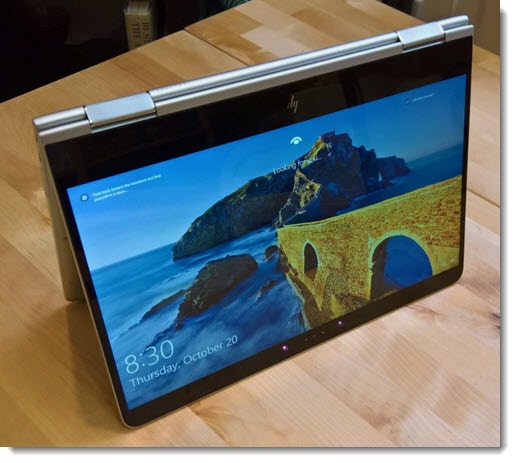 And the HP Spectre X360 screen folds back 360 degrees so it can be used as a large tablet or it can stand up in tent mode on a cramped airplane tray table.
With these improvements, the HP Spectre X360 has become a laptop that I can wholeheartedly recommend. The model you want is currently $1,049.
There are many high quality laptops on the market, and a far larger number of mediocre laptops. There's no laptop that will please everyone but I can give you a few suggestions to help you get started. This selection is aimed at small business users getting work done online and in productivity programs like Office. As always, gamers, power users, and creative professionals have their own needs that take them out of this list.
If you're going shopping, this is your short list of models to consider and specs to insist on.
Laptops
If you're buying a business-class laptop, look carefully at these models.
• Lenovo Thinkpad X1 Yoga
14" screen, pointing stick in the keyboard, screen folds back 360 degrees, fingerprint authentication (more info here)
• Lenovo Thinkpad X1 Carbon
14" screen, pointing stick in the keyboard, no touchscreen, fingerprint authentication
• Dell XPS 13
13" screen, recently refreshed with the latest Intel processors – and now you can get it in rose gold! (more info here)
The ultra-thin bezel on all sides of the screen allows Dell to pack this into a particularly small case but still include a full size keyboard. The downside: the webcam is at the bottom of the screen and the view from Skype is unflattering. Webcam users find that a problem, others don't care.
• Dell XPS 15
15" screen, quite a bit heavier and more expensive than the XPS 13 but one of the best choices if you need the larger screen size
• HP Spectre X360
13" screen, screen folds back 360 degrees, facial recognition authentication
Lenovo also has a number of laptops in its Thinkpad Yoga and Yoga lines that are quite nice, all with 360 degree folding screens.
Note that I did not include Microsoft's Surface Pro 4 or Surface Book in that list. Both have had persistent hardware problems and both are overpriced for what they deliver. In fact the Surface Book's price is so high that it's a bit odd. It is a conventional laptop with a detachable screen, a feature that sounds interesting but would be rarely used by most people. Microsoft announced an updated version at a press conference this week and granted it has nice specs – Core i7 processor, bigger battery, etc. – but that doesn't excuse the startling $2,399 price tag.
Specs
These are the specs I recommend for your next business laptop.
• Processor – Intel Core i5 or Core i7
Core i5 is sufficient for almost everyone. Core i3 will make you sad. Core i7 is overkill.
• RAM – 8Gb
Sufficient for almost everyone other than serious power users or people working with creative tools.
• Hard drive – 256Gb SSD
No one should buy a computer with a conventional hard drive today, at any price point. It's frustrating that they're still on the market. If you're shopping for a business laptop but you're hoping to keep the price down, make this your deal breaker: don't buy a laptop unless it has a solid state drive.
Frankly most people would be happy with a 128Gb hard drive but upgrading to 256Gb ensures that you won't regret anything later.
• Screen resolution – 1920×1080 or higher
This is tricky. The standard resolution for full-size monitors and laptops has been 1920×1080 (aka 1080p) for years. Recently, though, laptop manufacturers began a resolution war, pushing increasingly high resolutions as a selling point because the numbers are bigger and we've been trained to think that bigger numbers are better. You need to understand that higher resolutions mean things get smaller onscreen. Windows 10 does a better job of scaling than prior versions of Windows so you can run your new laptop at 200% and many things will look fine. But there are still programs (including many business programs that are slow to evolve) that do not handle scaling correctly. That's how you get windows with OK buttons that can't be pushed because they're off the bottom of the screen, or tiny fonts on menus, or mismatched font sizes in different parts of the program, or a variety of other visual issues.
There is no right or wrong, but for what it's worth I think 1920×1080 is a safe recommendation, and higher resolutions can actually be a negative for aging baby boomer eyes.
• Touchscreen
I wish this was standard on all laptops. If you've never used a laptop with a touchscreen, you might not miss it. But almost everyone discovers that scrolling down a web page is easier with a flick of the finger and the touchscreen quickly becomes essential. Perhaps you need to leave out the touchscreen to save money but try not to do that.
Happy shopping!