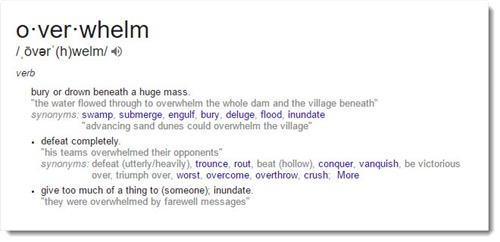 Overwhelm (verb) Defeat completely; give too much of a thing to someone; inundate
Microsoft's roadmap for business apps and services is overwhelming.
Good news! It's also not for you, my loyal small business readers. I'm going to list a staggering number of upcoming Microsoft products and services to give you an idea what the company is up to, but I give you permission to pay no further attention to any of them.
Let's start with what you have to understand about Microsoft. Microsoft's transformation into an enterprise-focused cloud vendor is all but complete. Windows and Office will be part of our technology lives for many years, but sales of PCs are on a steady decline and Microsoft will be delivering only what is necessary to retain its market share during that decline. Under CEO Satya Nadella, Microsoft is focused on enterprises, and very successfully – earnings from its enterprise cloud services are lifting the company's stock to new heights.
To make that clear, let's start with what Microsoft is not doing. These are the small business and home user markets that Microsoft has no presence in:
• Mobile Microsoft's mobile efforts failed and it has pulled completely out of the phone market. Apple and Google are the only players on the field.
• Fitness Microsoft has abandoned its effort to create a fitness band. It recently stopped selling Microsoft Band 2 and passed the word to journalists that there will not be a Band 3.
• Home assistant With Echo, Amazon created a new market for home appliances that can respond to voices. Google will be entering that market soon with its own Google Home device. Apple is rumored to be working on a similar home assistant based on Siri. Theoretically Microsoft could build a similar device based on Cortana, and might announce it at a press event this week. If it does, it will fail. Microsoft's brand is so devalued with consumers that the company cannot succeed with a new device unless it is so clearly superior that the opposition wilts. I don't think Microsoft has it in them to be any more than an also-ran.
• Watch Microsoft does not have a smart watch.
• TV Microsoft does not have a living room device to stream video to a TV to compete with Apple TV, Google Chromecast, Amazon Fire TV, or Roku.
• Internet Of Things There is no indication that Microsoft will be entering the market any time soon with other smart home devices – thermostats, light bulbs, doorbells, baby monitors, or anything else.
Other than computers, Microsoft's last presence in the home is the Xbox, a successful and profitable game console. It's not a very big market, to be honest, but it helps the bottom line. It also stands out as the exception that proves the rule, which is that Microsoft has all but given up marketing devices to consumers.
Behind the scenes, Microsoft's enterprise efforts are built around Azure, the cloud-computing platform that competes with entrenched leader Amazon Web Services. Large companies can rely on Azure for everything from virtual servers to storage to database management and much more. Developers are using Azure to develop untold numbers of new services and products.
For now let's focus on what Microsoft plans to bring out under its own name, hoping that its new business apps and services will be adopted by large companies either (1) because they are free or nearly free and bundled with business Office 365 subscriptions, or (2) because they are integrated with the other Microsoft services that big companies use.
In typical Microsoft fashion, it has too many new products and services in the pipeline, a blizzard of unfamiliar names that will come and likely go without making a ripple in the lives of home computer users and small business users. Almost all of them are only of interest to very large companies with thousands of employees and strong IT departments.
Attentive readers will recall the mystery Office 365 services that have already turned up in the grid of apps in the upper left, depending on your subscription.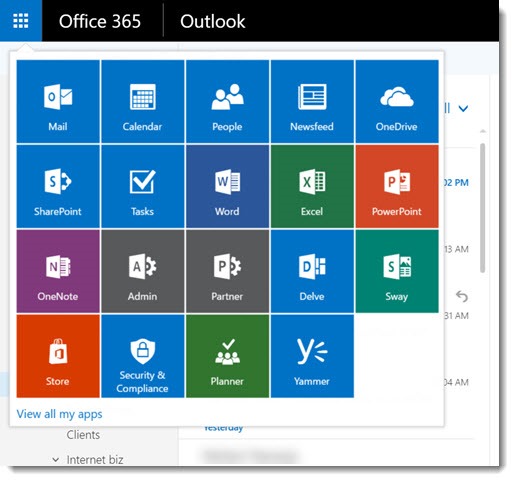 Sharepoint, Newsfeed, Delve, Yammer, and Planner are all collaboration and project management tools that will only be used in large companies. Theoretically they might be useful to businesses of any size but each one requires a business (1) to learn that the tool exists, (2) implement it, (3) trust that Microsoft will be committed to it for long enough to make the effort worthwhile, and (4) train employees (and overcome entrenched habits) to add the new tool to the company work flow. Small businesses do not have the resources for any of those steps. End of story.
Sway is a presentation tool that is not Powerpoint but something thrillingly different. Well, supposedly. I do not believe I will meet anyone who has used Sway before I die, so I'll never know for sure.
There are more like that on the way. Here's a selection of upcoming Microsoft business apps and services.
Skype Teams Collaboration tools are all the rage this year. Slack came out of nowhere and earned a loyal following, especially in the tech community. Slack is free to get started and does not require a huge top-down effort from a large company's IT department. Users drive its adoption because they like using it, even though it's not cleanly integrated with the other programs used by the company.
Microsoft considered buying Slack but reportedly decided instead to build its own collaboration platform from scratch and integrate it with the other Microsoft business programs and services – Exchange/Outlook, Sharepoint, and the rest. Skype Teams will be formally introduced soon, perhaps at a Microsoft press event this week. The new Microsoft collaboration tool will be named "Skype Teams" because Microsoft cannot stop itself from overusing brand names. Seriously, it needs to stop doing that.
(Edit 10/25/2016: The latest rumor suggests that Microsoft has dropped "Skype" from the name and will be introducing "Microsoft Teams." Thank goodness!)
Put aside that this is so absurdly duplicative of Microsoft's other collaboration tools that there's a real sense that someone at Microsoft is having a laugh at our expense. Put aside that calling a product "Skype" that has nothing whatsoever to do with Skype is yet another example of Microsoft demonstrating genuine hostility to its customers who are trying to make sense of this stuff.
The important thing for you to know is that Skype Teams, like the other things discussed here, only makes sense for a company that is big enough to have multiple locations and a large number of employees. For large companies it may be successful and turn into a serious competitor to Slack, the upcoming Facebook For Work, and Microsoft's other competing services. It's not going to fit in small businesses.
GigJam GigJam is a collaboration application/service that . . . oh, the hell with it. I've read several articles about it and I have no freaking idea what it is. Mary Jo Foley quotes Microsoft officials: "GigJam isn't a new instant messaging, screen-sharing or document-collaboration/sharing application or service. It's a manifestation of Microsoft's ambient computing work." Seriously? It was first introduced in the middle of 2015 and is scheduled for general availability by the end of this year.
Microsoft MyAnalytics Paul Thurrott: "This amazing new web-based tool will show you how you are spending your time so that you can make changes and be more productive. It shows you how much time you spend in meetings (and when you're distracted while doing so), reading and responding to emails, focusing on work, and more, and provides productivity goals so you can set things right."
Tap Microsoft: "Find and use relevant content from within your organization without leaving the document or email you're editing. Powered by the Microsoft Graph, Tap surfaces documents, presentations and spreadsheets frequently used by you or made available by your coworkers."
Quickstarter Microsoft: "Powered by the Bing Knowledge Graph, QuickStarter in Sway and PowerPoint provides carefully curated outlines for any topic, including recommendations on information to include, categories to consider and associated images tagged with Creative Commons licenses."
Microsoft StaffHub Microsoft: "A new app that makes it easy for managers to create teams, manage shift schedules and provide relevant information to their workers."
Microsoft Flow Microsoft: "Create automated workflows between your favorite apps and services to get notifications, synchronize files, collect data, and more. . . . Set up a simple one-step flow that notifies the whole team whenever a work item is updated, or a complex multistep flow that captures, tracks, and follows up with new sales leads—all automatically."
New apps for Office 365 Business Premium Winbuzzer found information about new Office 365 apps that are likely to be appearing soon. From a Microsoft web page, now taken down:
"Mile IQ: Automatically track miles for taxes and expenses.
Bookings: Automate scheduling and allow customers to book time with you.
Invoice: Get paid faster by generating invoices on the go.
Spend (coming soon): Go receipt free and track all your expenses for finances and taxes.
Point: Get more word of mouth referrals from your satisfied customers.
Presence (coming soon): Establish yourself online simply and confidently track your web presence."
OneDrive For Business Finally, there is OneDrive for Business, the service that has never been very good but which Microsoft continually promises will be better Someday Soon But Not Today™. At a Microsoft conference last month, Microsoft showed off a roadmap for OneDrive for Business that extends through the first half of 2017. (Click the above screenshot for a view that's easier to read.)
Although there are promises of improvements in the user interface and updates to the mobile apps, the interesting thing is that virtually nothing planned has anything to do with the needs of small businesses. Many of the items concern improved integration with Sharepoint, which small businesses do not use. There is also integration with Microsoft Flow, an "innovative Discover view that uses Microsoft Graph to suggest relevant and trending files," and more features for enterprise users that promise complexity instead of simplicity.
To be clear, the improvements in OneDrive for Business are welcome and needed for enterprises with large teams using Sharepoint and OneDrive. I'm looking at the list from the perspective of very small businesses, and there isn't much there.

The headline above comes from an article by Mary Jo Foley about the glut of Office 365 services required to stitch together a Microsoft-centric solution for a business. She notes that Microsoft put out a 60-page white paper in 2015 about "analysis paralysis," and comments that the number of redundant and duplicative services had only grown since then. A few months later it seems that Microsoft is doubling and redoubling the pace for introducing even more new services. Any of them might be interesting but collectively it is overwhelming. I can't imagine who is keeping up with this deluge. Certainly not the employees who are trying to get work done.