A difficult part of using technology in 2016 is simply remembering what tools we have at our disposal. It's all well and good for me to report on all the swell new programs and services that are available, but that doesn't do any good if you don't remember which one will help you when you're trying to get work done.
It's hard to add something new to our daily routines. Sometimes it's necessary for security – fully committing to LastPass, say. Other changes offer great rewards but require giving up familiar routines – switching to Google Photos, for example. I frequently have those "Aha!" moments when I stumble on something helpful that I had intended to use but then forgot about.
So I don't take it lightly when I suggest that you add something new to your repertoire. For some of you, this tip will be important if you remember it and you start to use it. You'll save time.
---
The premise
You can use Word, Excel and Powerpoint in a web browser. Log in at www.office.com. (Details below.)
• They're similar to the installed programs and they create files in exactly the same file format – .DOCX, .XLSX, and .PPTX.
• They're free and they're fast.
• The online programs are not replacements for your familiar Office programs, but they are the perfect complement to them.
• The online versions don't have all the features of the installed programs but Microsoft has been steadily improving them and the online versions can do just about anything you're likely to want to do.
---
The payoff
If you use the Office programs on your computer, and you have files stored in Box, Dropbox, or OneDrive, you should try editing files with the online versions of Word, Excel and Powerpoint.
Although you're used to opening files from the synced folders on your computer, try changing your habits and accessing your files from the web sites – Box www.box.com, Dropbox www.dropbox.com, or OneDrive www.onedrive.com.
You can open Office files directly into Office Online from the Box, Dropbox and OneDrive web sites with a couple of clicks. Your work on a file is saved automatically and continuously – there is no risk of losing work because of a crash. No syncing is necessary – you're working directly on the online copy. It's faster, easier, and safer than opening the installed programs.
If you have a lot of files stored in those services, there are good reasons not to sync all of them to your computer. If you sync them all, you're using disk space unnecessarily and you're making your computer work too hard on the syncing. You're also introducing a point of error – maybe the sync won't work or the sync program isn't running. And you're introducing a delay while you wait for the syncing before someone else can access a file or it turns up on another device.

All three of the services are now fully integrated with Office Online. In Box and Dropbox, you can choose Word or Word Online from the Open button in the upper right. A single click on an Office file in OneDrive opens it into Office Online.
I doubt if any of you will stop using the installed versions of the Office programs. They're familiar. They're fast and full-featured. Your work flow is built on using the Office programs to create files.
The online programs are perfect for quick, light editing. If you want to review a file or make a few changes, you can do that faster if you pop into Word Online or Excel Online. The more you use them, the more you'll rely on them.
---
How to get started
Go to www.office.com and click the sign-in link in the upper right. Some suggestions about what credentials to use:
• If you have files stored in OneDrive, sign in with the same account that you're using with OneDrive – your personal Microsoft account, or your work Office 365 account.
• If you have a license for the Office programs installed on your computer, sign in with the account used for that license.
• If you sign in to Windows 10 with a personal Microsoft account, try signing in with that email address and password.
• If you have a business Office 365 email address, try signing in with that email address and password. Some of those accounts are allowed to use the Office Online programs but not all of them.
• If you're not sure, sign in with any credentials that work and see if you can open Word Online or Excel Online without having them complain.
When you find credentials that work, remember them.
The Office Online programs are free, but there might be limitations if you sign in with an account that does not have full permission to use them. I spent an hour or two trying to figure out those details and was foiled. Does the free version of Office Online have limitations if you don't have an Office 365 license of some kind? Good question. Glad you asked. Make sure you keep asking questions. That's how you learn.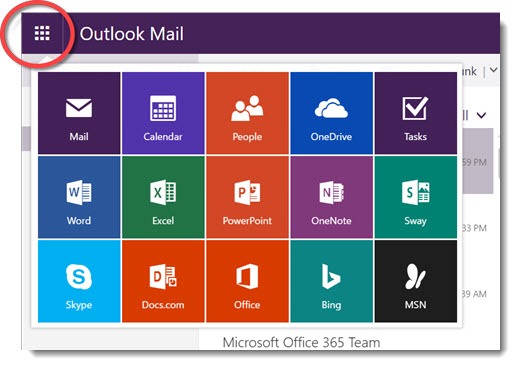 Once you've sorted out the credentials that work with the Office Online programs, you can get to them in a number of ways:
• Open files from Box, Dropbox and OneDrive.
• Sign in at Office.com.
• Use the app launcher (the grid of squares circled above) at the upper left of the webmail window for your business Office 365 mail or Outlook.com mail.
• Use direct links to Word Online (https://office.live.com/start/Word.asp), Excel Online (https://office.live.com/start/Excel.aspx), and Powerpoint Online (https://office.live.com/start/Powerpoint.aspx).
---
Using Office Online
This is a comparison of the home ribbon in Word – the installed version of Word 2016 on top, the Word Online ribbon below.

They've been designed to be similar. Even if the display isn't exactly the same or a feature is missing, nothing will be lost if you work on a file online instead of in the installed program. There is no conversion. You can go back and forth freely between the online program and the program installed on your computer.
The disconcerting thing is that changes are saved automatically with every keystroke. There is no Save option. When you're done, close the window. It takes a leap of faith until you come to trust it. (You can click on File / Save As to save a file with a different name.)
Office Online allows real-time co-authoring. Two people can edit the same file simultaneously. Each person gets feedback about what the other person is doing and you can watch the other person typing in nearly real time. It's done by sharing a file so someone else has editing permission; all of the services support it.
The online programs do not have all of the features of the installed programs. Word Online is missing the Reference and Mailing ribbons, for example. If you need to do a mail merge or create a table of contents, you'll have to use the installed program. Personally, I've never needed a feature that's missing from Word Online. I don't write pieces that require Citation or Bibliography tools. Your needs might be different – but you still might find that the online programs will meet your needs for light editing almost all the time.
Files will not always display completely accurately in the online programs while you're editing. Don't worry! All document features are preserved, even if they don't display correctly. The online programs handle printing by creating a PDF of your document which is accurate and complete; you can preview the PDF to see if you're happy with the result before you print.
There are long lists about the differences between the installed programs and the Office Online versions, if you want to get into the details. There's an overview here, and white papers comparing Word and Word Online, Excel and Excel Online, Powerpoint and Powerpoint Online, and OneNote and OneNote Online.
Remember Office Online! Use it a few times, sort out the credentials, and get used to the controls. It's an effective way to get in and out of your files quickly. (Oh, and one more thing – this is an important step if you want to reduce your reliance on Windows PCs and use a Chromebook. More about that soon!)