If you're a Spotify subscriber, pay a visit to https://2017wrapped.com/ to get a look back at your Spotify listening habits in 2017 – the good, the bad, and the embarrassing. Your reward will be a playlist of your favorite songs from 2017, plus a second playlist of songs you might enjoy that you haven't listened to yet.
Spotify is doing some of the best work in the tech industry to develop smart algorithms and create things that are useful and fun. Two years ago it was Discover Weekly, a personalized weekly playlist of thirty songs that you've never heard but might like. Last year it was Release Radar (brand new music by the artists you listen to most often) and Daily Mix (constantly changing playlists that combine familiar and unfamiliar songs, sorted into genres that match your musical tastes).
This year Spotify is highlighting Your Top Songs 2017, your top 100 songs from 2017, listed in order by the number of times played. You may or may not be proud of the result, but it's what you played this year, for better or worse. The 2017Wrapped website will also tell you how many minutes of music you played, your top songs and artists, an analysis of your listening compared to your age, and how many times you skipped songs. Here's mine: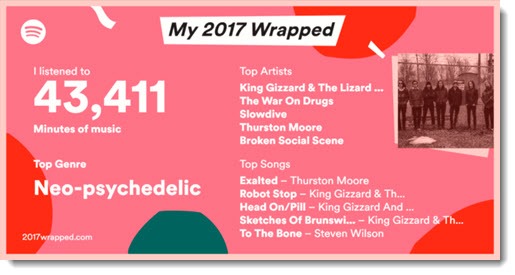 You can also see what tracks were most played worldwide. I derive great pleasure from not knowing who or what an Ed Sheeran is. Some things are better left unexplored.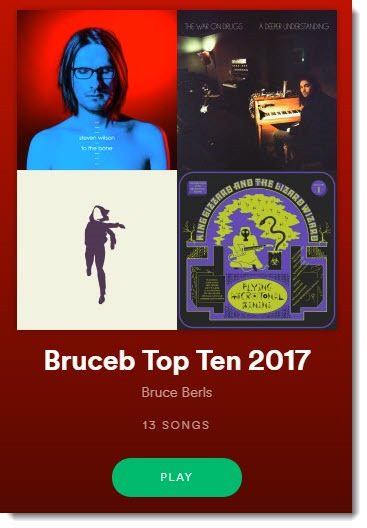 I've been sharing mixtapes for decades, handing out cassettes and CDs at Xmas to people who didn't want them, which is basically the mixtape tradition, right?
This year I've compiled a Spotify list of my Top Ten songs from 2017. My tastes were formed in the 70s and 80s but I don't spend much time on nostalgia, so my favorite songs were all released in 2017 by youngsters who play guitars and drums. There are lots of good bands out there! But they're a bit hard to find, buried under the hype for men with interesting hair and women with strong video skills and music played on electronic machines that go THUMPA THUMPA THUMPA.
The songs on my list aren't like that. Steven Wilson channels ELO on the song Permanating from his brilliant album To The Bone. If you like Dire Straits, Bruce Springsteen, or Tom Petty, you'll be happy to know that The War On Drugs is carrying that sound forward with style. Australian band The Preatures has obviously listened to a lot of Blondie and The Motels. The band Real Estate gives a new spin to the jangly guitars from The Byrds. The band of the year was the Melbourne band with the odd name, King Gizzard And The Lizard Wizards, who released a dizzying five albums in 2017 ranging from aggressive rock to smooth jazz to progressive rock.
Each song on my list comes from an impressive album. If you find something you like, keep listening.
Spotify is dominating music worldwide. Jay-Z's much hyped service Tidal is near the end of its tortured existence. Apple Music has a lot of subscribers but no buzz. Spotify is working harder than any other company to use the latest deep learning discoveries to analyze your listening data and spin it into playlists that will draw you into the service and make it a habit. It's great stuff and a wonderful time to be a music fan. Enjoy the tunes!