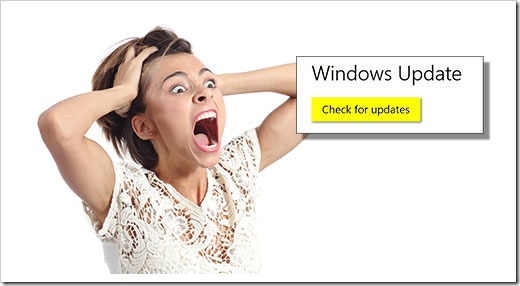 Let's start with the thrilling conclusion for readers with limited attention spans.
• There are some problems with the latest major Windows 10 update. Don't panic – the problems will likely be fixed before the update is installed on your computer. I hope.
• For now, though, don't click the "Check for updates" button in Windows 10 Settings. You might regret it.
Of course, that has only whetted your appetite and now you are riveted to your chair, praying that I will give you more details. Not to worry! I'm prepared to answer burning questions like these:
• Which update is causing the problems?
• Problems? What problems?
• What could be the harm in clicking the "Check for updates" button?
---
Which update is causing the problems?
Perhaps you remember Patch Tuesday, the predictable day each month that Microsoft released updates. Just thinking about it gives me a rosy nostalgic glow. Those were simpler times.
Microsoft released updates to Windows and Office on eleven separate days in April 2018.
This is, of course, completely nuts. It wouldn't be acceptable even if every single update was rock solid, but we have been burned by too many updates for Windows and Office that have caused our programs to crash and our computers to develop strange illnesses. Having the patches appear continuously on random days makes it worse.
Microsoft's meltdown in quality control means that there are reports of problems from a number of recent updates, but don't worry about that. There are reports of problems about everything if you search online. We can't easily stop the flood of updates and we have to trust that the benefits outweigh the risks. Hope for the best, and restart your computer once a week in case any updates are waiting in line.
The problems in the last week aren't caused by one of the routine day-to-day patches for Windows or Office. Instead, it's one of the twice-yearly major updates that effectively install a brand new version of Windows on your computer.
Microsoft calls the latest major Windows 10 update the "Windows 10 April 2018 Update" or "version 1803." I wrote here about what to expect from it (nothing) when it was rumored to be named the "Spring Creators Update."
These major updates are a big deal. Microsoft has a testing program with millions of participants. The major updates are supposed to be released only when testing reveals that the vast array of Windows computers can install them successfully. After poor experiences in 2016, Microsoft has been under pressure to identify possible problem areas and not install an update on systems with hardware or software configurations that might be problematic. And it appeared to be working – the two updates in 2017 went more smoothly.
This spring's major update was widely understood by Microsoft watchers to be a particular build of Windows released to preview testers in late March. At the last minute, though, Microsoft changed its mind, mumbled something about blue screens, and went silent for a couple of weeks. There was no explanation of how a major update could be causing last minute blue screens after theoretically being tested by Microsoft's internal processes and millions of preview testers.
Then out of nowhere, Microsoft VP Yusuf Mehdi announced that a newer Windows build would be the really truly April 2018 update, and that it would be "available as a free download beginning Monday, April 30." Something felt odd and rushed about the whole thing. What were the problems that caused the update to be unceremoniously yanked two weeks earlier? Were the problems fixed in this new release?
---
Problems? What problems?
Problems began to be reported almost immediately after the April 2018 update became available.
Microsoft was forced to officially acknowledge that some devices may hang or freeze when using Google Chrome after installing the April 2018 update. Think about that: Microsoft released an update for Windows that will crash some computers if they run Chrome, the most popular and widely used Windows program in the universe. (Saying "Hey Cortana" might freeze a computer with the April 2018 update, too. It's not clear anyone would have noticed if Microsoft hadn't mentioned it, because no one ever says "Hey Cortana.")
But that's not all.
Reddit users refer to a long list of programs that might freeze after the April update is installed, including Outlook, Word, Firefox, Spotify, and many more.
Other Reddit anecdotes concern blue screens while running Skype, OneNote, and Overwatch. There is speculation about whether the crashes are caused by audio and video drivers but no one is sure.
There are reports of disk partitions getting scrambled, new drive letters appearing out of nowhere, lockups of Alienware desktops and laptops, problems with server connector software, PowerShell problems, and more.
Paul Thurrott reported disgustedly that Bluetooth just disappeared from one of his computers after installing the April update. "This version of Windows 10 is a disgrace. That Microsoft released such a shoddy product to the public in the wake of massive reliability issues so late in its development is inexcusable."
Report from Rich Woods at Neowin: "I personally upgraded 16 PCs to 1803, and the percentage of them that had major issues is in double digits, with major issues as those that render the PC virtually unusable in a production environment and require rolling back to version 1709."
I had a variety of problems on my Thinkpad X1 Yoga after I installed the update – some odd freezes without a clear cause, dead audio on Bluetooth earbuds, a few other things. Like many others, I had to remove the update and roll back to the previous Windows version.
Windows Central put together a list of more than thirty possible problems and workarounds related to the April update. The Windows Club has a dozen more.
It's a mess.
---
What could be the harm in clicking the "Check for update" button?
In 2017, Microsoft appeared to be relying on its telemetry data to identify which computers could safely install the two major 2017 Windows updates. Computers only got the updates through the Automatic Update system if they checked out and the update was likely to be successful.
With luck that's still true for the April 2018 update. If you don't do anything, I hope you'll get the April 2018 when it's safe for your computer, even if that takes months.
But it seems something has changed. Last year you could click the button that says "Check for updates" in Windows 10 Settings and you would only see a major update if and when your computer passed the telemetry checks.
If you click "Check for updates" today, your computer will immediately begin to download and install the April 2018 update.
There's no pause for approval. There's no easy way to stop it. It's like you've summoned the Terminator. Once you push the button, you are committed. I don't see any reports of any computer that did NOT start the installation because a computer did not pass muster. It appears that Microsoft is treating that button click as all the consent it needs to install a buggy update.
It's hard to judge how much of a problem we are dealing with. The problem reports might be overreactions to a few anecdotes. Microsoft may be using a process that makes sense and just isn't explaining it well.
For now, though, keep your mouse away from the "Check for updates" button. This may take some time to work itself out.