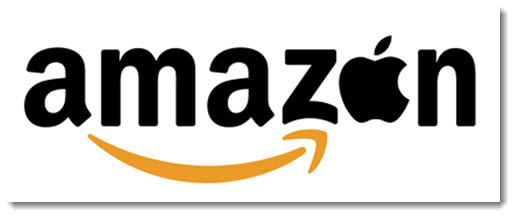 Part 1: Ambient Computing – Buzzwords That Are Changing Your World
Part 2: Google Wants To Surround You With Invisible Assistants
Google, Amazon, and Apple are the only companies capable of surrounding us with connected networks of devices and services. Google hopes to become ubiquitous by extending Google Assistant everywhere. Amazon and Apple are taking different paths that fit their expertise and business models. Each of us will likely favor one company but use devices and services from all three.
The other tech giants are not part of the ambient computing revolution.
Microsoft made a more or less valiant effort to create a phone platform and make Cortana into a useful voice assistant, but failed and has bowed out. Microsoft is now trying to find a niche as an AI-powered assistant in enterprises.
Samsung's virtual assistant Bixby is farcical, and Samsung does not have the loyalty or AI expertise to extend very far beyond phones.
Facebook has proven that it does not have hardware expertise, and it is weighed down by privacy issues. It won't play a role in the world of ambient computing.
---
Amazon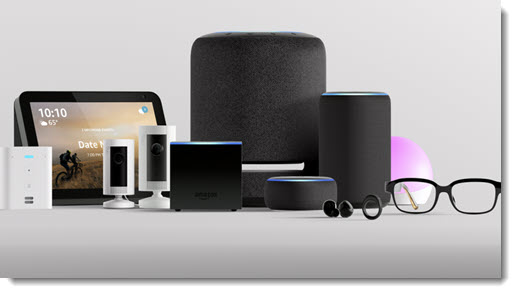 Amazon wants you to let Alexa control your home.
Amazon was the first mover in home automation and has worked tirelessly to extend the Echo lineup and take advantage of its lead. Amazon has introduced three dozen new and upgraded Alexa products in just the last two years. You can get Alexa in every size and shape of speaker and displays for counters and tables, as well as a microwave oven, a wall clock, a ring, eyeglasses, and more. Alexa is built into Ring doorbells, Blink security cameras, and thanks to company acquisitions, Amazon will soon have Alexa-enabled pool monitors and garage door openers.
Those are just the devices sold under the Amazon brand. Virtually every home automation device from lightbulbs to thermostats starts with Alexa-integration as the baseline. Google has successfully partnered with many of the same companies to integrate Google Assistant, but Amazon is still the leader.
Brand recognition for Echo and Alexa is higher than for Google Home and Nest. Amazon can market Echo devices more effectively than Google or Apple because Amazon runs the store where we all shop and can put Echo on the home page.
But Amazon has three problems.
Alexa is kind of stupid compared to Google Assistant. Both of them can control home devices, and both of them can set timers and talk about the weather and play music. After we get used to that, the next thing that you'll do is ask general questions. Alexa doesn't know the answers. Google Assistant does.
Alexa stops being useful when you walk out of your front door. Since Amazon does not have a phone platform, it can't do much for you when you're away from your home. Amazon is trying to figure that out. It has clumsy Echo devices for the dashboard of your car. It just introduced earbuds. Yesterday The Verge found hints that Amazon may add fitness features to its earbuds, and it may someday offer separate fitness devices. (Some analysts feel Amazon should have bought Fitbit instead of letting Google steal it away.) Today, though, Alexa is primarily for home automation.
That demonstrates Amazon's broader problem with its business model. Amazon's original vision was that you would use Alexa to order products from Amazon. Perhaps that will happen someday, but there are reports that so far almost no one makes purchases with Alexa. (Amazon disputes the reports but has never released any hard figures.) A few people are making impulse buys and restocking previously ordered items, but that is a far cry from using Alexa as a general purchasing assistant.
As you use Alexa, Amazon will come to know you better and use the data to hone its marketing so you spend more on Amazon and maintain your Prime membership. That's important but does not justify the effort put into Echo. Amazon does not appear to have a vision for Alexa beyond that, other than low-margin profits from the devices themselves. So far, that has not been enough to drive the platform very far forward. Today, The Verge wrote, "After five years of Amazon's Alexa, why isn't it better?" It's a good question.
The world of ambient computing is brand new. Perhaps in the long term, Alexa will be as useful outside the house as it is in home automation, and we will all be comfortable ordering out loud from Alexa. Right now, though, it looks to me like Google is in the lead and Amazon is floundering.
---
Apple
Siri is a terrible voice assistant, but Apple doesn't need it to be better. Apple is forging its own profitable path by selling high-margin devices and tying you to its ecosystem with subscription services. Apple will happily let you ask Google Assistant for answers and use Alexa to turn off the lights, as long as your iPhone is your best friend.
Apple has made privacy an important part of its marketing. Your iPhone transmits a minimum of data to Apple HQ. Apple does not store data about you and study you in detail, like Google and Amazon. It's a great marketing pitch with an inevitable side effect: Apple cannot offer you personalized services like Google, because Apple does not know you very well. Siri can't answer questions as well as Google, and Siri is not integrated into home devices like Alexa. The result is that Siri is quite good at managing Apple services like Apple TV, and pretty useless for anything else.
Never count out Apple. Bloomberg reported a few days ago that Apple has a new team working on smart home devices in an effort to catch up to Google and Amazon. There have been reports that Apple plans to release a cloud storage feature for security cameras, perhaps signaling one of Apple's future moves. Apple has steadily improved the Apple Watch and almost singlehandedly created a wearables market. AirPods were adopted quickly, and the new AirPods Pro are getting rave reviews for sound quality and noise cancellation
The data collected by Google gives some of its services an unbeatable advantage. Apple Maps will never be as complete or as personalized as Google Maps. Siri will never compete with Google Assistant for general answers or personalized help. Siri isn't as good as Google Assistant at voice recognition.
So Apple is turning to subscription services as a way to lock you into its ecosystem and keep you buying iPhones and profitable accessories. You could already spend $100/month on Apple TV+, Apple Arcade, News+, Apple Music, iCloud Storage, and the iPhone Upgrade Program. Some of those are worthwhile, some are not. (Apple Arcade is Apple's $5/month game service. It's the best deal in town.) Apple's revenue from services has exceeded income from Macs for the last two years, and the gap is growing fast.
Apple's path to ambient computing is different than Google and Amazon, but that's still the right buzzword. For many people, Apple makes all the technology they use all day, with an omnipresent iPhone, an Apple Watch buzzing on their wrists, AirPods in place, perhaps an iPad or Mac for a bigger screen, and someday an Apple TV in the living room. If you occasionally ask Alexa to turn off the lights or ask Google for the weather, it does not hurt Apple's profits one whit.