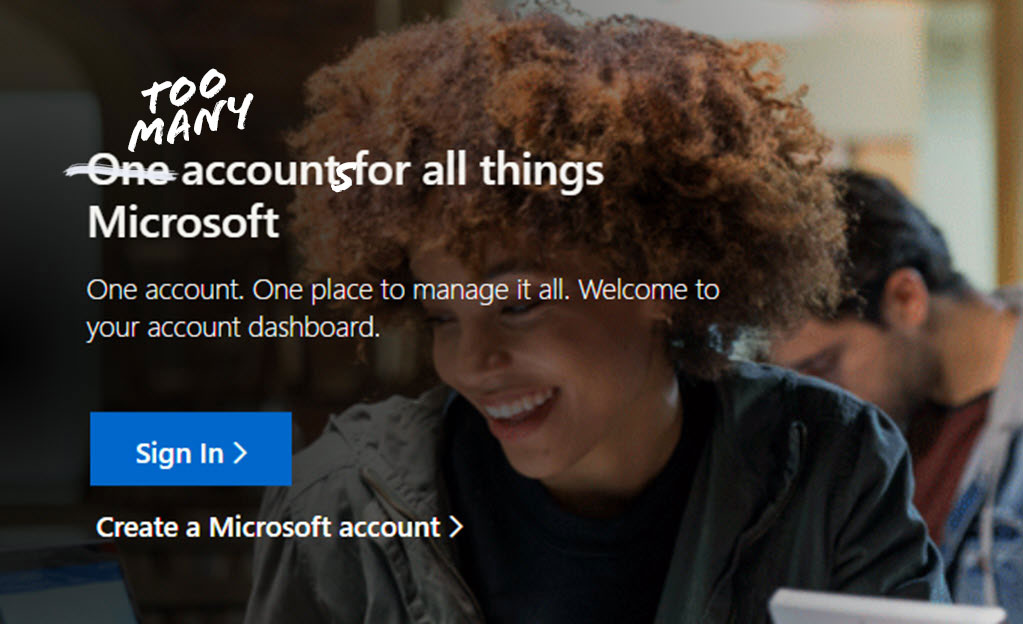 "One account for all things Microsoft." That's what the login screen says.
It's a lie.
Before we talk about licenses – and oh, how I know you're looking forward to that! – let's go through the two types of Microsoft accounts again.
You have a personal Microsoft account.
You may also have a work or school Microsoft account.
They're separate. Different divisions of the company. Different services, although many of them have the same names – two different OneDrives, two different places for OneNote notebooks.
And two different sets of rules for Office licenses, which is why I bring it up.
You need a license to use Word, Excel, and Outlook

It sounds obvious, doesn't it? The Office programs are licensed. If you don't have a license, you can't use them.
But that's not quite the way it used to work. For years you could install Office on a computer and the Office programs would work for anyone who used the computer. That system is called per device licensing. Frequently the same license could be used on two computers.
Today each person needs their own license for the subscription Office programs. It's per user licensing.
It sounds vaguely like a step backwards but there are some advantages. Microsoft is generous about the way the system works, especially for individuals and families.
Look in the upper right corner of Word or Excel to see what account is signed in. Microsoft checks online every two or three nanoseconds to see if that account has a license. If the account only has some cheap-ass basic business mailbox without an Office license, sooner or later the programs will show "Unlicensed" or "Deactivated" or "Terminate on sight" and a bunch of things will stop working.
It's been happening to a lot of my clients in the last few months. Office Watch noticed that Microsoft began enforcing the rules more aggressively a few months ago.
Quick recap:
For the subscription Office programs, you have to be signed into the programs with a personal or business Microsoft account that has a license that covers the programs.
If you don't have a license, you can't use them.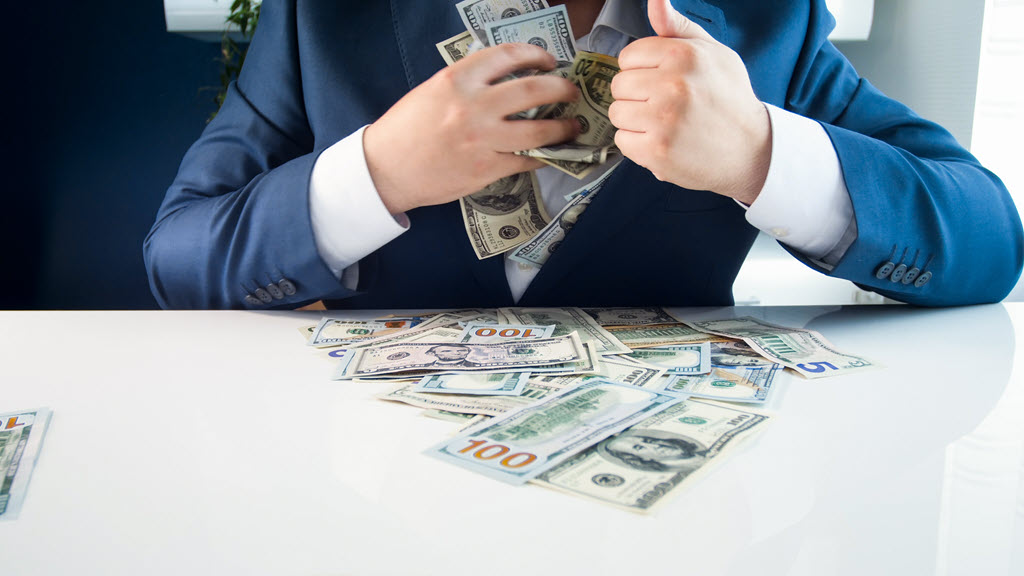 Money. Money money money money.
Sure, but we don't always have to be cynical, do we? We are big-hearted, generous people, and if you squint a bit, you can see Microsoft working hard to focus on your account and make the license worth what it costs. And now that I've made the money joke – which I wouldn't have missed for the world – it's actually not true. Individual and family accounts are cheap and the terms get more generous all the time.
Getting signed into the Office programs with the right account is important for more than just Microsoft's balance sheet. When you log in with your licensed account, Microsoft connects you with your OneDrive files – they're deeply integrated in the Office programs. Microsoft syncs your list of recent files. Some program settings are synced so you don't have start from scratch on each new computer.
Mostly it's about OneDrive. The license includes 1Tb of OneDrive file space and lets you back up your desktop and documents to OneDrive with a couple of clicks and access them easily from Office programs, both on the computer and online. You don't want someone else to get into your files every time they open Word, right? Of course not. That's your stuff and it's private and it's not because there's anything to be ashamed of, there are just a couple of things that it would be easier not to have to explain, okay?
Fun fact: you can sign in with both a personal and a work account and switch between them in the upper right corner of Word and Excel to get connected to two different sets of files. Only one of them needs to have an Office license.
Personal licenses for Office: such a deal!
A Microsoft 365 Personal subscription is $69.99/year.
With a Microsoft 365 Personal subscription, you can install the Office programs on as many devices as you like. Go nuts. Old limits don't apply.
You can only be signed into five devices simultaneously but that's pretty much a non-issue. If you sign into a sixth device, Microsoft will automatically sign you out of whichever device hasn't been used for the longest time. It's entirely behind the scenes – you don't have to do anything. Basically you just bounce around from PC to Mac to iPad to phone to laptop to, I don't know, your four other computers, and use the Office programs on all of them. Here are the details from Microsoft.
But now go back to the fundamental principle: This doesn't help you install Office on your mom's computer. The Personal license is for your devices and the Office programs are signed into your account. Mom has to have her own license.
That brings us to the family plan.
A Microsoft 365 Family subscription is $99.99/year.
With a Microsoft 365 Family subscription, you can install the Office programs on as many devices as you like – plus you can invite five more people to share the subscription.
Each person gets their own license to install Office on all their devices.
Each person gets their own 1Tb of OneDrive space.
Each person's account is completely separate from the others. The only thing tying them together is that only one account gets billed for the license.
It's all covered by that one $99 subscription.
That's an amazing deal for families.
Small business owners, don't get excited. Yes, these are slightly cheaper than business licenses, but the license terms say these licenses are for personal use only, and it's far easier to manage employee licenses in the Office 365 admin portal. The cost savings aren't worth it, you cheapskate.
Business licenses for Office: nothing new
A license for the Office programs costs just under a hundred dollars per year for each employee.
Microsoft 365 Business Basic (mailbox, no Office) costs $5/month
Microsoft 365 Business Standard (includes Office) costs $12.50/month
The difference is $90/year for the Office programs.
A business employee can install Office on 5 computers (PC or Mac), plus 5 tablets, plus 5 phones. If you go over those limits, theoretically you have to go online to deauthorize devices that aren't in active use. In practice, the limits are not strictly enforced. I've almost never had to deal with problems from overuse of a license.
Again, though, remember the central principle: each employee needs their own license that includes the Office programs.
Some small businesses are going to have to upgrade the employees with the cheapest licenses – Microsoft 365 Basic and Exchange Online, the ones that don't include the Office programs. It's been a routine chore for me in the last few months as messages appear about unlicensed and deactivated programs.
What about non-subscription versions of Office?
Microsoft still sells the non-subscription licenses – called "perpetual licenses" in the MS world. They're a legacy for enterprises that set up their Microsoft volume licenses in the Jurassic era and haven't quite worked up the energy to change.
But you can buy one! Here's your Amazon link for Office Home & Business 2019. While you're there, get a hammer to use to hit yourself in the face occasionally, so you can compare and see which one seems more stupid in hindsight, the license or the hammer.
You can use that license on one computer. You install Office 2019 on your desktop PC and it's good forever, for anyone who uses the computer. Score! Of course, for what it costs you could have subscribed for three years and had money left over, but still, you're in clover after 3 1/2 years.
Let's go through a couple of scenarios.
You buy a laptop. Now see, already I can tell that you weren't paying attention earlier in the lecture. You used the Office 2019 license on the desktop PC. That license is done. You have to buy another one. Oopsie!
Need support from Microsoft? Sorry, no free support after 60 days.
Want OneDrive space? Go buy some. Not included.
See some cool feature introduced next month or next year? Your copy of Office 2019 will never change.
Want to upgrade to Office 2021? Go buy it. No upgrade rights.
Want to use Word or Excel on an iPad? On your phone? On the web? You know the answer, now you're just torturing yourself.
Feel free to hate the modern world and be resentful of subscriptions and rage, rage against the dying of the light. But don't buy the non-subscription version of Office. Microsoft has done everything it can to make it unappealing.
There, now, wasn't that fascinating? And what a great feeling – for this brief moment, you feel like you understand what Microsoft is up to. That feeling will disappear almost immediately when your computer does something irrational, but isn't it comforting for now?