If you're an old-timer like me, you probably have memories – maybe fond memories, maybe not – of Dragon Naturally Speaking, for many years the only dictation software for Windows that was even remotely useful. Dragon was quirky, buggy, and frustrating, but it also could be very accurate and we had no other options.
Over the years the name changed and the price went up. The current dictation software for individual PCs from parent company Nuance Communications is Dragon Professional Individual and it costs $500, which suggests pretty strongly that they don't expect anyone to buy it. It's almost as if selling licensed software to individuals isn't very important to them anymore.
If dictation software for PCs isn't Nuance's primary business, then what has it been doing lately?
Funny you should ask. It has spent the last few years finding such interesting things to do that Microsoft just agreed to acquire the company for nearly $20 billion dollars.
The future of the company lies in healthcare and enterprises. I'll tell you a little bit about that below. For me, though, it's even more interesting to look at the history of the company, which goes back to the birth of personal computing and includes lots of names that stir up memories from the distant past, as well as illustrating a business practice which perhaps has not been very good for the modern world.
The future of Nuance Communications
Mark Benjamin took over as Nuance CEO in 2018 and began a transformation of Nuance into a company with a tight focus on AI-driven voice recognition for healthcare and enterprises. A couple of unrelated divisions (automotive, document imaging) have been spun off. Nuance developed a variety of speech recognition and documentation products for the medical industry that have been very successful, dominating the market in 2021 for medical charting and radiology. Dragon combines a hyper-focused medical vocabulary with AI analysis in the cloud; the result is unparalleled accuracy for physicians.
Nuance's other primary business today is cloud-based voice recognition for enterprises, used by employees as well as call centers and answering systems.
But the company discovered years ago that selling Windows programs to individual consumers is a pain in the ass. We're cheap and needy and we don't upgrade programs often enough to be profitable. You can still buy a copy of Dragon in a box with a microphone, just like we bought at Best Buy fifteen years ago, but Dragon's dictation programs for consumers are a legacy on their last legs.
Microsoft has been looking for ways into the healthcare industry for many years, so Nuance is a natural fit. Microsoft will capitalize on Nuance's relationships with electronic health record providers and healthcare companies, and integrate its cloud systems and AI expertise into Nuance's products (or vice versa). It looks like a good deal for both sides.
There is little reason for Microsoft to spend time or energy on the legacy dictation programs that you or I might use. Microsoft has long since accepted that the consumer market belongs to Apple and Google, who have built very effective voice recognition into iOS and Android.
But let's imagine a happy ending to the Microsoft/Nuance marriage for consumers and small businesses.
Microsoft has built voice recognition into Word for years. See the "Dictate" button on the right side of the Word ribbon? It's been there all along but you don't use it because it's pretty weak. The word recognition isn't bad but there are some pretty serious shortcomings in the controls. Dragon users can easily capitalize and correct mistakes and do a variety of other things that the Microsoft dictation software can't handle.
So imagine that Microsoft integrates the Nuance technology into the Office programs, improving the voice recognition in Word and Outlook without Dragon's dated interface and heavy memory use. Wouldn't that be swell?
That might be a pipe-dream. Microsoft promised lots of synchronicity and integration when it acquired LinkedIn five years ago and virtually none of it has come to fruition. Still, we can hope, right?
The history of Nuance Communications
There is nothing new about mergers and acquisitions as a business strategy. It's been part of the business landscape for centuries. But there is something special about the way the strategy has been used and abused in the late 20th century. Instead of being a technique to expand into new markets or gain expertise, acquisitions began to be used – particularly in the tech industry – to dominate a product line by eating all the competitors instead of, you know, competing with them.
Nuance's entry in Wikipedia is hilarious – or from another perspective it's a particularly extreme example of a kind of sickness that has afflicted American business.
If you're plugged into the tech industry, you may have known that Nuance Communications was the owner of the Dragon line of programs. If you're really plugged into the tech industry, you may have heard that Nuance supplied the technology that Apple used initially to power Siri, although Apple has been developing Siri independently for the last few years without Nuance's help.
But there is so much more both before and after those years!
Forgive me – the next section will be a bit of a blur for many of you. I want to go through it, though, because some of the names will be familiar to tech enthusiasts from the early days.
Let's start with Scansoft. Remember Scansoft? Its origins go back to 1974, when Raymond Kurzweil founded Kurzeil Computer Products, acquired by Xerox in 1980 and renamed Xerox Imaging Systems, later renamed again to Scansoft. Back in the 1990s you might have used Scansoft programs like TextBridge and OmniPage for primitive scanning and OCR.
Then there was the Visioneer Papermax flatbed scanner. I had one back in the pre-Internet days of the early 1990s. I wrestled with the Paperport software for managing scans for years – a good idea at the heart of a very badly written program. Ah, Paperport! I wrote this in 2011, ten years after Visioneer and Scansoft merged and eventually took the name Nuance:
"For almost a decade Scansoft/Nuance earned a reputation in my heart as the worst company in the world. Oh, sure, at times Network Solutions or AT&T would earn special recognition for boneheaded offensive evil stupidity, but Nuance was always in the running because of what it had done with a perfectly nice document organizer named Paperport."
(Paperport still exists! Who knew?)
Let's take a side trip. Lernout & Hauspie was an early tech company focused on speech recognition. It went on an acquisition binge in the late 1990s, buying Dictaphone (which could trace its origins literally back to Alexander Graham Bell) and a few other familiar names. Lernout & Hauspie also bought a company named Dragon Systems, which was selling a program named Dragon Naturally Speaking.
It turns out the management of Lernout & Hauspie had been defrauding the company for years, so shortly after those acquisitions in 2001, the company went bankrupt and a few months later Scansoft bought all the speech recognition technology and programs, including Dragon.
Scansoft then acquired Nuance Communications in 2005 and adopted the Nuance name.
And that odd sequence of mergers and acquisitions is why Nuance Communications has equaled Dragon voice recognition for more than fifteen years.
You think that's a tangled web? That's just the warmup. Oh, the fun that Nuance has had since then.
Over the next twelve years, Nuance bought more than fifty companies. Each acquisition was presumably accompanied by a press release about synergy and growth and corporate strength, but this looks more like the shopping spree of a bored collector during the pandemic. Look at this list!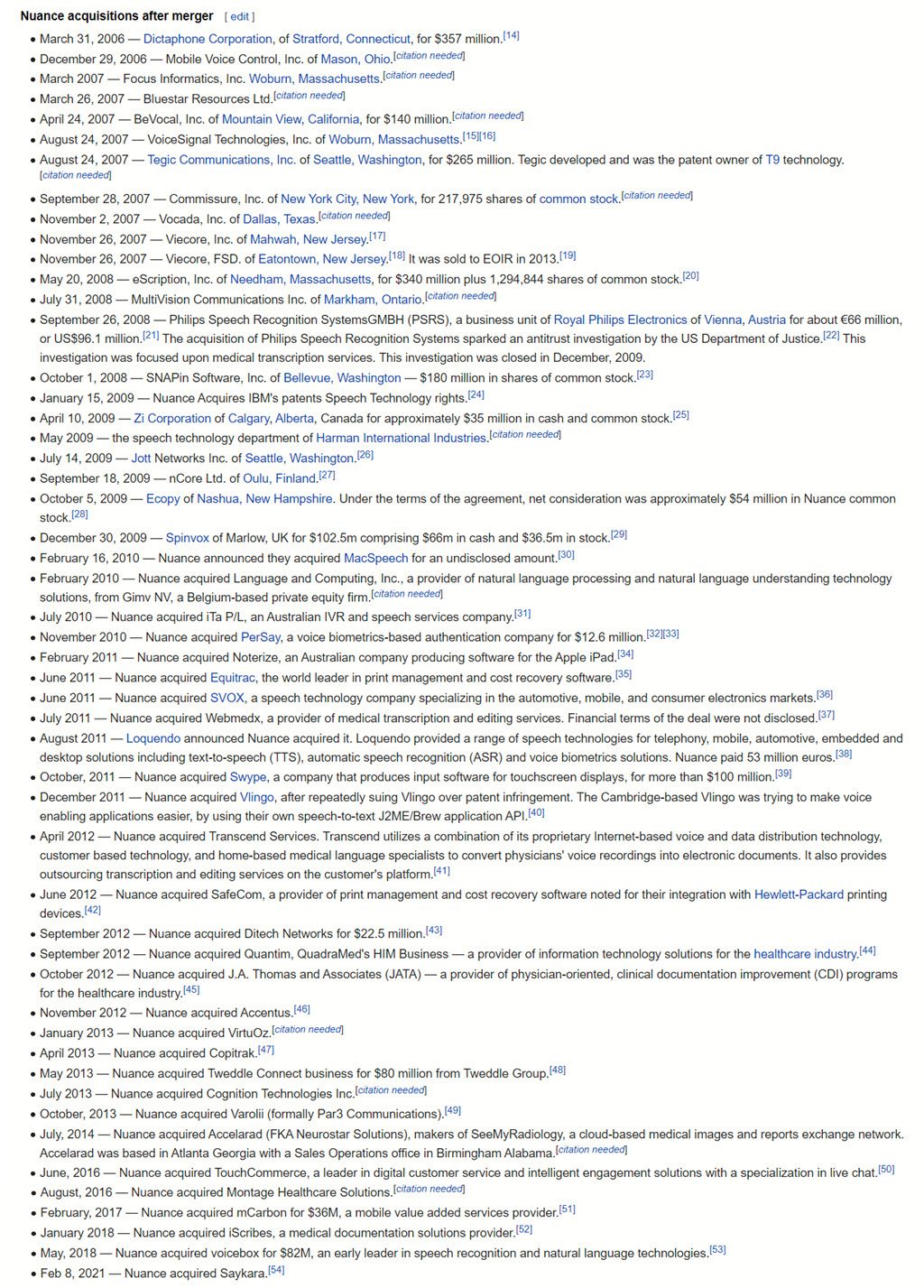 Isn't that amazing?
Some of the names are vaguely familiar. Early on Nuance bought more of the remains of Dictaphone that emerged from the Lernout & Hauspie bankruptcy. Nuance bought speech technology patents from IBM. It bought MacSpeech, popular voice recognition software for Mac OS X in the mid-2000s. For some reason it bought the company that made the Swype keyboard for phones. It bought Equitrac, which did enterprise print management software.
Most of the names, though are unfamiliar. I wouldn't have guessed there were more than fifty companies working on anything remotely related to speech recognition over the years, but those are just the ones that are gone now after Nuance took them off the table.
Nuance spent more than five billion dollars on acquisitions between 2000 and 2018. During that time its revenue grew from $50 million to $1.8 billion dollars. Other than revenue, most of its business markers were lackluster at best – profits, margin, and return on invested capital were seldom more than blah. The focus on healthcare and subscription revenue from cloud services apparently was a successful pivot by the new CEO because it drew Microsoft's attention for a huge buyout.
For almost twenty years, Nuance was the big fish eating lots and lots of little fish. Perhaps there is something poetic about the Microsoft whale coming along to swallow Nuance up. There is, however, one bit of continuity that is hard for me to overlook: during that entire time, Dragon dictation software for Windows has had a dated interface and has caused frustration for almost everyone who uses it. And in an ever-changing world, I suspect that will never change.