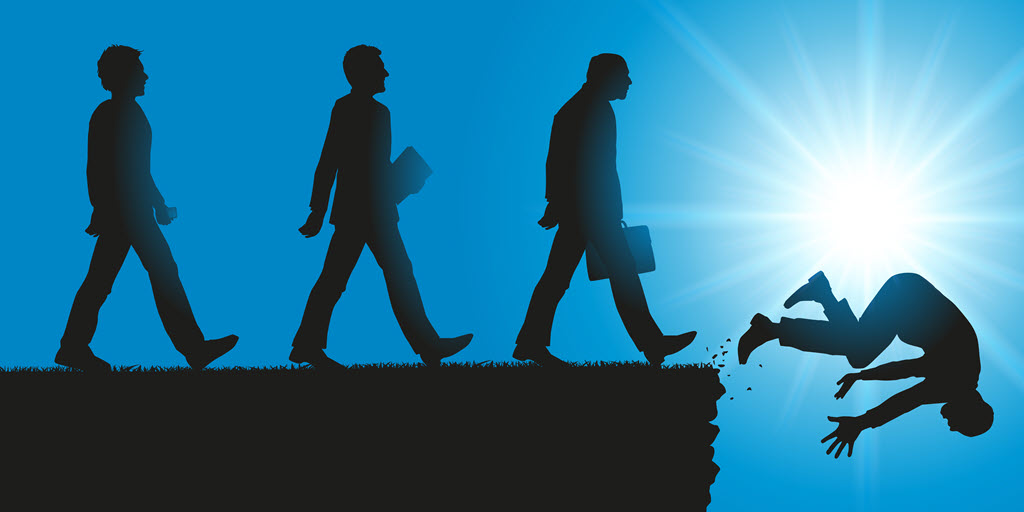 Have you ever had that feeling of working your whole life at a job, great career, helped lots of people, but you realize as you reach retirement that your job has become obsolete over the years and you didn't quite realize it? It's not really a problem, you're retiring after all, but still, it's kind of disconcerting. When I mention this to my peers, they know what I'm talking about, but of course they retired from careers as telephone sanitizers, phrenologists, VHS cassette rewinders, dictaphone operators, and bowling alley pin resetters, so perhaps not a representative group. 
I've been a computer consultant for twenty-five years. I'm semi-retired, no longer taking on new clients. The larger businesses that I supported are now in the safe hands of TeamLogic IT Santa Rosa. Call them if you need IT support for a business of 20 employees or more. Great people. Ask for Phil, tell him I sent you. He'll pretend that's a good thing because he's very nice. Pay no attention to what he mutters under his breath.
Moving my larger clients to the next level of IT support – the genesis for that was an insight I had about how the business world has changed in the last ten years. At one time businesses could function even if the business was offline and the network was down for a day or two. If you're under forty that's probably hard to imagine but honest, everyone had other work to do, quaintly called "paperwork." Seriously! It was a real thing. Look it up. No one went home. 
Today technology is woven so deeply into every business that I realized I had an obligation to advise my clients of perhaps the most important consulting advice I had ever given them: don't rely for IT support on a single person. The business model for a solo IT consultant never quite made sense from my perspective for many mundane financial reasons, but suddenly it also no longer made sense for customers whose businesses would be shuttered if the network went down while I was stuck at an après ski party in Aspen. 
Today there are a couple of hundred individuals and micro-businesses who still have my number for occasional IT support. I'm going to help them for many years. They don't need help as often as they used to – equipment lasts longer, day-to-day problems are easier to solve. I'll still be there for them. Slowly but surely some of my loyal clients are finding other support; I'm at peace with that. If you're in the North Bay, Trenton Schuttler at TBI-IT is young and knowledgeable and energetic and his engineers are too busy to go on as many trips as I can – great resource for business customers. John Randall at Nerds-Tech has a crew of technicians supporting home users and very small businesses. Call him, give him my best wishes. 
But that's not what's on my mind today. 
 It's only recently that I realized my understanding of IT consulting has become obsolete. In the next article, I'll tell you what I think is the fundamental requirement for IT consulting in the 2020s – what businesses should be looking for when they get technology help, what IT consulting firms should be doing even for the smallest of businesses. 
Today I'm feeling all weepy and nostalgic. I want to describe what my job has been for twenty-five years. 
Let's call it infrastructure. The job of a small business computer consultant has been to help businesses buy stuff and set it up. Desktop computers and laptops, servers, networking equipment, network attached storage: I have worked diligently to stay up to date and deal with all the complicated bits of setting up business networks and keeping them running.  
That still has to be done, of course. I expect to be setting up computers for people for decades to come. I've got a brilliant thirty-minute routine on a new computer, installing Chrome and Acrobat and basic utilities, smoothing out the rough edges in Windows 10, sorting out login credentials, swimming through Microsoft deep water so Office is licensed and mail is flowing.   
Even that routine has changed over the years. A new Windows 7 computer required an hour of setup, sometimes two or three. More programs to install, more effort for backup and antivirus, and especially more time spent installing updates, an ordeal that went from annoying to intolerable in the last few years of Windows 7 life. Setting up Windows 10 computers is getting easier as more services are handled in a browser – less time spent on the weird tricks required to set up Timeslips or Amicus or Quickbooks Desktop or the like. 
In the late 90s and early 2000s, we replaced computers constantly. The hardware was advancing by leaps and bounds. Each new version of Windows was designed for the next generation of hardware instead of working well on what we already owned. Windows Vista was the worst offender, unable to run well on anything but a powerful new computer, making for a busy few years after 2006 as employees complained about slow PCs and businesses frantically upgraded. 
We got big tower PCs because we had to get inside them so often. For years I kept network adapter cards and video cards in my trunk as I drove from office to office to replace dead parts, and I became skilled at navigating the Crucial website to buy memory sticks that would almost invariably turn out not to fit. That era is almost over. I haven't had any reason to crack open a computer in years. 
I stopped carrying around internal computer parts but accumulated a box of network cables as our network devices proliferated. In the last few years the most important box in the trunk was the collection of video cables for every possible combination of ports. Things are improving but it's still frequently true today: no matter what kind of monitor you get, you will never have the right cable to make it work. 
But the real fun came from the early days of onsite servers. When Microsoft released the second generation of Small Business Server in 2003, it opened the door for small businesses to use technology that had been out of reach, including an onsite version of Microsoft Exchange that attempted to conceal the hideously complicated bits under the surface. Exchange revolutionized small business email and collaboration; it was brilliant when it worked and terrifying when it broke. It didn't take long for Microsoft to remove Exchange from future versions of SBS/Server Essentials, thank goodness.  
Today there is no such thing as a single bare metal server in a closet that you can touch. Very small businesses can leverage cloud services and work without an onsite server. If there are any onsite servers at all, then even a smallish business will have multiple Hyper-V servers in a rack doing various specialized tasks, with cloud-based components added in so that it's hard to point at any one thing and say, that's the server, that piece of metal right there. 
I was a generalist for many years but almost immediately there were limits on the projects I could handle, imposed by evolving technology and a tiny brain. I made a vow when I started that I would never own a crimping tool, the symbol of my determination not to do network cabling. I love the people who do that work (call Wolfe Communications!), but not where I wanted to go.  
Quickly I also decided not to do anything whatsoever related to office telephones. Complicated, nasty things, PBX and VOIP and a thousand other acronyms – makes me shiver.
In the last few years business-level wireless networking has become its own specialty, even in the smallest of businesses, and I started backing away from wifi questions. 
I couldn't keep up with Windows servers as Hyper-V took over with its own learning curve and new techniques for setup, redundancy, and backup. It's been years since I set up an onsite server. The server world of 2021 barely resembles anything I'm familar with. 
Today I'm a wizard with the initial setup of Office 365 for a business. I can create DNS records to get the mail flowing and set up mailboxes and help users get started. I know how to react when a mailbox is hacked. Now it's another area that is evolving past me, because the initial setup is only the beginning. I made several valiant efforts to learn Sharepoint, so I didn't hate it frivolously – I was reasonably well-informed about why I hated it with a white-hot passion. Sharepoint has now receded and Microsoft is redefining the flow of office work – and redefining its own business model – with Teams, which presumably has its own learning curve for IT pros.  
I'm not surprised. I've been running as fast as I can to stay in the same place. It's the old joke – I don't have to be faster than the bear, I just have to be faster than you, my dear clients. I'm still running, I'll still be a step ahead, enough to be your trusted IT resource for a long time as long as you don't call while I'm waiting for the check at a tapas bar in Barcelona.  
But I'm obsolete. My skills are old news. In the next article, I'll tell you what the job is for IT consultants going forward – not a surprise but a profound change in what businesses need.