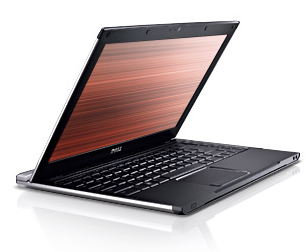 Now that we've all had our fun looking at ultraexpensive ultrathin notebooks, Dell announced one this week that looks much more reasonable. The Dell Vostro V13 has all the characteristics we want from an ultrathin notebook – a 13" screen and a full-size keyboard, in a package that's two-thirds of an inch thick and weighs three and a half pounds. It can be configured with a Core 2 Duo processor, up to 4Gb of RAM, a 7200RPM hard drive. It's beautiful.
Prices for the Dell Vostro V13 start at $650 for Windows 7 and a Core 2 Duo processor.
Now that's more like it!
This is so new that nobody has actually touched one yet in anything besides promotional videos, but the promotional videos are really good. Here's one loving preview, and here's another. As of tonight, you can order it from Dell's web site, but they don't promise delivery until the middle of January.