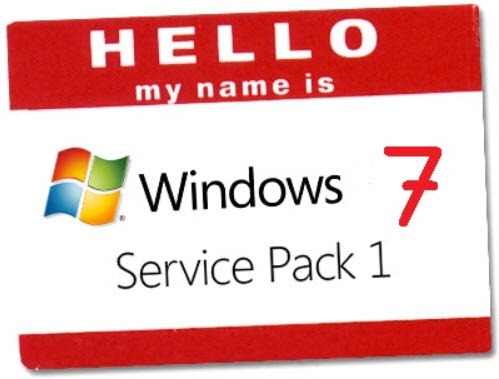 If your computer is running Windows 7, you will find Windows 7 Service Pack 1 waiting in the queue in Windows Update.
Here are the things you need to know.
You should install Windows 7 Service Pack 1.
You will not notice any difference after it's installed.
It will take 30-45 minutes to install. You will have to click OK a couple of times.
There's no rush. Wait until you have a convenient time.
Service packs are a big deal! They represent sweeping rewrites of operating systems and applications to fix the myriad of problems that are identified after a product is released. At times, Microsoft has also used service packs to introduce new features – Windows XP Service Pack 2, for example, had important new security features that changed the OS landscape in 2004. It's well known (but not necessarily true) that big enterprises wait to upgrade Microsoft products until the first service pack is released.
Windows 7 Service Pack 1 is just not that exciting. It packages up security fixes that you should already have installed in the normal course of getting monthly updates, along with more than 750 "hotfixes" released in the last year, each one addressing some highly specific little glitch. The service pack will fix those niggling bugs but there's a high probability that you've never experienced any of the problems that are fixed.
Once Windows 7 Service Pack 1 is installed, you will discover absolutely nothing has changed. Every bit of this is under the hood. It's important to install the service pack as part of the normal course of installing updates to stay safe, but there is no time pressure and it will not dramatically improve your life. Microsoft's description of the service pack calls attention to the most noticeable changes – which you will notice are trivial and uninteresting:
Windows 7 Service Pack 1 (SP1) is an important update that includes previously released security, performance, and stability updates for Windows 7. SP1 also includes new improvements to features and services in Windows 7, such as improved reliability when connecting to HDMI audio devices, printing using the XPS Viewer, and restoring previous folders in Windows Explorer after restarting.
You can find more information here:
---
PROCEDURE
Open Windows Update (click on Start and type "Update" to find it on the menu). You should see Windows 7 Service Pack 1 listed as an "Important" update. When you install Windows 7 SP1 from Windows Update, your computer will identify and download the parts you need – somewhere between 44Mb and 74Mb, depending on your version of Windows 7 and your system architecture.
The update will take 30-45  minutes to install. When you start the update, your computer will whir and hum for 15-20 minutes, then restart. Be prepared for another 15-20 minute delay after it restarts! You'll see "Configuring Updates" for a loooooonnnnng time. Don't panic, and don't turn off the computer!
---
BRUCEB CONSULTING MONITORING CLIENTS
Windows 7 Service Pack 1 cannot be installed automatically by my monitoring program. I have to ask you to install it manually. I'm still waiting to find out if I can play any role in making it easier for you.