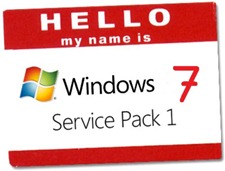 If you have a computer running Windows 7, then you probably have seen a balloon popping up from the lower right corner alerting you that there are Important Updates waiting to be installed. One of them is Windows 7 Service Pack 1.
Things to know:
Windows 7 Service Pack 1 will only be installed when you take care of it manually.
It will not be installed automatically by the Windows Update system or by my monitoring service.
It's time to install Windows 7 Service Pack 1.
Windows 7 Service Pack 1 has been out for more than two months. If you think it may have already been installed, you can check by clicking on Control Panel / System And Security / System. The service pack will be shown at the top if it has been installed.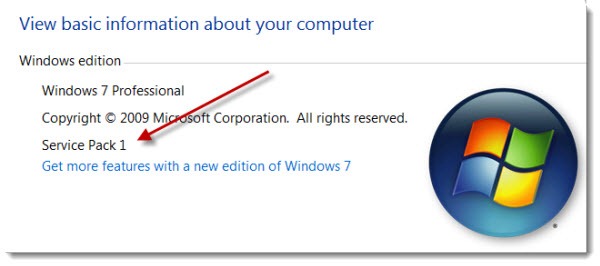 Nothing will appear to have changed on your computer after you install Service Pack 1 but you will have the latest security updates and bug fixes. Here's more information about the service pack.
I don't expect anyone to have trouble installing it. There has only been one rare issue that you are guaranteed to avoid if you follow these instructions.
If you are a Windows 7 user, follow these steps on or after Wednesday, May 11. Your computer will be tied up for 45 minutes.
Restart your computer.
Don't start any other programs.
Click on Start, type "Update" in the search box, and click on Windows Update on the menu.
If an update is listed that refers to KB2533552, install it separately and restart your computer.
If Windows 7 Service Pack 1 is listed as an Important Update, check the box to install the service pack. Do not check any other boxes to install anything else at the same time. The service pack should be installed separately from any other update.
It will likely take 20-25 minutes until the first part is finished and you are prompted to restart your computer.

At two points, it will probably appear to freeze while it still says, "Downloading files." It hasn't frozen. Leave it alone.
Do not run any other programs while the service pack is being installed. Walk away. Bother your co-workers or beat your children or reorganize your bookshelves or something.

After you hit Restart, it will take another 15-20 minutes to get back to your login screen.
When you log back in, you will see a message confirming that the service pack has been installed. You'll feel proud and happy, probably a little tired after such an emotional time, perhaps a little weepy. It's to be expected.
Chances are you also saw Internet Explorer 9 listed in the Important Updates. I'll tell you tomorrow about what it means to install that.