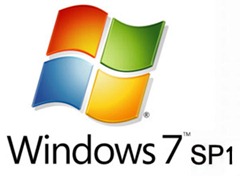 If Windows 7 Service Pack 1 is shown as an Important update, follow these steps to install it. Your computer will be tied up for 45 minutes.
Restart your computer.
Don't start any other programs.
Click on the Start button, type in update and click on Windows Update.
Check the box to install the service pack. Do not check any other boxes to install anything else at the same time. The service pack should be installed separately from any other update.
It will likely take 20-25 minutes until the first part is finished and you are prompted to restart your computer.

At two points, it will probably appear to freeze while it still says, "Downloading files." It hasn't frozen. Leave it alone.
Do not run any other programs while the service pack is being installed.
After you hit Restart, it will take another 15-20 minutes to get back to your login screen.
When you log back in, you will see a message confirming that the service pack has been installed.