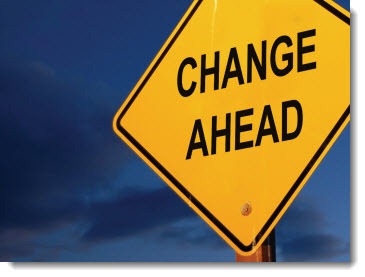 Let's gather up all the things that are on the verge of changes large and small. It covers just about every category.
The common thread is that not one of them is ready now.
Everything is in play. Anything that you buy now will seem like a poor decision in hindsight within a short time.
I've written about all of these things before but it's interesting to put it all in one place.
DEVICE CHOICES
The biggest change is right in front of you all the time now. It's the dawning realization that not everyone needs a computer. A computer is a massively overpowered and overcomplicated device for people who want to browse web sites, check Facebook, read email, and watch TV shows – and that's all the technology that a lot of people need.
More and more people will happily give up their computers for tablets and smartphones. The rest of us will pick up the device that suits our need at the moment, choosing equally among all the form factors. The cliché is right: it's a post-PC world.
WINDOWS NOTEBOOK COMPUTERS
In the next few weeks the first Ultrabooks will arrive with Intel's new notebook chipset, Ivy Bridge. This summer a flood of new thin and light notebooks will hit the market, followed in the fall by a variety of new form factors – notebooks with reversible screens and dual screens, notebooks with detachable keyboards, notebook/tablet hybrids, and more. Walt Mossberg this week in the Wall Street Journal: "If you're thinking of buying a new laptop this spring, my advice is to think again. Unless your laptop is on its last legs and you have to move quickly, there are compelling reasons to wait until at least the summer, and probably the fall, to buy a new machine."
WINDOWS PHONES
Nokia's Lumia 900 for AT&T debuted recently to rapturous reviews and even a bit of enthusiasm in the market. It is a placeholder to keep Nokia in business and generate a tiny bit of awareness for Windows Phones until the real products arrive later this year.
Windows 8 phones will be offered by many manufacturers and will be available from all of the carriers, backed by advertising and media coverage designed to make Windows Phones just as natural a choice as an iPhone or Android phone. Think that's unlikely? Don't bet against it.
WINDOWS TABLETS
At the moment this is an empty category. By the end of the year the shelves at Amazon and Best Buy and the cell carriers will be bulging with tablets running Windows 8. Like Windows phones, you may be surprised to discover that you feel they are worthy competitors to the iPad and Android tablets. In fact, you might want one – there will be some genuinely useful synergy between Windows 8 computers, tablets and phones. You'll be depressed if you blew the budget earlier in the year on an Android tablet that's sitting unused.
WINDOWS 8
The next version of Windows will arrive this fall. It is an audacious gamble by Microsoft, which has designed a user interface that is well suited to the new world of multiple and mobile devices – but it can only succeed if it survives the unhappiness of all the computer users asked to learn new ways to get things done.
By this time next year you might be convinced that you want a Windows 8 computer and tablet and phone, all working together to keep you productive in a seamless way that is not possible today.
By this time next year you might be convinced that Microsoft's failure with Windows 8 will be studied in business schools and you'll be scrambling to stock your business with Windows 7 machines while they're still available.
I can't imagine how Vegas oddsmakers would figure out how to make a prediction about the outcome of that bet.
MAC NOTEBOOK COMPUTERS
A long overdue refresh of the MacBook Pro will arrive soon, perhaps in the next month or two – thinner, lighter, powered by Intel's Ivy Bridge chips. It will be a major upgrade to the MacBook lineup that will make the current models look very tired by comparison.
iPHONES
The iPhone 4S was a placeholder while Apple prepared a more significant update to the iPhone line. Rumors are flying. My guess: a bigger screen, 4G/LTE capability and an improved camera, announced in late summer/early fall to try to extend Apple's extraordinary streak through the end of the year and divert attention away from Windows 8 devices.
iPADS
A rare stable point. No big changes in iPads for the rest of the year. They don't have to be changed. They outclass everything else on the market. (Personally I don't think the next generation of Android tablets will change that.)
ANDROID PHONES
Android 4.0 ("Ice Cream Sandwich") is inching its way into the world ever so slowly. It's a dramatic upgrade that will make current Android phones look stodgy. There is no accurate information about which current phones will be upgraded to the new OS and which will be passed by. There are almost no Android 4.0 phones available yet in the US; that will change rapidly in the next few months.
ANDROID TABLETS
The current Android tablets are hopeless. No one should buy one when the iPad sitting next to it on the shelf is simply a better device in every single way. The next version of Android may change that but it's still several months before tablets built on Android 4.0 become available in quantity. The Android tablets on the market now will disappear without leaving a trace.
MOBILE PHONE CARRIERS
The carriers are working on a massive buildout of their networks to improve data speeds and coverage. They're having trouble keeping up with the demand for data even in the big cities where they've focused their attention first, so many people will not feel the advantage of 4G/LTE coverage for another year or more.
Meanwhile, the carriers and the cable companies are in the middle of long term plans to charge extra if we actually use our data connections. Watch for more restrictions on bandwidth, fewer "unlimited" plans, and more stories about horrific bills for people watching too many episodes of Downton Abbey in a month.
CLOUD SERVICES
It's worth mentioning how many services are in long-term transitions to entirely new products delivered in new ways.
Email for small businesses and individuals is well on its way to being a cloud-based commodity. Individuals are abandoning POP3 accounts from their ISP and turning to Gmail, Hotmail and Yahoo Mail. Small businesses are signing up for Office 365 as Microsoft takes over the market for hosted Exchange mailboxes.
There is rapidly increasing interest in online backups as an important supplement to (or replacement for) traditional backups to local devices.
Dropbox has caused millions of people to trust their files to the cloud for the convenience of having them available everywhere on every device. Microsoft just released an improved version of Skydrive. Google will soon announce Google Drive. Apple will add capabilities to iCloud. Having a file stored in only one location is starting to look like just another option and not a very useful one.
Businesses are already open to considering services delivered in a web browser. Those will become more plentiful and more appealing in the next year or two. Very soon the experience of running a cloud-based line-of-business program will be literally indistinguishable from the experience of running a program from the server in the closet.
Meanwhile new methods of delivering and licensing traditional installed software will be appearing rapidly. Example: Adobe announced an upgrade to its line of creative products today which is heavily weighted towards monthly subscriptions, allowing users to mix and match programs on their devices at will.
What's the takeaway?
Desktop computers are going to be relatively stable for the next few months. If you need a new desktop computer for your business this year, buy it in confidence.
But if you need a notebook or phone or bit of software this month, you should be procrastinating. If you buy something this summer, you should have in mind that you may wind up regretting whatever you choose.