Manufacturers are showing off upcoming Windows 8 devices for the first time at a trade show in Berlin this week. In a couple of months you're going to be walking down store aisles full of odd devices with screens and keyboards that twist and turn and swivel and detach and slip in every direction. No one will know what to call them – hybrids, convertibles, tablets with keyboards, notebooks with detachable screens, ultraportables. Take a peek at the strange world right around the corner!
(Incidentally, there are no price announcements for any of the upcoming devices yet, but there is good reason to believe that prices for Windows 8 tablets will be exactly like Apple's prices for the iPad. Manufacturers might be waiting for Apple's press events in September and October to see if iPad prices are adjusted. If so, the Windows 8 device prices will be adjusted too, simple as that.)
The hybrid announcements started a few months ago with Microsoft's Surface tablet, which will have a thin keyboard built into the cover as pictured above. It's one of the most elegant looking entries in the category, although there are a few open questions since not a single person has yet been allowed to put hands on one.
Just about every Windows 8 tablet will have a detachable keyboard. The HP Envy x2 pictured here is typical – an 11" screen, light, long battery life, and a combination of magnets and a mechanical latch to hold the keyboard firmly in place. When you're ready to use the tablet by itself, like an iPad, the keyboard can be detached with nothing more than a tug.
You'll find roughly the same design in tablets from Lenovo, Samsung, Asus, and others. Dell just announced the XPS 10 tablet with a cool carbon fibre shell and a similar detachable keyboard.
But that's just the beginning.
You can expect lots of notebooks to be retrofitted with touchscreens. Shown off this week: HP will put a touchscreen into the 15" Spectre XT Ultrabook and the 14" Envy 4 Ultrabook, and Asus will have a new Zenbook with a touchscreen.
But those are nothing compared to the real oddballs.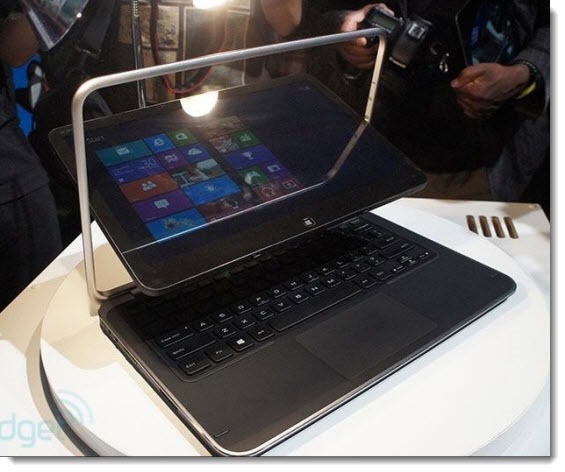 The downside of the tablets with detachable keyboards is that you have to do something with the keyboard when it's detached. The manufacturers are finding creative ways to address that problem. Dell showed off the XPS Duo 12, pictured above, a downright bizarre looking contraption with a metal bar around the screen that allows it to be flipped around. One way the XPS Duo 12 is something like a conventional notebook; flip the screen over and it can be used as a tablet, with the keyboard under the screen.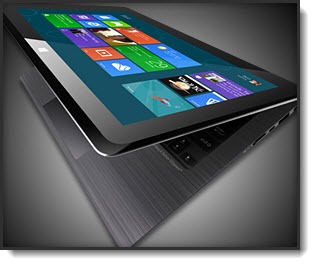 Not sold yet? Well, how about the Asus Taichi, pictured at left, an ultrabook with a "double-sided display." When it's closed the top is a tablet. When it's open, the top is still a tablet, while the side facing you over the keyboard is a second display. What's more, the two displays can operate independently and simultaneously. Granted, it's a little hard to know why in the world you would want to have two independent, simultaneous displays on your notebook. A Powerpoint presentation to someone sitting across from you at a fairly small table, I guess.
No? Try the Lenovo Ideapad Yoga 13, pictured below. Open it up and it's a notebook. Fold the keyboard all the way over and it's a tablet. But wait, that's not all! It's a tent (display on one side, keyboard on the other), it's a stand (display standing up, keyboard underneath), it's a floor wax and a dessert topping!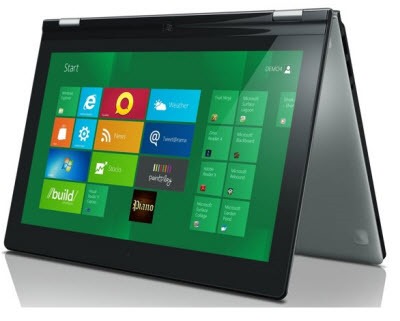 I trust you understand that this is just the first week and the first round of announcements. It's not even September yet. There are a lot more devices in the pipeline to amaze and delight you!